The

Québec maritime Blog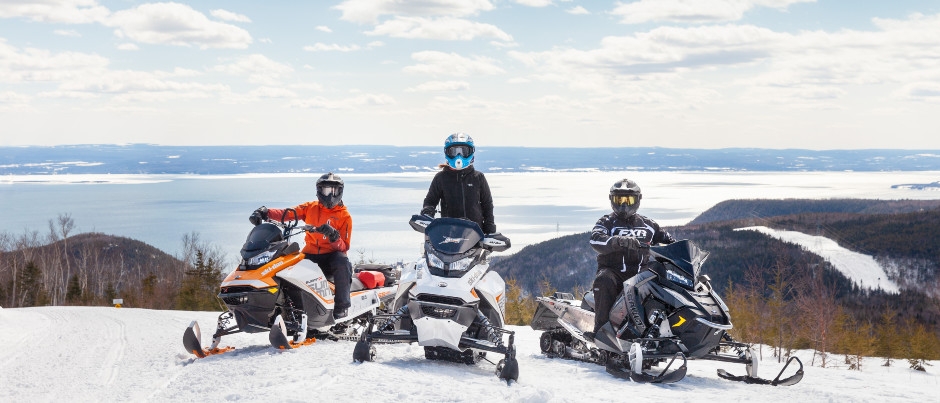 Carleton-sur-Mer
Roger St-Laurent/Tourisme Gaspésie
What to See by Snowmobile in Eastern Québec: Chaleur Bay
In the winter, snow-covered forests and mountains border the sea in Gaspésie. If you ride along the south shore of this region, you'll have several opportunities to admire Chaleur Bay, a member of the Most Beautiful Bays in the World Club! You may have already visited this area in the summer, but did you know that it's just as beautiful in the cold season? Find out more about this jewel of the Gaspé Peninsula!
Some info
Chaleur Bay (which is also the name of the surrounding area) separates the Gaspé Peninsula from New Brunswick and flows into the Gulf of St. Lawrence. Several rivers feed the bay, including the Matapédia and Restigouche rivers at its head. The Mi'gmaq people call it Mawipoqtapeg, or Maoi Pôgtapei, which means "large body of water" or "great bay." It was Jacques Cartier who gave it the name Baye de Chaleur in 1534 (which literally means "bay of heat"), claiming that its waters were warmer than those found in some parts of Spain (which we can confirm is a bit of an exaggeration!).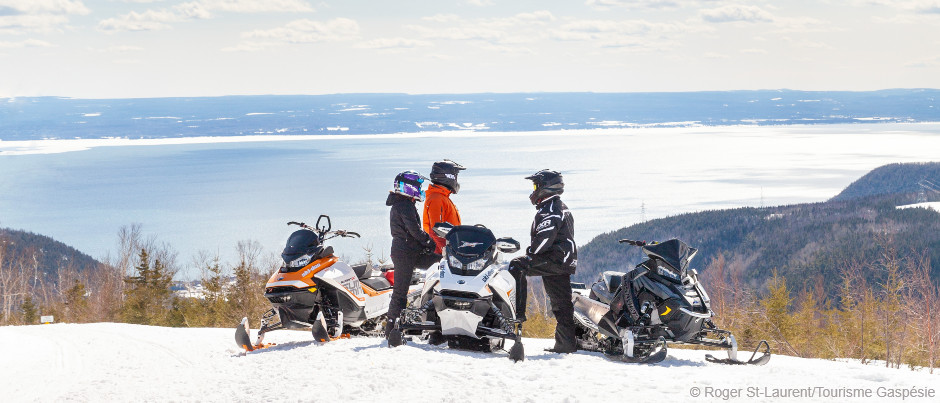 On a snowmobile, there are several spots where you can admire views of the bay, but the most impressive is in Carleton-sur-Mer, from the top of Mt. Saint-Joseph at an altitude of 555 metres (1820 feet)! Take advantage of the lookout to soak up the best view of the surrounding scenery. Other beautiful panoramic views await you in some of the villages along the bay, including Port-Daniel where you can ride along the sea and admire the cliffs surrounding the bay.
How to get there
Trans-Québec trail #5 (TQ5) is the main snowmobile route along Chaleur Bay in Gaspésie. Although it sometimes runs through the forest, it also provides access to local trails that will take you closer to the water and to some services. From TQ5, you can also follow the local trails that lead to Mt. Saint-Joseph.
Ride ideas
The Chaleur Bay area offers various snowmobile-friendly accommodations and restaurants that can easily be added to your itinerary, whether you're touring the entire Gaspé Peninsula or only certain areas. Here are two rides to explore:
For more ride ideas, consult the Gaspésie snowmobile trail map.
Given the huge amounts of snow that fall in the Chaleur Bay area, its name is somewhat ironic in the winter! Enjoy the panoramic views of the icy sea and don't forget to take lots of photos to remember your trip by!