The

Québec maritime Blog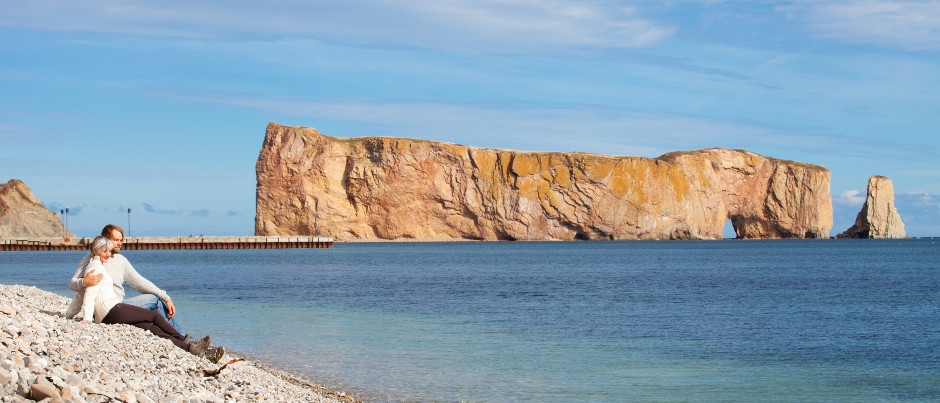 Percé Rock, Gaspésie
Roger St-Laurent
Spend Some Time in Percé
A Slow Travel Vacation
With its picture-perfect landscapes, Percé, in Gaspésie, is one of those destinations you dream of visiting at least once in a lifetime. This small seaside community is an ideal place to spend a few days discovering local attractions and soaking up the charming atmosphere. And by the way, fall is a great season to visit, as the town is less crowded at that time of year. Are you not completely convinced yet? Take a look at these activities, which you can enjoy while surrounded by incredible scenery!
Enjoying the great outdoors
One site you must visit is Parc national de l'Île-Bonaventure-et-du-Rocher-Percé! Both Les Bateliers de Percé and Croisières Julien Cloutier offer sea excursions departing from the town's brand-new wharf to Bonaventure Island, during which you can admire the beauty of the coastline. Once on the island, you can explore four hiking trails totalling 15 km (9 mi.) that will take you through maritime landscapes as well as meadows, fields and a coniferous forest.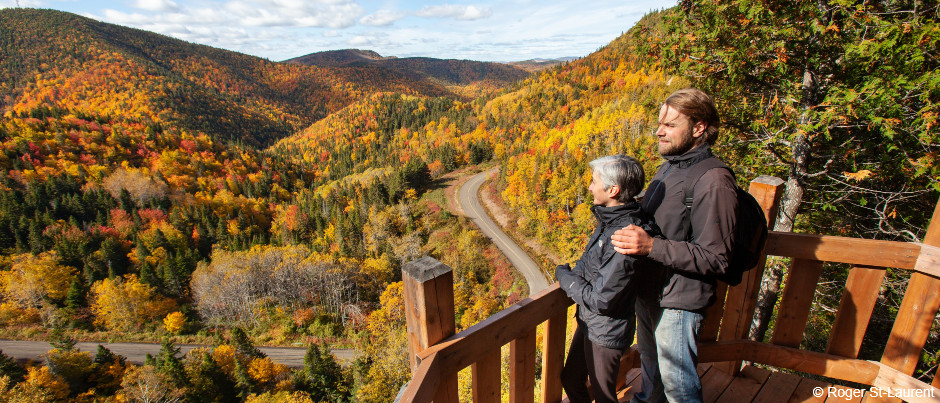 Next, be sure to visit the Percé UNESCO Global Geopark and explore a network of 18 km (11 mi.) of trails of varying levels of difficulty that will allow you to discover fascinating geosites, including the Magic Forest as well as a crevasse, cave and bottomless hole. Don't miss this opportunity to venture out on the suspended glass platform, which juts out the side of a cliff at an altitude of 200 metres (660 feet), and admire the breathtaking view! If you're feeling brave enough, this is also the departure point for a zipline (in operation until late September).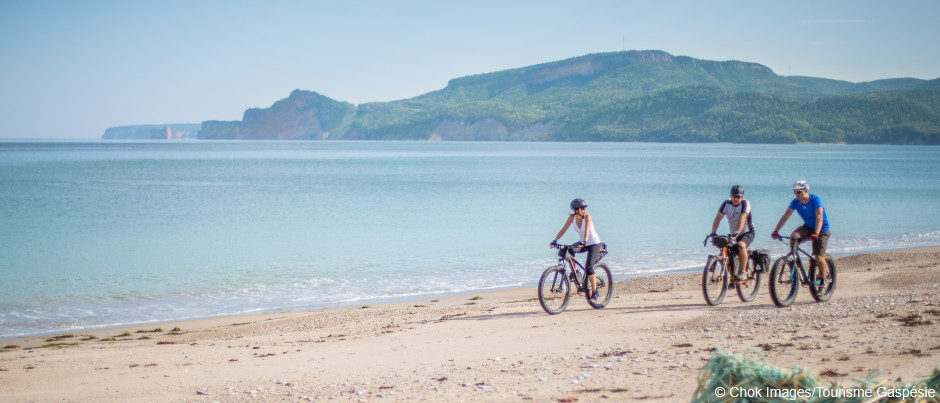 A unique natural playground awaits you at the Camp de Base in Coin-du-Banc, a base camp located directly on one of the most beautiful beaches in Québec. Here you can enjoy a multitude of guided outdoor activities, including fatbiking, mountain biking, stand-up paddle boarding (SUP), sea kayaking and fishing for striped bass. All are offered in packages that include equipment and the services of an experienced guide for maximum fun and minimum hassle!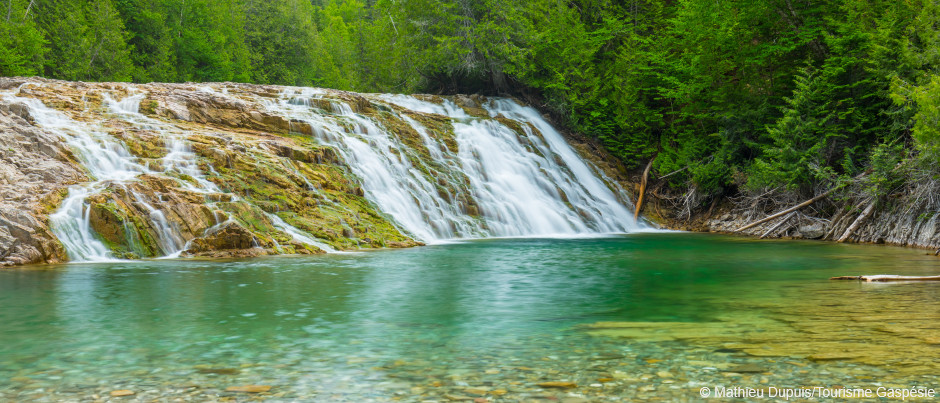 Not far from there is the Portage River, better known as Rivière Émeraude (Emerald River). Located in the heart of the forest, this municipal site is strikingly beautiful with its waterfall and turquoise waters. One of the trailheads for the 27-km (17-mi.) river trail (Sentier des Rivières) is found here; the trail will take you all the way to L'Anse-à-Beaufils.
Going for a stroll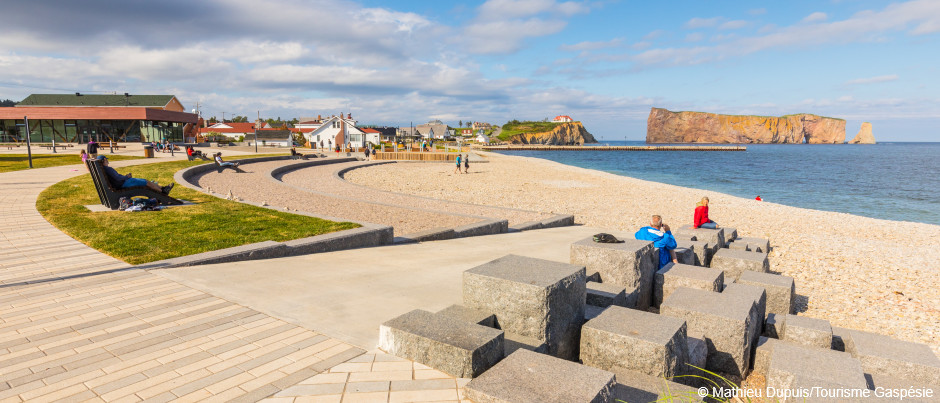 There's nothing like going for a stroll along the Percé boardwalk to unwind and enjoy the serenity of a slower pace of life! Soak up the views of the sea and impressive Percé Rock as you walk along the boardwalk and climb the observation tower. Looking for another zen activity? Go beachcombing for treasures such as shells and colourful pebbles. And why not relax on one of the lounge chairs and catch up on your reading?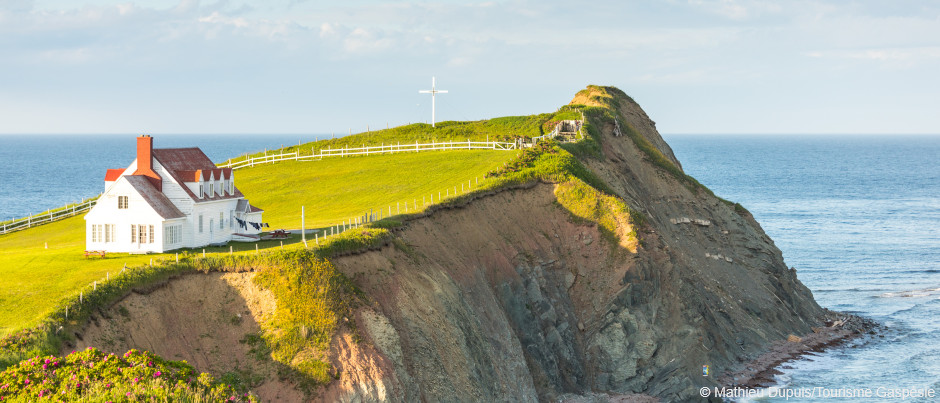 To learn more about this community as you walk, download Percé's historical tour from the App Store (or rent an iPod from the tourist information centre, which also provides paper copies of the tour). This fascinating walk will introduce you to the many fishers, merchants, artists and other villagers who left their mark on this area. Enjoy your journey back in time!
Making amazing discoveries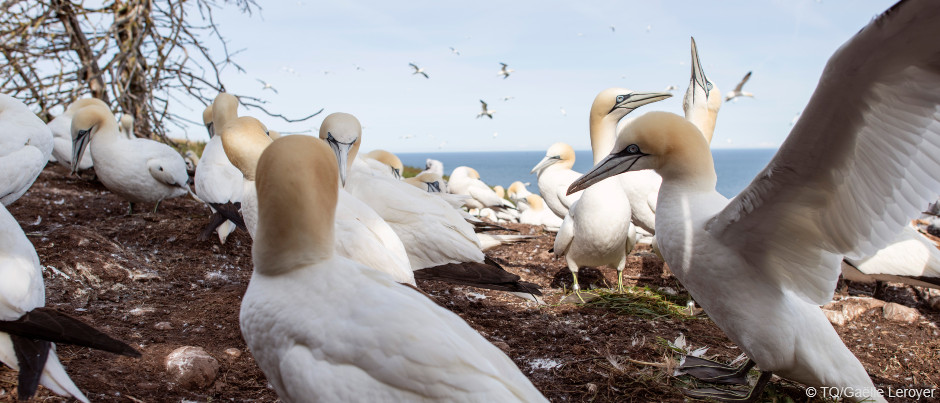 During your visit to Bonaventure Island, you can also enjoy an extraordinary encounter with the park's most famous residents: the northern gannets! The island is actually home to the largest colony of these birds in North America, with approximately 110,000 of them nesting here every year. You can also admire about 20 houses dating from the 19th century that bear witness to the rich history of the cod fishery and its impact on the development of this region.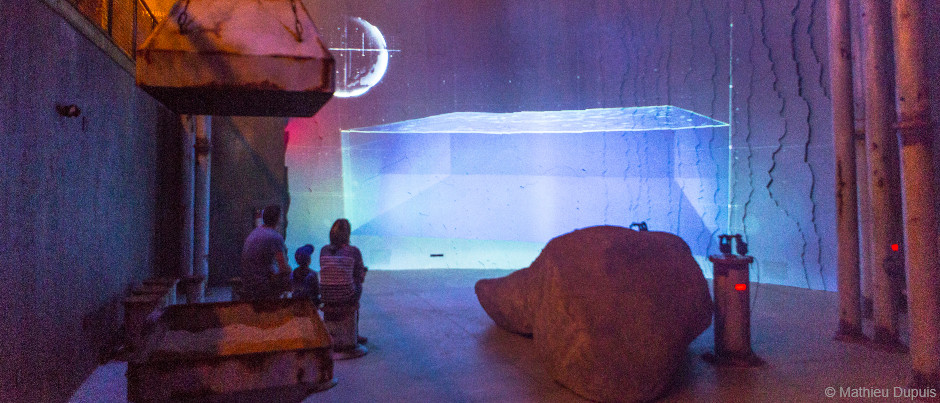 Travel even further back in time with the Tektonik multimedia experience at the Percé UNESCO Global Geopark. This interactive adventure will immerse you in the geological history of this area, during which you can witness the spectacular formation of Percé Rock! We guarantee you'll be amazed!
Savouring local flavours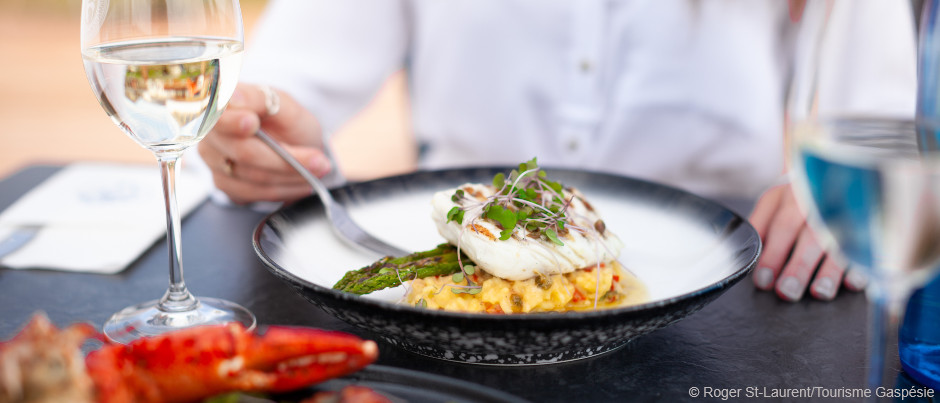 There's no shortage of great places in the Percé area to discover the flavours of Gaspésie! In addition to restaurants with mouth-watering menus, you'll find friendly spots to enjoy a drink and hang out.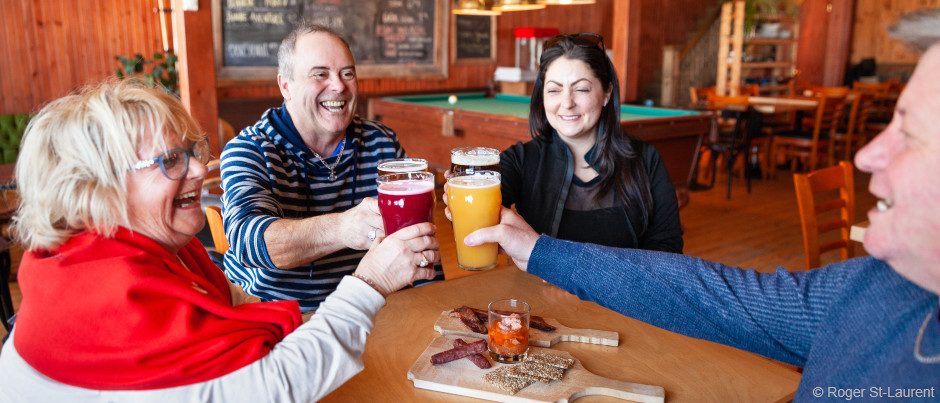 If you're a hops lover, you must visit the Pit Caribou microbrewery! A wide range of craft beers are brewed on site near the fishing harbour in L'Anse-à-Beaufils, a picturesque spot that's the perfect location for a pub. The Pit Caribou team will also welcome you warmly in its pub at the heart of the village of Percé, an ideal place to stop for a drink after a walk along the boardwalk!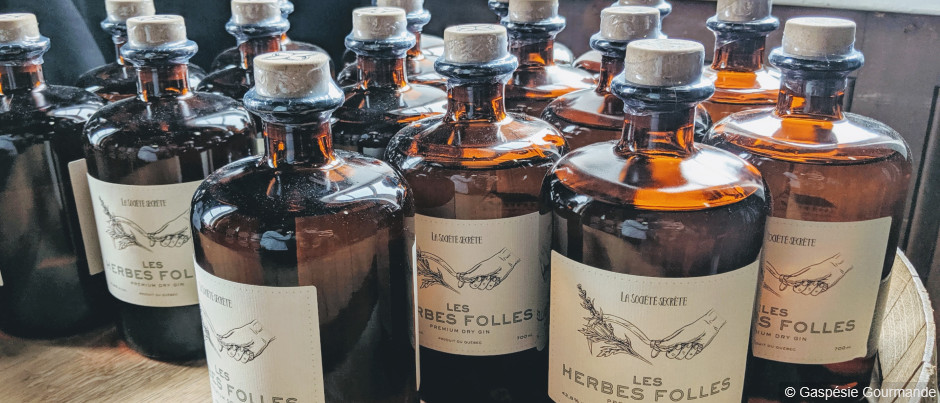 What does La Société Secrète (which literally means "secret society") have to offer, you ask? It's actually an artisanal distillery housed in the old St. James Anglican Church in Cap-d'Espoir. Stop by to admire the distillery's architecture and of course taste their high-quality spirits made from local grains and plants. You won't be able to resist taking a few bottles home!

No matter what's on your itinerary, make the most of your trip to Percé by taking the time to enjoy each moment to the fullest as you soak up the sea air and amazing views. Are you feeling the call of this legendary destination?
If you liked this article, you might also like...