The

Québec maritime Blog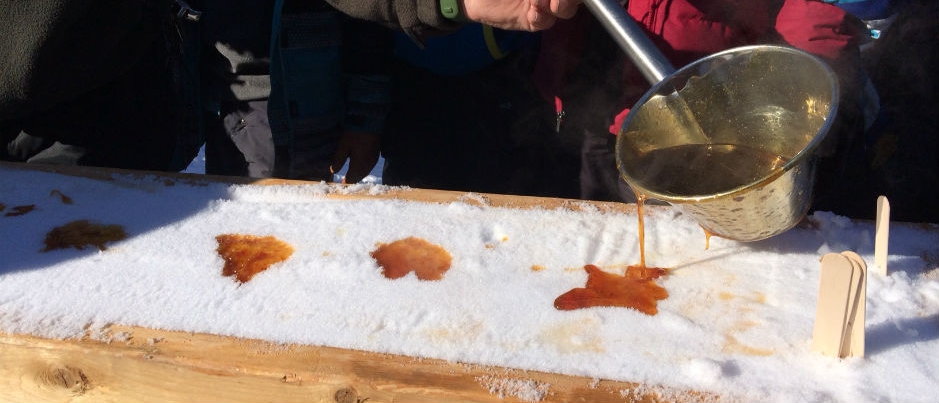 Sugaring off season
Le Québec maritime
Sweet Treats from the Maritime Regions of Québec
The maritime regions of Québec abound in culinary treasures you will want to discover for yourself, especially if you have a sweet tooth! Berries, maple products and chocolate truffles are some of the regional flavours you can look forward to savouring during your next trip to our regions.
From tree to table in Témiscouata
Domaine Acer is renowned for its maple products. In addition to alcoholic beverages made from map sap, this economuseum has a gift shop in Auclair filled with fine products you can take home as a souvenir of your trip to Bas-Saint-Laurent. Maple syrup, butter, sugar and jelly as well as maple-flavoured Belgian chocolates are only some of the treats that await you here.
Strawberries at their best in Gaspésie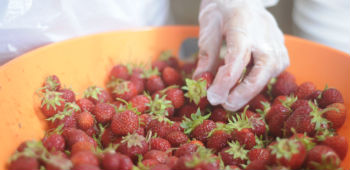 © Ferme Bourdages Tradition
In Saint-Siméon-de-Bonaventure, Ferme Bourdages Tradition, the largest producer of strawberries and sweet corn in Gaspésie, has been in the same family for seven generations. Benefit from all that know-how when you visit the farm and choose from a wide selection of tasty strawberry products, including home-made pies, delicious jams, fruit coulis and fresh berries, of course!
Northern berries from Côte-Nord
Cloudberries are an exotic cousin to raspberries that grow in the evergreen forests of Côte-Nord, in the Minganie and Lower North Shore areas. Rich in fibre and antioxidants, this sweet/tart berry can help regulate blood pressure. Pick your own cloudberries during your next adventure in Côte-Nord or purchase them from local producers. To find out more about these berries, be sure to visit the Maison de la Chicoutai (Cloudberry House) in Rivière-au-Tonnerre.
A chocolate immersion in Bas-Saint-Laurent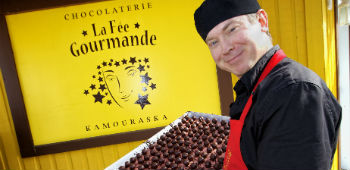 © Studio du Ruisseau
As soon as you set foot in the La Fée Gourmande chocolate shop, a must-see in Kamouraska, the aroma in the air will make your mouth water. It will be a challenge to choose from all the unique and delicately flavoured chocolate truffles made with flowers, local fruit or spices. And if that's not enough, you can also opt for chocolate-coated caramels, fruit candy, gelatos and more! Don't miss this opportunity to go on a guided tour of the chocolate factory.
To discover these sweet treats and more in the maritime regions of Québec, visit the regions of Bas-Saint-Laurent, Gaspésie, Côte-Nord and the Îles de la Madeleine. Enjoy indulging your sweet tooth!
If you liked this article, you might also like...