The

Québec maritime Blog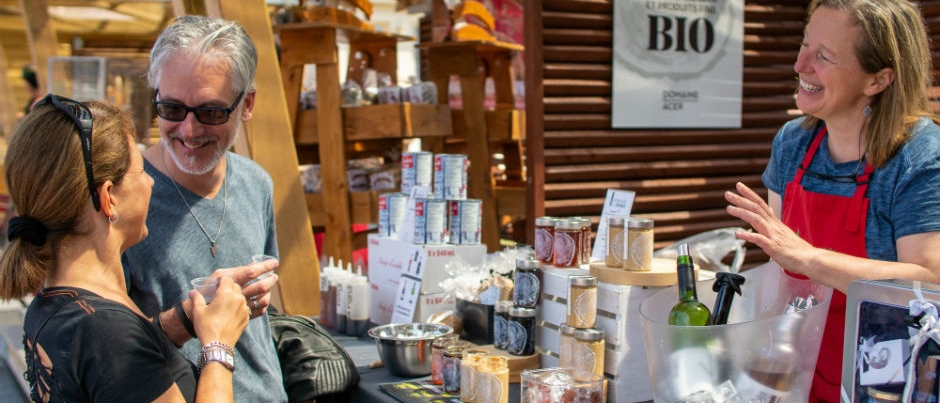 Rimouski's public market
Nadeau Julien, créateurs de contenu
13 Flavours to Discover in Eastern Québec
A visit to the maritime regions of Québec is obviously an opportunity to savour fish, seafood and other delicacies from the St. Lawrence. Since these regions are also agricultural, they offer many other flavours to discover and rediscover. From beer and wine to boreal products, berries and edible flowers, here are 13 flavours to discover during your next trip to the eastern part of La Belle Province.
1. Unique craft beers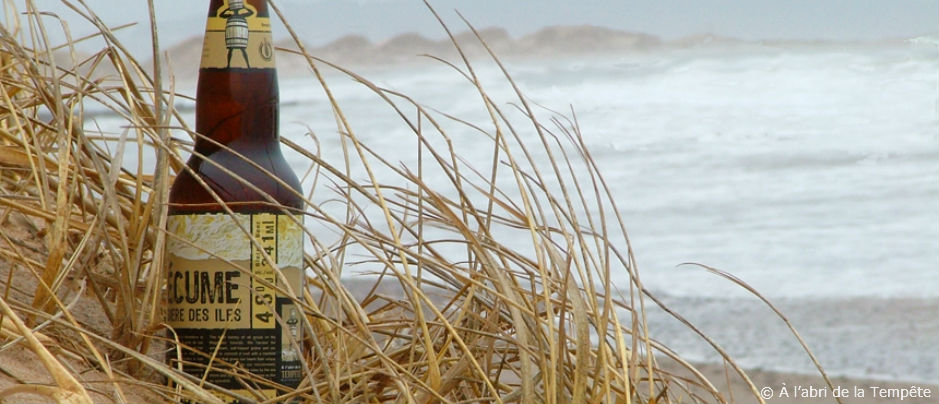 Craft beer lovers will be in heaven! Follow the Beer Route and discover the many microbreweries in the maritime regions of Québec, including À l'Abri de la Tempête, which is located in a former crab factory in the Îles de la Madeleine. Sip their bottled brews to taste the history and flavours of the Islands! In addition, the St-Pancrace microbrewery in Baie-Comeau (Côte-Nord), offers you a unique taste sensation: Crâââbe, a bitter brewed with crab shells. Don't miss out on the opportunity to try this one-of-a-kind brew!
2. Snow crab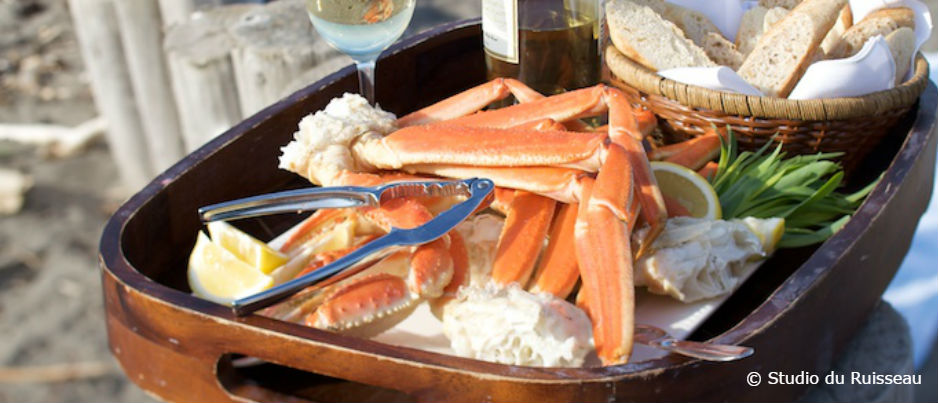 Speaking of crab, be sure to try this sea delicacy when crab season is in full swing, from April to mid-June. There are many different ways to prepare it, but nothing beats the subtle flavour of fresh crab, eaten plain or with a touch of lemon.
3. Lobster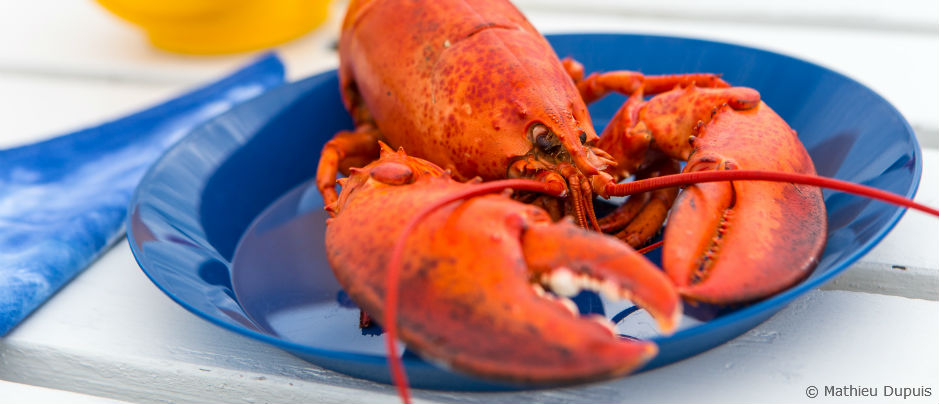 Another regional classic, lobster, is caught later in the spring. Enjoy it fresh, in fine cuisine or from a roadside snack bar. Be sure to try a guédille, which is a hot dog bun generously stuffed with lobster salad. Will you be travelling out of season? Lobster and crab are also available in many restaurants year-round.
4. Rhubarb wine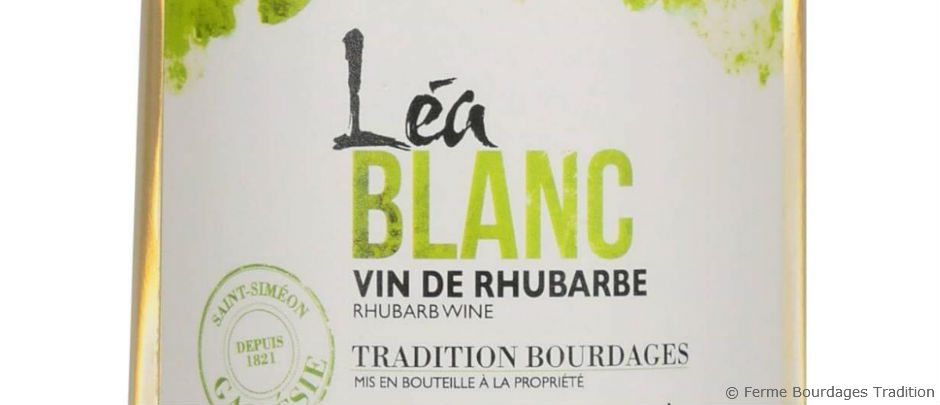 Ferme Bourdages Tradition, in Saint-Siméon-de-Bonaventure (Gaspésie), offers an unusual alcoholic beverage: Léa, a rhubarb wine. In colour it resembles a white wine, but with a delicate final note of rhubarb. Perfect as an aperitif or served with seafood, it's undoubtedly the pride of the Bourdages family. Be sure to also sample their delicious strawberry products, including pies, jams and coulis.
5. Fresh and prepared fish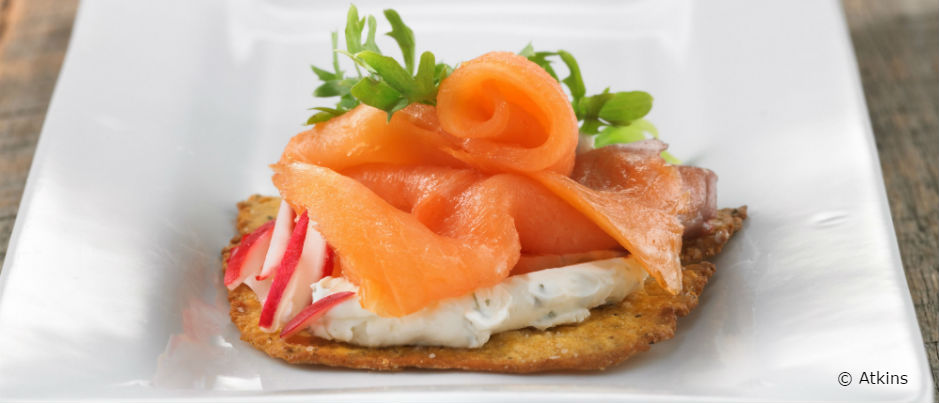 While in the maritime regions of Québec, you'll want to visit the fish shops, where you'll find marinated, smoked and cooked fish—a perfect addition to your picnic basket! If you plan to cook during your vacation, you'll be spoiled for choice: there are so many types of fresh fish available throughout the seasons. You are guaranteed to enjoy memorable meals featuring maritime flavours!
6. Northern shrimp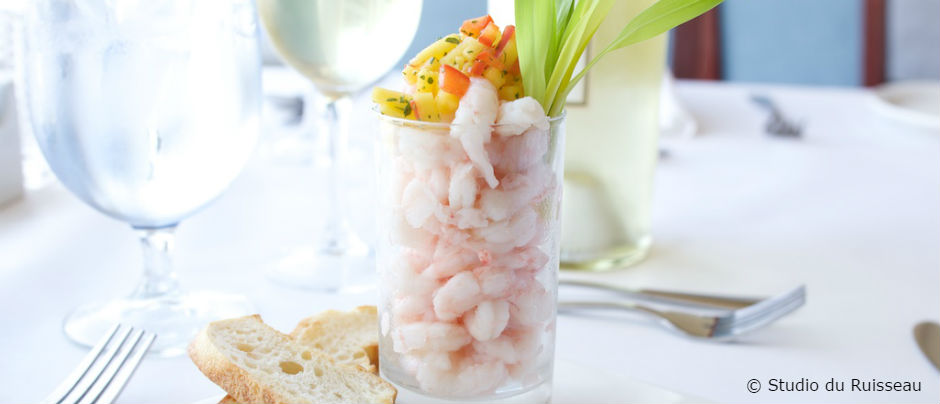 From Gaspésie to Côte-Nord, northern shrimp (aka Matane shrimp) has a special place in the hearts of the Québécois. Small and versatile, these shrimp can be savoured in many different ways: in salads or pasta dishes, in a poutine (try it!) or guédille, etc.
7. Little-known marine species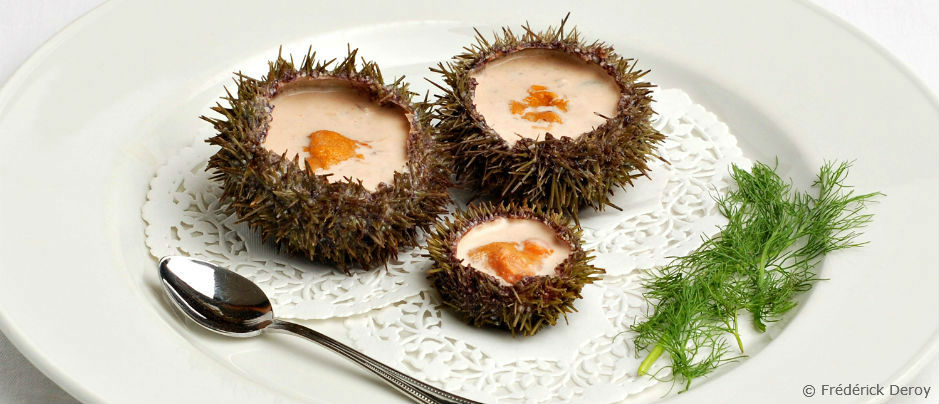 To promote little-known but abundant marine species from the St. Lawrence, Exploramer created the Smarter Seafood certification program. Look for the blue fork logo to find accredited fish shops and restaurants that offer at least two of these species. Dare to taste the intriguing flavours of whelk, razor clams or coral from Gaspésie!
8. Boreal products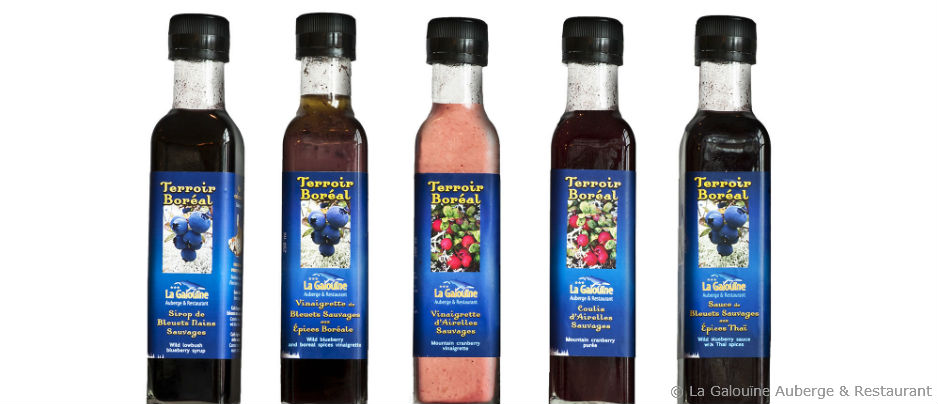 In addition to delicious surf and turf cuisine, the La Galouïne Inn & Restaurant in Tadoussac (Côte-Nord) offers Terroir Boréal products. Created by First Nations chef Martin Brisson, this range of boreal products includes herbs and spices (peppery green alder, ground sweet gale seeds, fireweed leaves, etc.), infusions (sagebrush flowers, everlasting flowers, etc.), wild berry powders (blueberry, lingonberry and honeyberry), syrups and more. Savour the flavours of this region and take home some of these products as souvenirs or gifts.
9. Cloudberries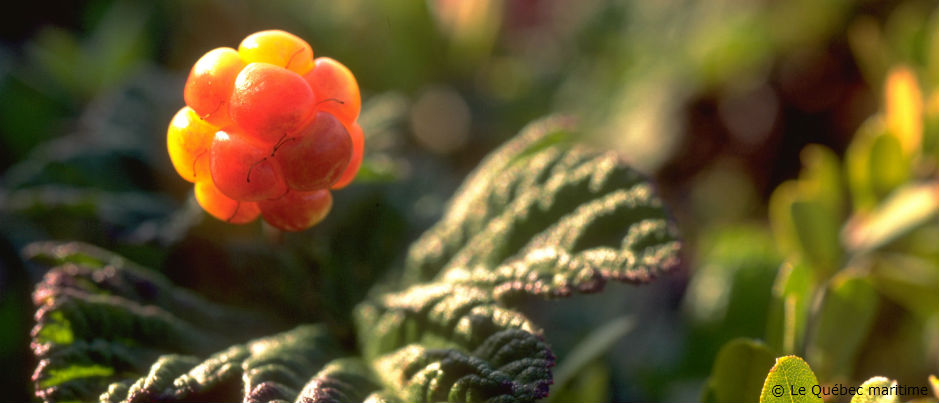 Golden yellow in colour, cloudberries are called shekuteu by the Innu, which means "fire." Related to raspberries, they have a sweet and tart flavour reminiscent of apricots and tropical fruit. They are picked from late June to early August in Côte-Nord and can be eaten fresh or dried or made into jams, coulis or alcoholic beverages. They complement meat or fish dishes and can be added to your breakfast.
10. Edible flowers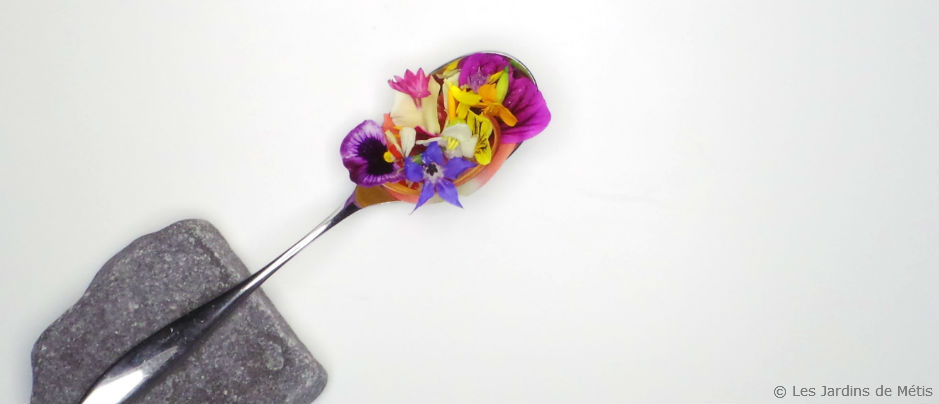 At the Reford Gardens, flowers are a feast for the palate as well as the eyes. After working up an appetite by walking around the grounds, you can savour various edible flowers in the gardens' cafés and restaurants. The kitchen team creates dishes that incorporate knapweed, nasturtiums, peonies, pansies, begonias and others—be sure to try the Métis Bloom Spoon!
11. Cheese and rosehip gelato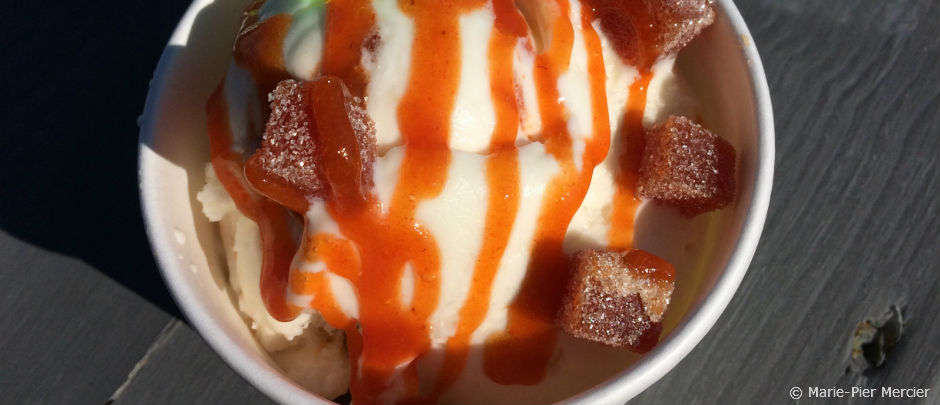 Gelato made with Pied-de-Vent cheese and rosehips is a bold but tasty flavour combination that could only have been created in the Îles de la Madeleine. It was the brainchild of renowned chef Johanne Vigneau, who concocted this ice cream to showcase the Fromagerie du Pied-de-Vent's signature cheese. Purchase this gelato directly from the cheese factory or at Gourmande de Nature, the perfect place to stock up on delicious products from the Islands.
12. Flavoured chocolates and caramels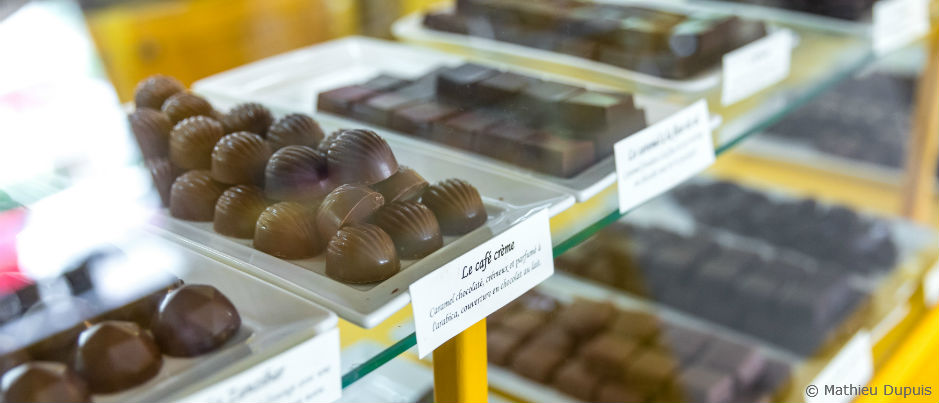 Well established in Kamouraska (Bas-Saint-Laurent), La Fée Gourmande offers chocolates with ganache fillings, each more tempting than the next. They also make caramels, including several flavoured with beer from the local microbrewery Tête d'Allumette. In hot weather, their dairy bar will delight your taste buds: treat yourself to an ice cream dipped in one of their high-quality chocolates!
13. Alcoholic beverages made with maple sap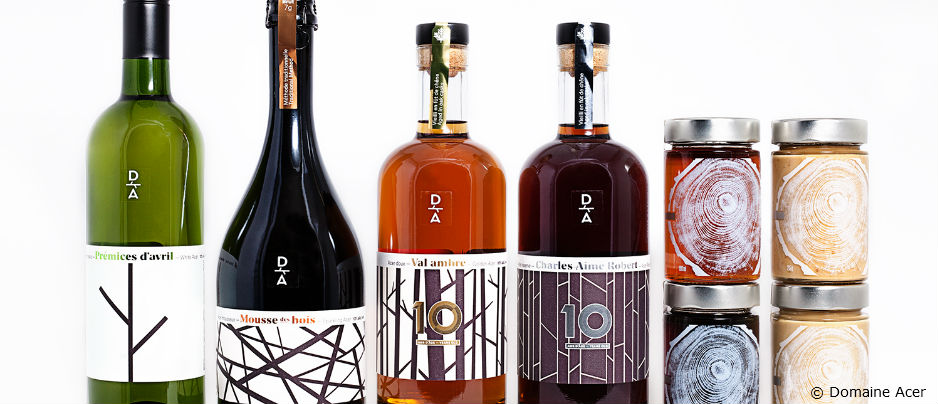 What would a trip to the province of Québec be like without a taste of maple products? In addition to savouring maple syrup, discover alcoholic beverages made with fermented maple sap. A true pioneer, Domaine Acer, in the Témiscouata area (Bas-Saint-Laurent), makes four different alcoholic maple beverages: an excellent dry sparkling wine, a refreshing white wine and two liqueurs that have made the reputation of this organic company. Be sure to also visit their maple economuseum to find out more about how their products are made.

This short list is just a taste of all the delicious gourmet products you can take home from Eastern Québec. Be adventurous—the maritime regions of Québec have so much to offer to curious foodies!
If you liked this article, you might also like...