The

Québec maritime Blog
The Hotel-Motels of Eastern Québec: Front-Row Seats to the Sea
You probably don't pay that much attention to hotel-motels as you're driving, but once inside you'll appreciate their simple comforts and warm hospitality in relaxing settings by the sea. Both Gaspésie and Bas-Saint-Laurent offer many such establishments where weary travellers can eat and rest. I've chosen seven to give you an idea of what's available in these regions.
Bas-Saint-Laurent: Outdoor adventures and history
In Rimouski, Camping Rimouski et Motel de l'Anse has the advantage of being located both close to downtown and right next to the St. Lawrence. Not only is this charming site a great place to relax, but many activities are also available nearby. For example, you can explore the area by bike on the cycling trail that runs right next to the motel; you can also easily access the area's many exceptional tourist attractions, such as Parc national du Bic. Camping et Motel de l'Anse offers 10 comfortable motel units as well as nearly 130 tent and RV sites. You may want to spend several days here to take full advantage of all that this area has to offer.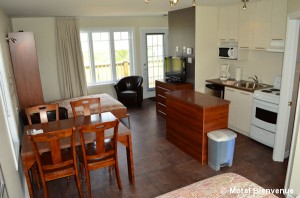 If you're interested in history, you'll want to stay at Motel Bienvenue, which will welcome you in one of its 15 comfortable and relaxing units (with or without a kitchen) overlooking the St. Lawrence River. Within walking distance of the motel, you can visit the Pointe-au-Père Maritime Historic Site to learn more about the maritime history of this area. On site, climb one of the tallest lighthouses in Canada and tour the Onondaga submarine, where you can learn more about life as a submariner. Clearly, Motel Bienvenue is both a practical and an enjoyable lodging option!
Gaspésie: Gateway to the sea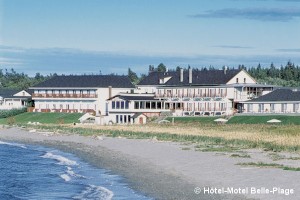 If you're a foodie, be sure to stay at Hôtel-Motel Belle Plage in Matane, in the Gaspésie region. To say that this establishment is lauded by the most discriminating gourmets is not an exaggeration. The menus feature local ingredients as well as various products made on site in the hotel's famous smokehouses. In this establishment steeped in tradition, the sea is part of your dining experience: you can admire it through the dining room's three walls of windows as you savour its bounty on your plate. Those with hearty appetites will also be delighted with the hotel's superb buffet breakfasts. Yum!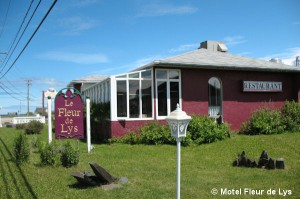 Foodies will also appreciate Motel Fleur de Lys in Cap-Chat. Nestled between the mountains and the sea, this 18-unit motel is renowned in the area for its fine Gaspesian and French cuisine. The lobster dishes in particular will delight your palate! In addition to the excellent food, this establishment also offers a pleasant view of the St. Lawrence (which becomes spectacular at sunset) and access to many nearby outdoor activities, including cycling, golf and horseback riding. In addition, the motel units are comfortable, spacious, completely renovated and accessible to people with reduced mobility.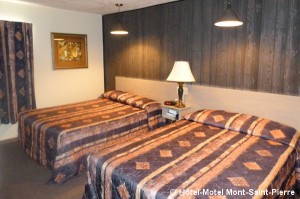 Further east, you can stay at the Hôtel-Motel Mont-Saint-Pierre in the town of the same name. Also nestled between the mountains and the sea, this cozy establishment offers a variety of packages adapted to your needs including activities such as ATV excursions or snowmobiling. There's something for everyone at this sanctuary bathed in magnificent sunsets. Within its walls, you will particularly enjoy the small pub (seating 20), which is a great place to relax over a beer or enjoy dinner with friends. Consider yourself invited!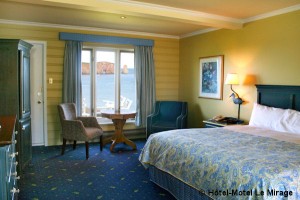 If you keep driving a further 200 km (125 mi.) east, the Hôtel-Motel Le Mirage dominates a splendid setting. All 67 of its rooms offer spectacular views of legendary Percé Rock and nearby Bonaventure Island, which is home to an impressive colony of northern gannets. Le Mirage offers several packages so guests can take full advantage of the many activities available nearby. Access to an outdoor heated pool and a tennis court will keep you coming back to this comfortable and elegant establishment.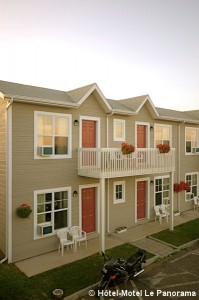 Also in Percé, Le Panorama is the newest hotel-motel in the village. Located at the entrance to Percé, this small establishment built in 2009 offers 23 very comfortable and affordable rooms as well as four new cottages that were built last year. The hotel has a dining room as well as a picnic/barbecue area that is much appreciated during the summer months. It is also the only hotel in Percé to have a heated pool under the supervision of a trained lifeguard, which is particularly attractive for those travelling with children. Finally, if you want to explore the surrounding area, Le Panorama also offers several sea excursions.
As you may have noticed, what these establishments have in common is their proximity to the sea. Having a front-row seat to the St. Lawrence is reason enough to stay at any of them…
The maritime regions of Québec welcome you with open arms! Plan your trip now and come to visit us soon!
If you liked this article, you might also like...