The

Québec maritime Blog
Visiting Sandra and André on Grosse Boule Island in Sept-Îles Archipelago
You never know what's going to happen when you post something on a social network site or publish a blog post. Most often, what you've written will appear in your subscribers' feeds and then be forgotten within a few hours. But sometimes, weeks later, your post goes viral, even without any help from advertising.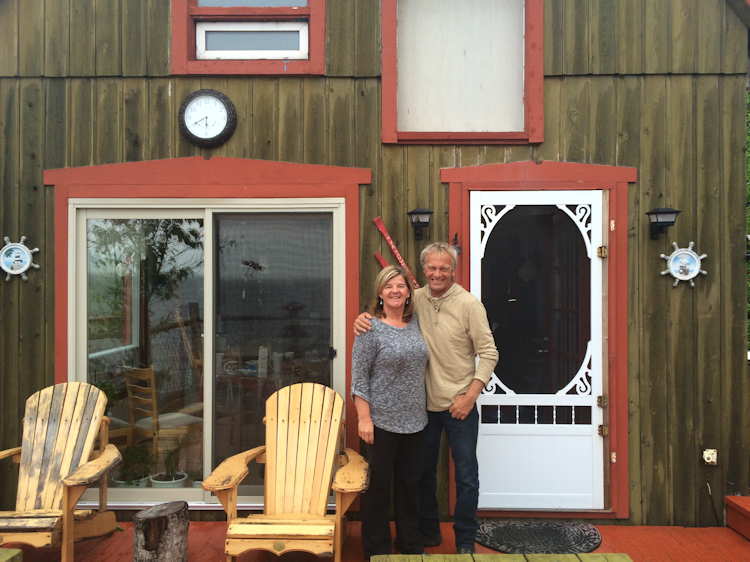 Sandra Blais and André Gauthier of Purmer© Marie-Julie Gagnon
That's what happened when I posted about Sandra Blais and André Gauthier, the owners of the Purmer sea farm in Sept-Îles, on the Facebook page of my blog, Taxi-Brousse. Accompanied by five photos, the post, which gave a brief overview of their history, has now been liked 422 times, shared 290 times and seen by over 40,000 people. It has also generated dozens of comments!
Although the couple doesn't have a website yet (it's under construction) or a Facebook page, that doesn't make them any less popular. Which just goes to show you that word of mouth and face-to-face meetings are still an effective way of getting known!
All you have to do is visit Sandra Blais and André Gauthier to understand why so many people support these two friendly mussel and scallop farmers who are never at a loss for words. ("When we travel, we don't listen to the radio," confides Sandra. "We talk all the time!") The owner of a restaurant, Sandra has always worked with the public, while André worked in construction. Their only daughter, Meggie, is also involved in their current project.
During our conversations, I learned that André has travelled across the country on a snowmobile and that the couple has gone on a few Zodiac expeditions lasting several days. They are real enthusiasts—and the bond between them is obvious, even 37 years after they first met.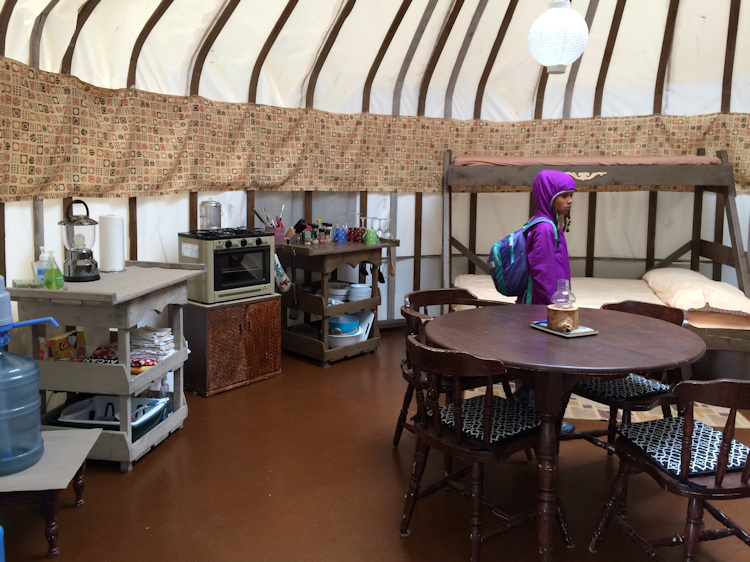 The interior of a very spacious yurt© Marie-Julie Gagnon
Sandra and André open their doors to passing visitors as if this was the most natural thing in the world. "We're simple people," says André. Although they've obviously spent a lot of money on this dream of theirs, they are completely unpretentious and don't feel the need to present themselves as anything other than generous and enthusiastic hosts.
On site, visitors can learn about mussel and scallop farming, as well as go scuba diving to observe lobsters in their natural habitat and spend the night in one of three yurts (which are furnished and equipped with kitchen essentials).
How it all started
Sandra and André invested quite a lot of time and money into their business to get it off the ground. André confessed he knew nothing about mussel or scallop farming before beginning this adventure. He made sure his interest wasn't just passing—"I went for training"—and found that it's something he really enjoys.
But not everything is under one's control. Disaster struck in 2013 when the couple had to throw out 250,000 pounds of blue mussels, the result of five years of work, after 5000 litres of oil were spilled by Cliffs Natural Resources in the Bay of Sept-Îles. This loss cost several hundred thousand dollars. While the experience was painful, the couple refused to be defeated: they rolled up their sleeves and got 50,000 pounds of mussels back into the water in July 2014, which they will harvest in the fall of 2017.
In the meantime, they've launched the tourism component of their project. While rain kept us from fully appreciating the beauty of their site, we could see that their efforts were going to bear fruit since everything they do comes from the heart, from the landscaping of the beach to their warm hospitality, not to mention their attention to the smallest details, such as leaving bottles of water in the yurts.
If I were you, I'd make sure to visit them soon, before the other 40,000 people who saw my Facebook post beat you to it!
Practical information
If you liked this article, you might also like...