The

Québec maritime Blog
Kamouraska, Bas-Saint-Laurent
Mathieu Dupuis
What to Visit in Our Regions: 8 of Québec's Most Beautiful Villages
As you travel throughout the maritime regions of Québec, you'll come across many charming villages, each with a history worth discovering. But did you know that there's an association of the most beautiful villages of Québec, which has the mission to promote the architectural and historical heritage of these villages as well as the quality of their landscapes? The criteria for being part of this association include a population under 8000, at least one classified heritage building and a few recognized heritage buildings, exceptional scenery and nearby tourist attractions. Here then are eight villages in our regions that meet all these requirements and more!
Bas-Saint-Laurent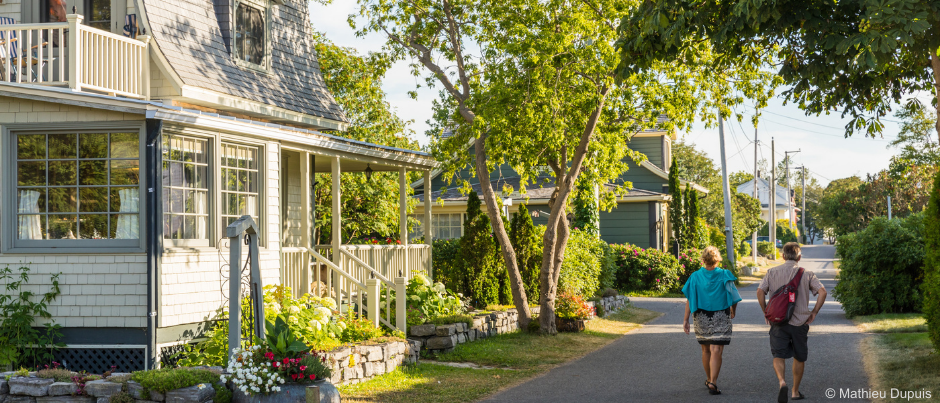 You won't be able to resist the charms of Kamouraska! Nestled along Route 132 between the sea and fields dotted with monadnocks, this village was once a popular resort destination for 19th-century vacationers. Today, you can enjoy exploring the coastline where you will spot traditional eel-fishing weirs anchored along the foreshore. You can also visit the wharf and stroll along streets lined with houses with curved eaves reminiscent of the wooden hulls of schooners. As you wander, be sure to also stop in local art galleries, boutiques and artisans' workshops and studios. In the heart of the village, you'll find several foodie attractions, including Côté Est, a restaurant located in a former presbytery offering dishes inspired by the seasons and made with local ingredients, which you can enjoy in their dining room or outside on the patio in the summer. If you have a sweet tooth, you won't want to miss La Fée Gourmande where you can take your pick from their selection of fine chocolates, gelato, sorbets and other treats featuring fruity, floral or spicy flavours. The Kamouraska area also offers a multitude of accommodation options for a comfortable night's sleep.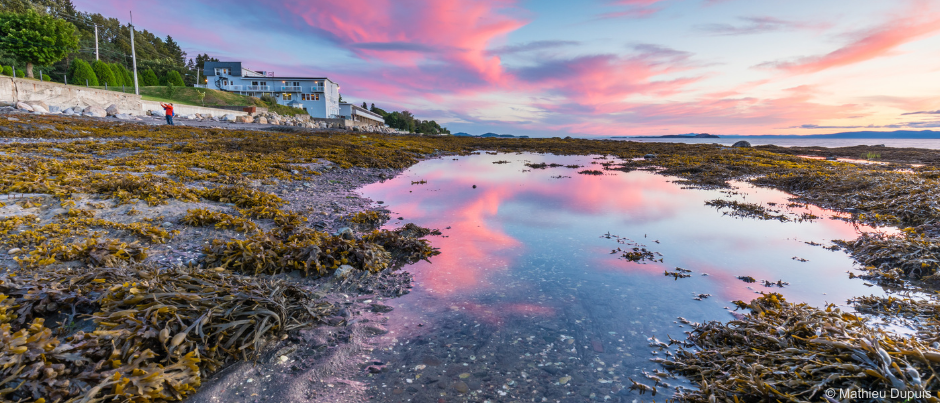 A few kilometres further east along Route 132, the village of Notre-Dame-du-Portage will welcome you in a gentle and rejuvenating atmosphere. On foot or by bike, you can admire ancestral homes surrounded by tall trees, then make your way to the wharf or one of several municipal parks overlooking the sea. If you're up for a refreshing experience, you can go for a dip in the cool waters of the St. Lawrence, or if you'd rather, you can soak up a view of this body of water while immersed in one of Québec's only heated saltwater pools! Looking for a relaxing, all-inclusive stay? Auberge du Portage offers a variety of packages that include lodging, meals, on-site activities, massage therapy and/or body treatments. At the end of the day, marvel at the sunset before settling in for a good night's sleep.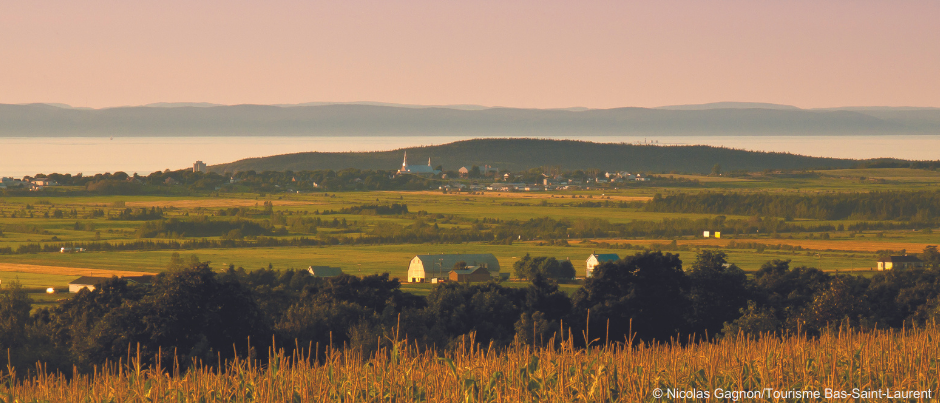 As you keep driving east along Route 132, you'll arrive at the village of Cacouna, home to many ancestral residences as well as buildings of heritage interest dating back to when wealthy English-speaking families came here to enjoy the salty sea air in the summer. A 2-km (1.2 -mi.) self-guided audio tour of the village will allow you to learn more about this historical period. Cacouna is also home to the Wolastoqiyik Wahsipekuk First Nation, the only Wolastoqey Nation in Québec. Stop in the Maison Denis-Launière, an interpretation centre and workshop/boutique, where you can purchase unique handcrafted items made by members of this community. If you're a nature lover, you'll also want to admire the view of the islands in the St. Lawrence from the lookout as well as explore Parc côtier Kiskotuk, a coastal park that's a popular bird-watching site.
Gaspésie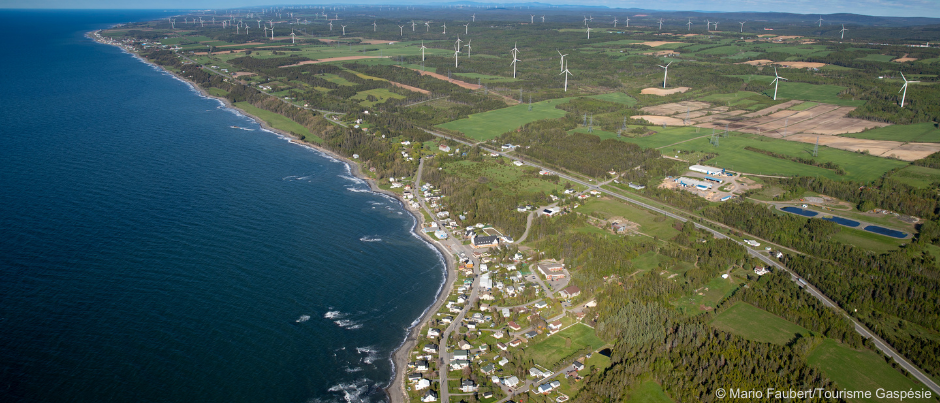 Still on Route 132, about 10 km (6 mi.) past the famous Reford Gardens, the village of Métis-sur-Mer also dates back to the 19th-century resort era. In this small bilingual community, you'll find many opulent villas as well as three chapels of different denominations. One neighbourhood has a name that makes many people laugh: Les Boules (which literally means "The Balls")! It was given this name because of the rounded rocks eroded by the waves that you'll see along the coastline. Métis-sur-Mer offers amazing views, but it will also give you the opportunity to admire a lighthouse, go for strolls along the water and visit friendly cafés and art boutiques. And why not prolong your enjoyment by spending the night in this area?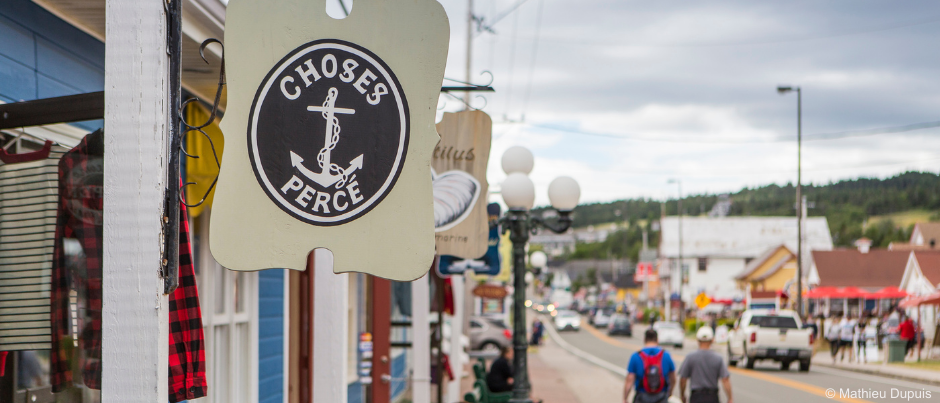 At the very tip of the Gaspé Peninsula, Percé has been attracting vacationers for nearly a century, not only because it's home to legendary Percé Rock, but also because it offers a multitude of other attractions. As you stroll through the centre of the village, you'll be able to contemplate the area's rich architectural heritage, which includes old fishing buildings, ancestral homes and a church made of local stone. This is also the perfect opportunity to discover the village's many artists and artisans! If you're looking for adventure, set off to visit Parc national de l'Île-Bonaventure-et-du-Rocher-Percé, which is home to an impressive northern gannet colony (on Bonaventure Island). You can also visit the Percé UNESCO Global Geopark, which offers 18 km (11 mi.) of hiking trails as well as a breathtaking view of the village from a glass platform suspended 200 metres (660 feet) above sea level! In the evening, enjoy a seafood dinner and then head out for a stroll along the Promenade de la Grave boardwalk where you can breathe in the salty sea air before returning to your lodging establishment for the night.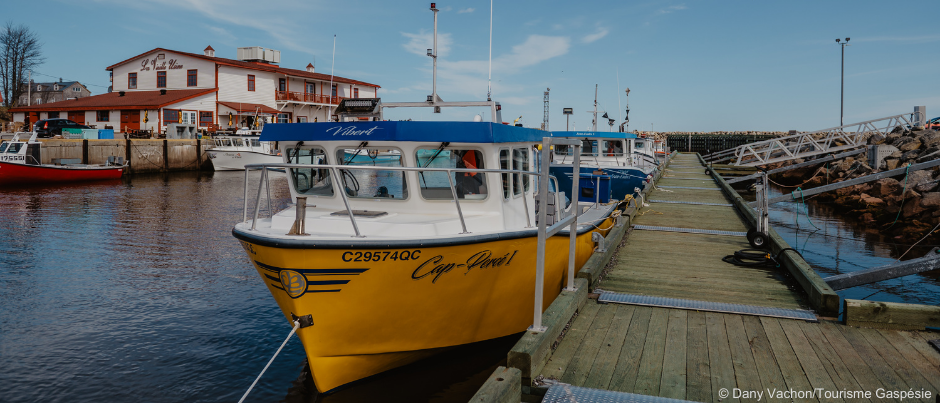 Located a few kilometres further along Route 132, L'Anse-à-Beaufils is a picturesque fishing harbour typical of the region. Opinions vary as to the origin of this hamlet's name, but all agree that it's one of the most festive spots to add to your itinerary in Gaspésie! Established in a former salt cod processing plant, La Vieille Usine is a cultural space featuring a bistro café with a patio, a bar, exhibitions and a show venue offering a variety of performances for all tastes! Nearby, the Pit Caribou microbrewery offers a range of popular craft beers, which you can savour in the pub or outside on the patio. History buffs can look forward to a visit to an authentic historic general store built in 1928, which will take you back in time to the days of the Jersey Island fishing companies. Here you can find out more about life in the old days from guides in period costume.
Côte-Nord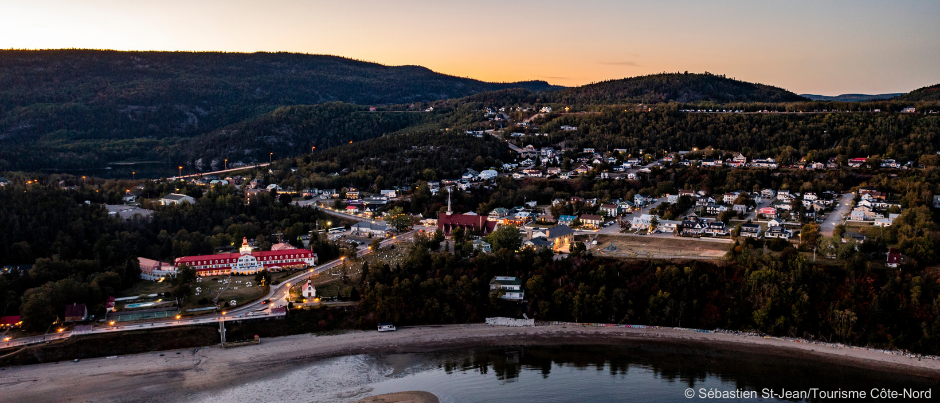 Home to a distinctive red-roofed hotel, Tadoussac has been charming visitors for decades with its rich architectural and historical heritage, proximity to nature and prime location at the heart of one of the most beautiful bays in the world. In addition to popular whale-watching excursions, this area offers plenty of other options for outdoor activities, including hiking and sea kayaking, notably in Parc national du Fjord-du-Saguenay and the Saguenay–St. Lawrence Marine Park. Are you interested in learning more about marine mammals? A visit to the Marine Mammal Interpretation Centre (CIMM) is a must! And to find out more about Canada's first fur-trading post, founded in 1600, visit the Chauvin Trading Post. In the evening, enjoy a stroll through the village and along the beach, followed by a fine meal and a cozy night's sleep.
Îles de la Madeleine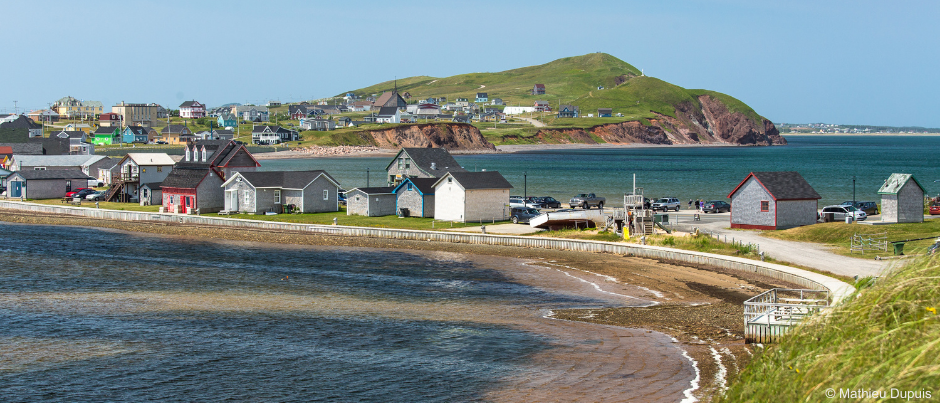 The village of Havre-Aubert, on the island of the same name, will transport you to the heart of this region's fishing history. Start your visit at the top of the Butte des Demoiselles, from which you can admire a view of the sea, the neighbouring islands (including Entry Island!) and La Grave. This heritage site, the only one of its kind in the region, will undoubtedly be the highlight of your visit to the village. Featuring old fishing buildings along a pebble beach, La Grave now houses a museum, boutiques and artists' and artisans' studios such as Atelier Côtier, renowned for its original creations and objects made from local sand, as well as numerous restaurants and cafés. It's a great place to go for a stroll and meet the locals, in a 100% maritime atmosphere! Want to sleep in after a succulent seafood dining experience? Several accommodation options are available, either in the village itself or elsewhere on the island.
Which of these charming villages do you want to discover during your next stay in our regions? Visit our website to start planning your trip now!
If you liked this article, you might also like...