The

Québec maritime Blog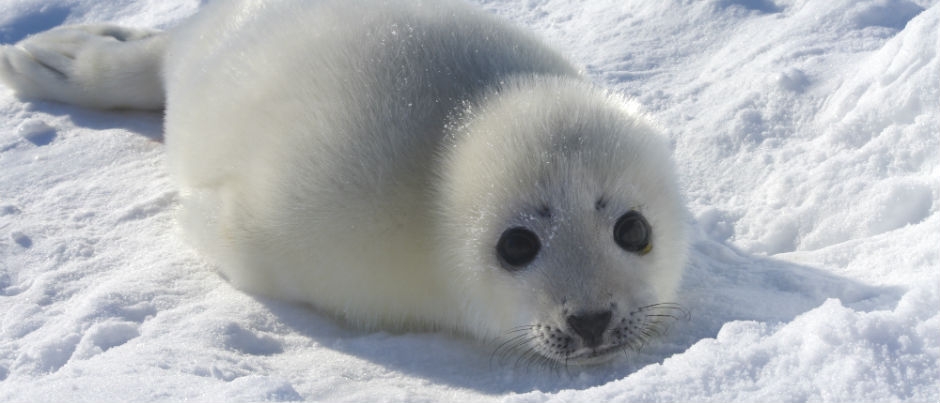 Seal pups charm everyone!
Le Québec maritime
A Whitecoat Photo Safari in the Îles de la Madeleine
Twice now, I've left Montréal in the winter to visit the Îles de la Madeleine, an archipelago in the middle of the Gulf of St. Lawrence. I obviously had to have a good reason to go in March, rather than in the summer, with its promise of heat and long fine-sand beaches in Québec's most popular archipelago. I haven't regretted it—these trips, which took me to the ice to watch whitecoats, are among the most exotic I've ever taken! The pups, known as whitecoats, nurse intensively for 12 days; during this period, they are fluffy white balls of fur with very photogenic faces.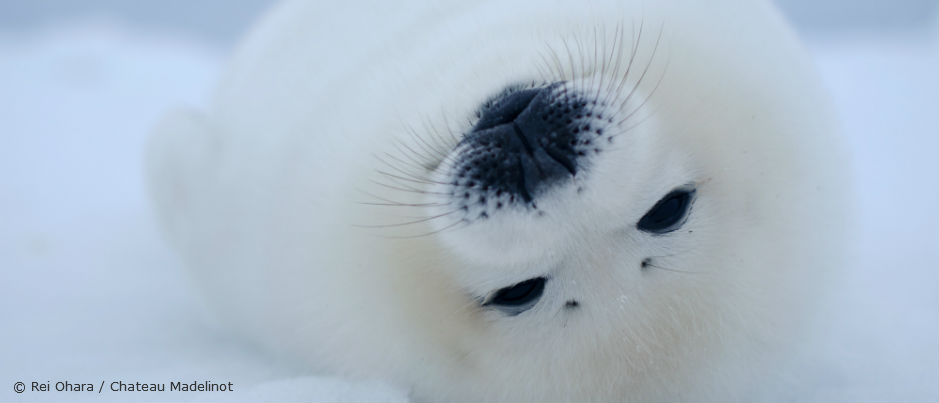 Near the end of the winter, hundreds of thousands of harp and hooded seals make their way south from the Arctic on the ice that drifts across the Gulf of St. Lawrence. Since the Îles de la Madeleine are in the path of the gulf's main stream, the archipelago acts as a natural barrier to the drifting ice. This provides female seals with the ideal conditions for whelping: solid ice and channels of open water, which they will later use to return north in the spring. Year after year, they come back to the ice surrounding the Islands. When the mothers return to the water, their young are left behind and rapidly learn how to fend for themselves.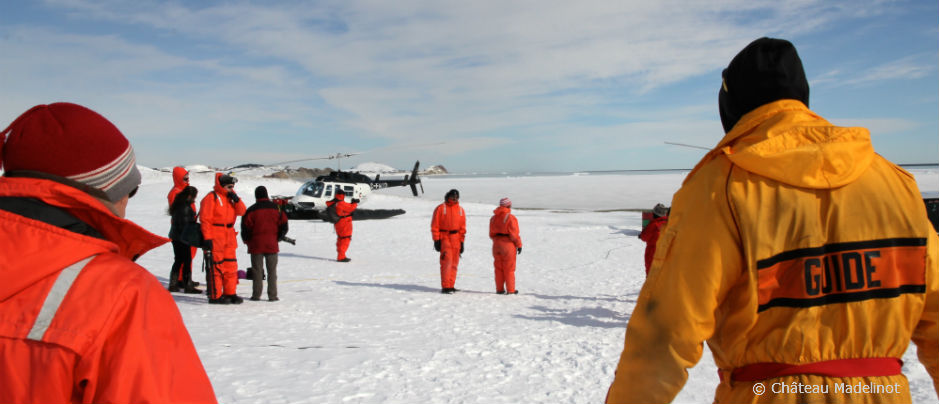 From late February to mid-March, visitors can go on a helicopter excursion (which is part of a package offered by Château Madelinot) to enjoy a unique experience among the whitecoats. Departing from Cap-aux-Meules, the helicopter flies over the Islands before heading out over the sea. The thin ice along the archipelago's coasts soon gives way to waves of ice; further out, the solid pack ice sparkles in the sun. It looks like a frozen white desert distorted by pressure ridges—currents, winds and tides jostle blocks of ice that then freeze together. It was in this surreal frozen landscape that our helicopter landed.
Bundled up in winter survival suits, we found ourselves in the magical world of whitecoats, which are absolutely irresistible in their icy cradles. We wandered from one whitecoat to another for over two hours, never tiring of taking photos of these endearing creatures with their big black eyes and whiskery muzzles.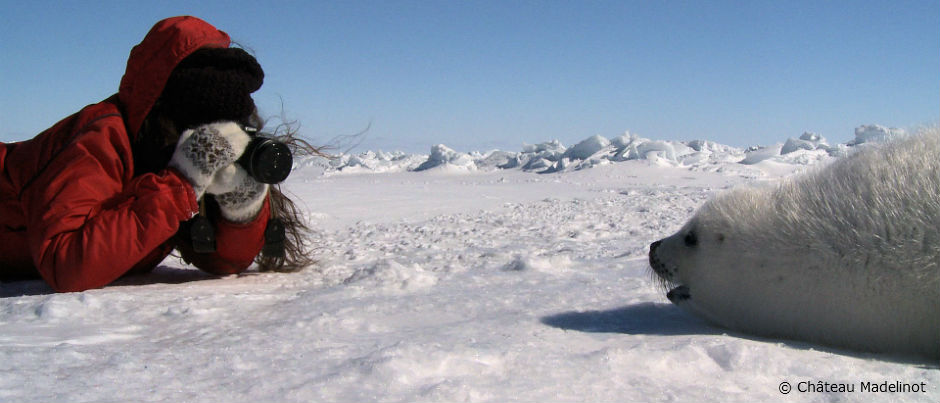 Bonus: The seal-watching package includes an informative visit to the Seal Interpretation Centre on Grande-Entrée Island, snowshoeing and cross-country skiing excursions, photo safaris at sunset and under the stars, as well as two guided tours of the Islands! The Îles de la Madeleine are well known for their colourful houses and friendly inhabitants, not to mention their local cuisine, which is one of the best in the province of Québec.
Do you want to be charmed by the harp seals and their whitecoats? Find all the details here.
If you liked this article, you might also like...