The

Québec maritime Blog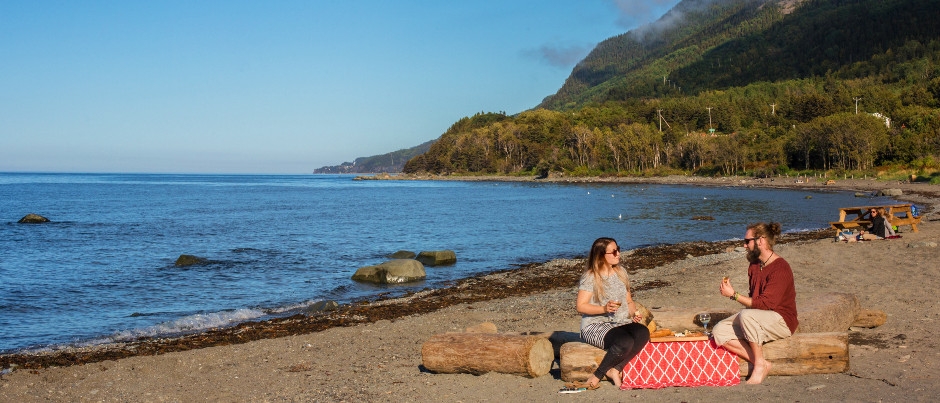 Sainte-Anne-des-Monts
Chok Images/Tourisme Gaspésie
Enjoy More than Picture-Perfect Scenery in Haute-Gaspésie
Follow the Guide!
The natural beauty of the landscapes of Haute-Gaspésie, from Cap-Chat to Sainte-Madeleine-de-la-Rivière-Madeleine, has been photographed so often for promotional campaigns of all kinds that I had to face the facts: I grew up in a picture-perfect setting!
In the land of my childhood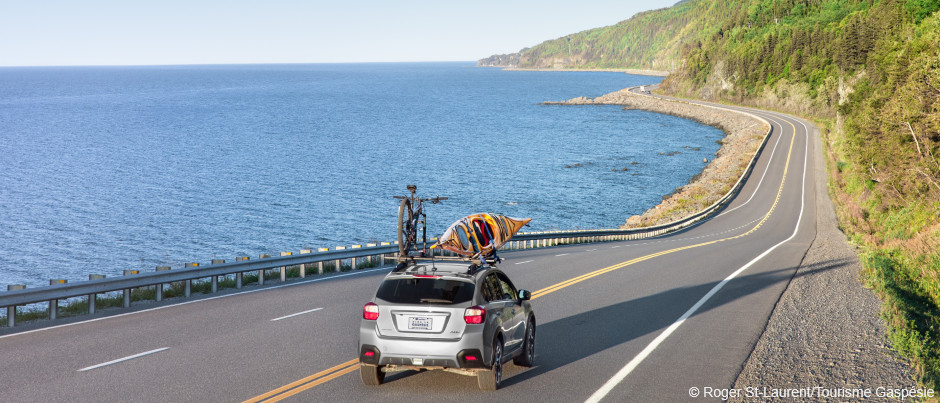 My life as a child was marked by the sounds of the fishermen's barges coming into port and the foghorn blaring on foggy days. I fought against sleep, fascinated by the mysterious beam of the lighthouse that shone through my bedroom window. Near the shore, I was intoxicated by the marine scents of the strips of kelp drying in the sun as I watched schooners dock to fill up with wood. The landscape of my youth was punctuated by the high tides of fall and the blizzards of winter. In spring, we eagerly awaited the mussel and whelk harvest once the ice had melted. Later in the year, we roasted marshmallows over summer bonfires after the sun had set over the sea and watched the tourists speed by our house in pursuit of vacation.
We thought they were so lucky! I didn't realize at the time that I was the one living in a picture-perfect postcard…
Learning to appreciate the beauty of this landscape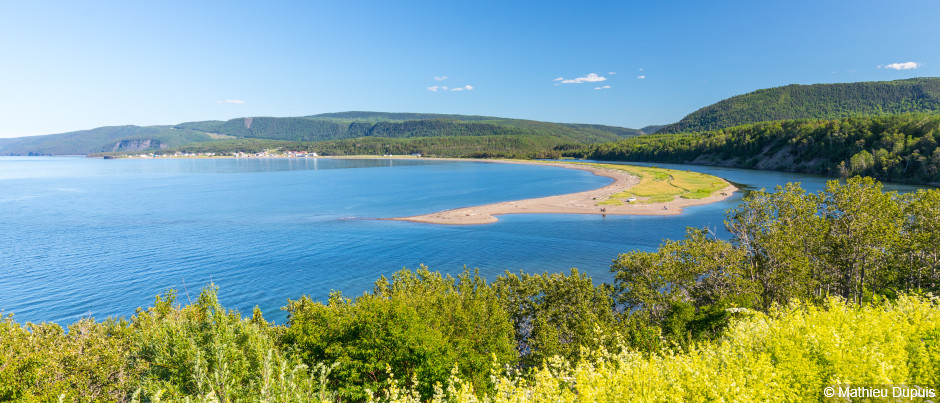 Québec's first female poet, Blanche Lamontagne-Beauregard, who grew up in Cap-Chat, celebrated the rugged beauty of her beloved Haute-Gaspésie in her poems.*
This specific segment of the north side of the Gaspé Peninsula is so achingly beautiful due to its exceptional geological and geomorphological history. This landscape of mountains plunging into the sea was formed from the beginning of the Paleozoic Era, 450 million years ago, to 10,000 years before today, from the creation of the Appalachians to the shaping of the area by the retreating glaciers at the end of the last ice age.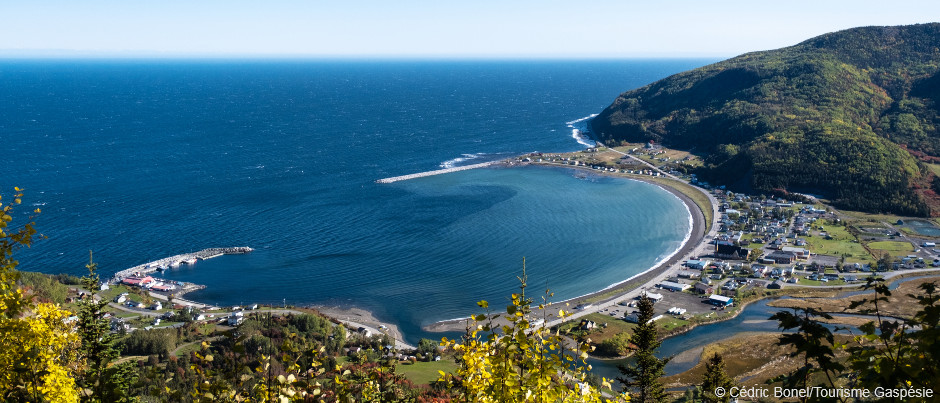 From this long process, a string of hills, capes and cliffs emerged along 130 km (80 mi.) of coastline. A series of bays and coves of various sizes is backed by narrow glacial valleys (formerly fjords) where rivers now flow peacefully. They are often bordered by ancient marine terraces, which are in turn surrounded by mountains. It's at the heart of all this rugged and magnificent natural beauty that the villages and hamlets of Haute-Gaspésie were established.
The famous coastal road at the origin of tourism in Gaspésie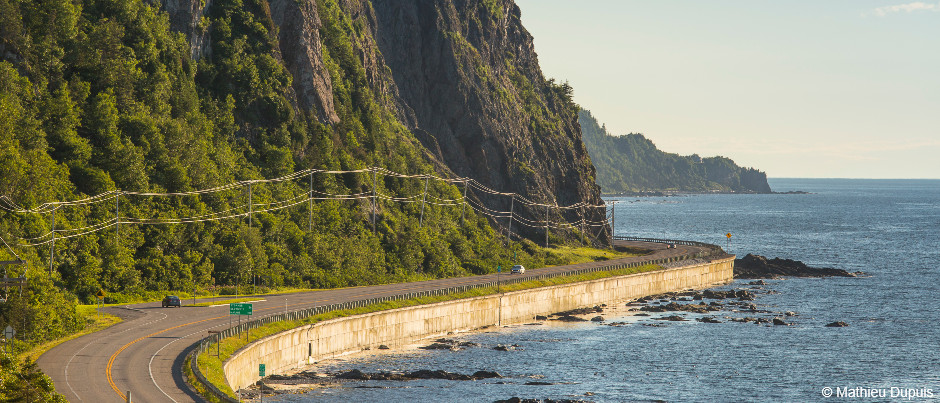 In 1929, the road that loops around the Gaspé Peninsula was inaugurated, kicking off the regional tourism industry. Because the terrain in Haute-Gaspésie is so mountainous, the road in this sector had to be built directly on the shore at the same level as the water. Since then, this magnificent segment of Route 132, which stretches over 100 km (60 mi.), has never ceased to be ranked among the most spectacular coastal roads in Canada. With this great reputation came the trend for visitors to complete the famous Gaspésie Tour in only three or four days…
A hub of excellence for recreational tourism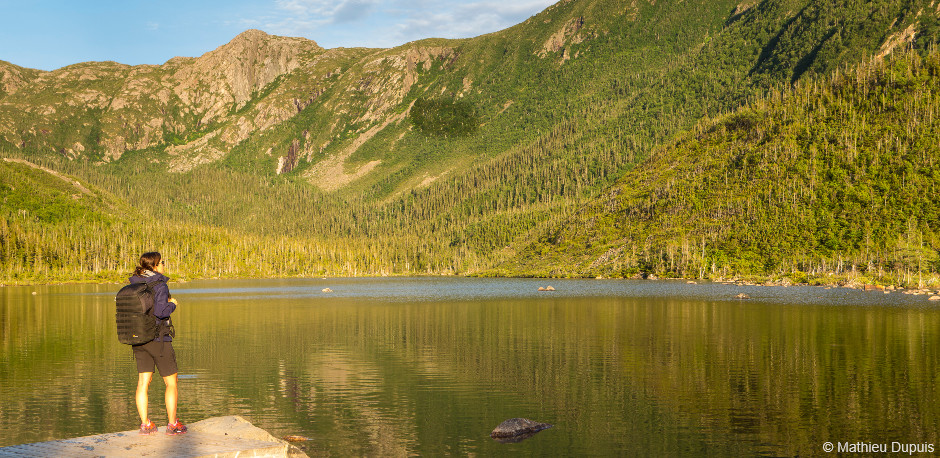 Since the turn of the century, however, a paradigm shift has been taking place in the tourism industry. Travellers have gone from being hurried and passive observers to seeking rich and memorable experiences. And Haute-Gaspésie is finally being recognized as more than just a picturesque setting where travellers may make a couple of quick stops to snap a few photos!
Only about 20 years into this shift, the sector now proudly positions itself as a hub of excellence for four-season recreational tourism, an industry that has been sustainably developed.
With a river that feels like the ocean and a sea of mountains, the Haute-Gaspésie sector offers a wide selection of outdoor activities and is a great place to enjoy longer stays.
By the sea: Hold onto your hat!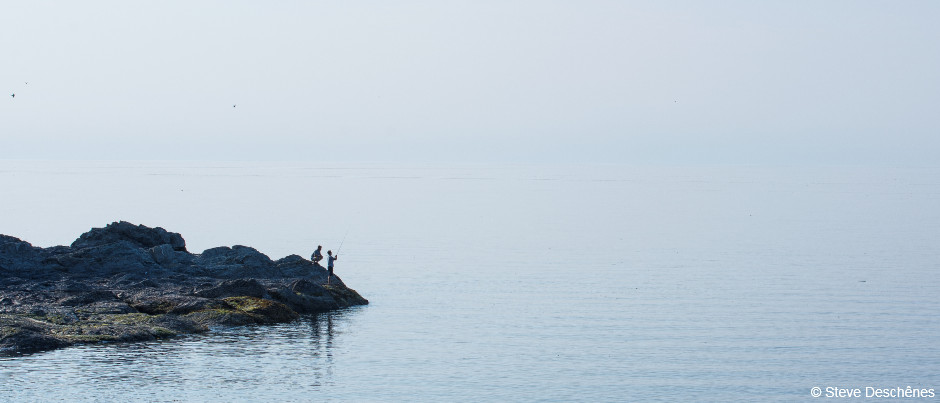 There's so much to experience by the sea, including wind and water sports of all kinds, whether you're new to these activities or an experienced enthusiast. And there's no shortage of local service providers!
On a simpler note, you can follow the locals to the end of a wharf and enjoy a day of mackerel fishing at no cost or try your hand at sea trout fishing from the cayes, the local term for the rocky foreshore. There's nothing more peaceful than breathing in the sea air as you stand on a rock waiting for trout to bite. You may even spot a seal resting nearby…
Another option is to take on the challenge of fishing for salmon, the king of our rivers—and the reason this area has an international reputation. The Cap-Chat, Sainte-Anne and Madeleine rivers offer over 100 pools with limited access. With a little know-how as well as an understanding and respect for the environment, you're sure to enjoy this adventure!
In the mountains: Lace up your boots!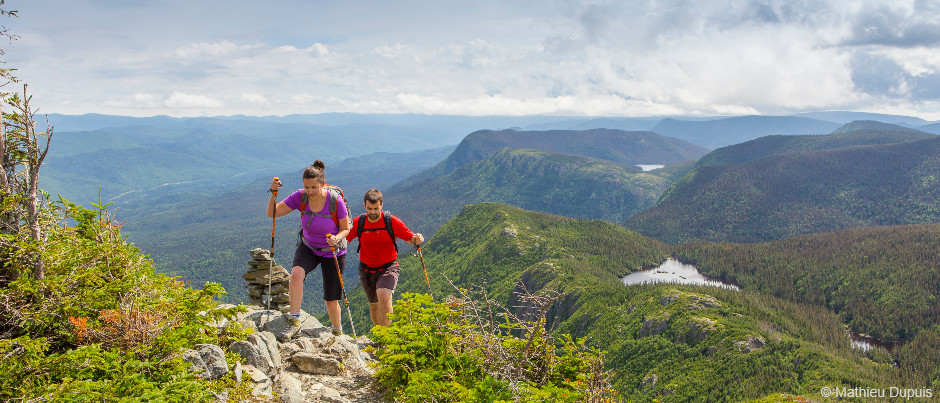 Haute-Gaspésie is fortunate to provide direct access to famous Parc national de la Gaspésie via Sainte-Anne-des-Monts. If you're a hiker, you'll be delighted with the park's 25 summits over 1000 metres (3300 feet) high. Once you've ascended one of these mountains, you'll feel on top of the world as you take in the sublime view. This feeling also awaits you on Mt. Saint-Pierre where you can launch yourself in the air in a hang glider!
Hiking, canyoning, canoeing, wildlife observation, discovery activities: the options are many and within everyone's reach in Haute-Gaspésie. And in the winter, you can look forward to exploring the Chic-Chocs, which are renowned as Eastern Canada's paradise for backcountry skiers!
My favourite spots in Haute-Gaspésie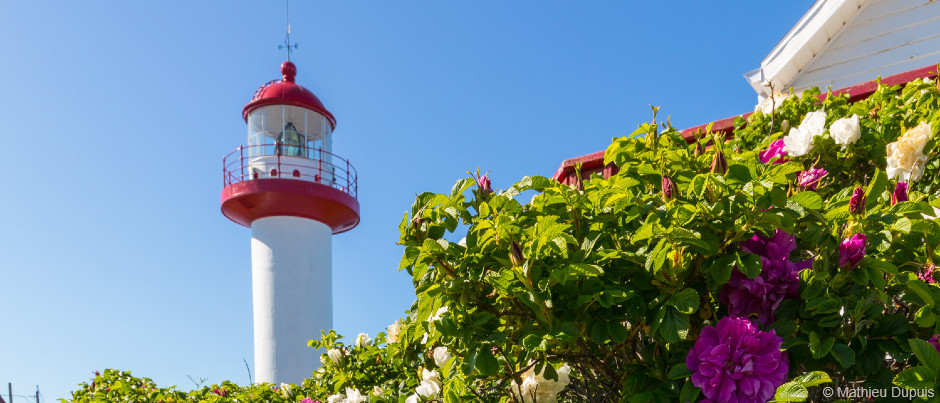 Three magnificent lighthouses dot the coast of Haute-Gaspésie in Cap-Chat, La Martre and Sainte-Madeleine-de-la-Rivière-Madeleine, all of which were built in the late 19th century. As you may have guessed, this segment of the St. Lawrence is one of the most dangerous to navigate: many ships have run aground here. As a result, this area is a shipwreck cemetery that attracts numerous divers and underwater archaeologists.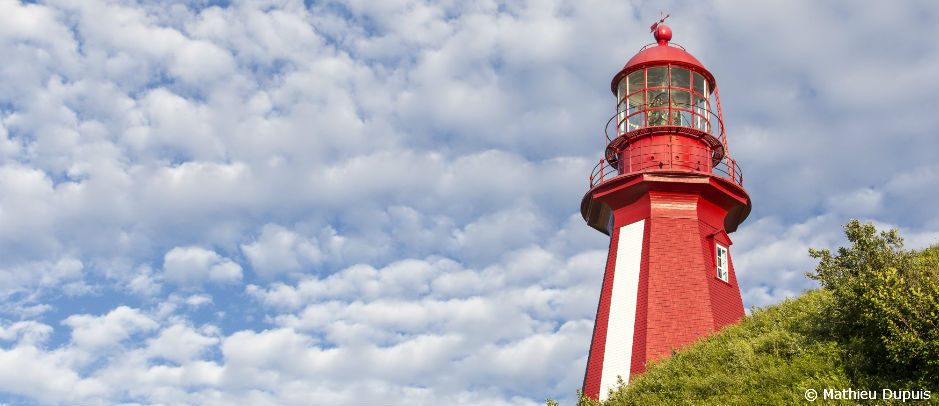 Although they have lost their original purpose, lighthouses are an integral part of our maritime heritage. They are great places to stop and take truly spectacular photos of the coast. If there's one that particularly captures the imagination, it's the one in my village of La Martre. Its bright red octagonal structure is made of spruce wood and cedar shingles, and you can still see the Fresnel lens rotating in its mercury bath using the original system of weights and cables. Don't miss the opportunity to visit this unique sentinel of the sea!
A place to stay for a while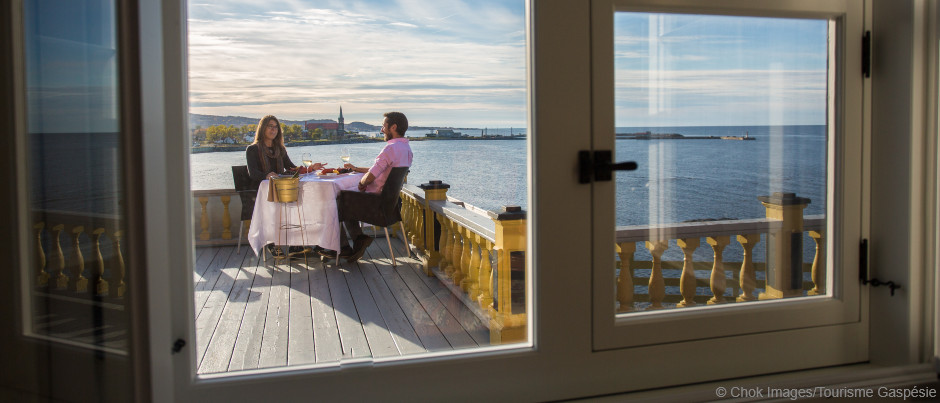 How long should you plan to stay, you ask? One week is good, but two are better! The Haute-Gaspésie sector is not a mass tourism resort area. It remains a wild and fragile environment, with tiny coastal communities.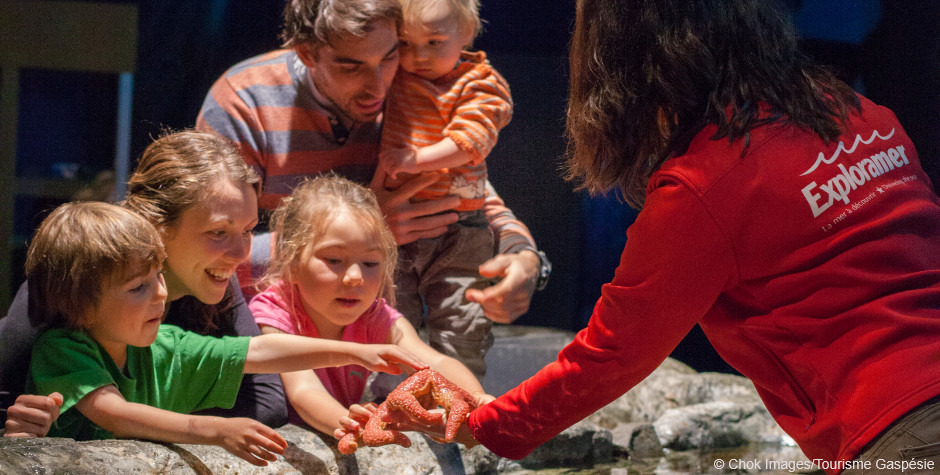 But that doesn't stop the locals from pouring their passion into running small businesses in the service industry, outdoor companies, art stores and friendly restaurants. They look forward to meeting your needs, but also to chatting with you and getting to know you. Be sure to ask questions to find out what can't be found in the tourist brochures: a recipe for roasted cod, how to cook lobster, where to find the little path that leads to a lake where no one goes, where to find the best view of the village, etc.
In fact, you too can become part of this picture-perfect place!
Enjoy discovering Haute-Gaspésie—I guarantee you'll want to visit this sector again and again!

*Particularly in "Rusticité" ["Rusticity"] published in Ma Gaspésie ["My Gaspésie"], Montréal: BeQ, 1928 (https://beq.ebooksgratuits.com/pdf/Lamontagne-Gaspesie.pdf).
If you liked this article, you might also like...