The

Québec maritime Blog
Forillon National Park: A Summer Program with Something for Everyone
Forillon National Park offers visitors a wide range of fun activities. Whether you're interested in nature or culture, you'll find lots of things to do here during your vacation. Here's an overview of the park's summer program.
Nature interpretation activities
Forillon is home to a multitude of natural wonders that you can explore in the company of a naturalist guide. Observe the park's marine life or discover the Canadian beaver's domain. Guided walking tours to Cap-Gaspé and the Mt. Saint-Alban tower are also available (in French only). Don't forget to bring water, a snack, binoculars, sunscreen and a bag for your garbage. Be sure to wear walking shoes or hiking boots.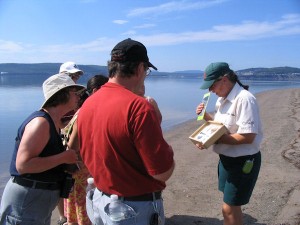 Intepretation activity with Forillon National Park interpreter guides © Serge Ouellet / Parc national Forillon
Family activities are also offered in the park: discover the fossils of Forillon (in French only), explore life on the seashore and participate in Family Sundays at Grande-Grave.
Park interpreter guides are happy to answer your questions at any time. Whether you spot them at the "Curious in Nature" stand at Cap-Bon-Ami or at the Interpretation Centre, they will be delighted to help you make the most of the marvels of the park.
Culture interpretation activities
In the late 19th and early 20th centuries, Forillon bustled with activity in the summer, as hundreds of families and seasonal workers fished cod, then dried and salted it for export to Europe and the Caribbean.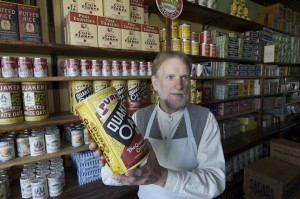 A visit at the Hymans & Sons General Store © Robert Baronet / parc national Forillon
To find out more about this period in Gaspésie history, visit the Hyman & Sons General Store, Anse-Blanchette and the Dolbel-Roberts House at the Grande-Grave Heritage Site. Interpreter guides will help you explore the displays and enjoy activities in authentic period buildings.
Are you travelling with kids? Several activities with a historical theme are available for children in the park: craft activities, "an hour in the life of a child of the 1920s" role-playing game, preparing for a day of cod fishing and more. (some of these activities may only be available in French.) Be sure to enquire about the Parks Canada Xplorers program when you first arrive at Forillon!
Evening entertainment
If you spend at least one night in Forillon National Park, you can participate in lively evening activities. Talks, presentations, star gazing and other special activities are on the agenda.
Consult the full program of activities online.
Reservations
Reserve online at www.reservation.parkscanada.gc.ca.
For more information:
Forillon National Park
122, boulevard de Gaspé
Gaspé (Québec) Canada
G4X 1A9
Toll-free: 1-888-773-8888
www.quebecmaritime.ca/parcforillon
If you liked this article, you might also like...