The

Québec maritime Blog
My First Snowmobiling Experience: The Trails of Bas-Saint-Laurent
I've finally been snowmobiling for the very first time! A couple of weeks ago, I had the opportunity to ride the trails in Bas-Saint-Laurent in the areas of Rivière-du-Loup and Pohénégamook.
Monday morning, I joined our group at the Hôtel Universel in Rivière-du-Loup. I was a little nervous, but mostly excited at the thought of driving a snowmobile for the first time. The guide and I had already agreed that I would share my snowmobile with another member of the group. That way, if I wasn't comfortable riding some parts of the trails, I could let my partner drive. We took advantage of the sunny day to ride the local trail that runs along the St. Lawrence River between Rivière-du-Loup and Saint-André de Kamouraska. From Hôtel Universel, we reached this trail via regional trail #526. No number identifies the local trail, but it's easy to spot on the Bas-Saint-Laurent snowmobile map. Throughout the ride, we were treated to great scenery with views of the St. Lawrence and the Charlevoix region. In addition, as the trail runs next to the highway, I had the opportunity on several occasions to compare my speed to that of passing trucks. I quickly realized I was no match for them!
Where to stop for a bite to eat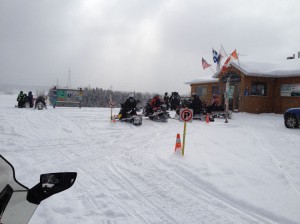 Club Les Aventuriers Saint-Modeste
To fully enjoy your snowmobile experience, you have to visit a snowmobile clubhouse for a hearty meal. We opted for the Les Aventuriers clubhouse, which is accessible via Trans-Québec trails #5 and #85. Did you know that the typical snowmobiler's meal in Québec is a club sandwich? For those not in the know, club sandwiches are made with three slices of toasted bread garnished with chicken, bacon, tomato, lettuce and mayonnaise. They are, of course, served with fries. Fully assuming my new role as a snowmobiler, I willingly embraced this tradition. From our group of seven, five of us ordered the famous sandwich!
We hit the road again in the afternoon to continue exploring the trails near Rivière-du-Loup, in search of viewpoints where we could admire the city from above. After a full day of snowmobiling, we headed back to Hôtel Universel where we spent the night.
From this very first day, I LOVED snowmobiling. Exploring trails that meandered through the forest or zooming along the straight trails (where we could go a little faster) absolutely thrilled me. The advice of our guide, Steve Gaudreau of Panda Aventure, really helped me to understand my "machine" and gave me the confidence I needed. I was ready for the next day when we would head towards Pohénégamook Santé Plein Air!
If you liked this article, you might also like...