The

Québec maritime Blog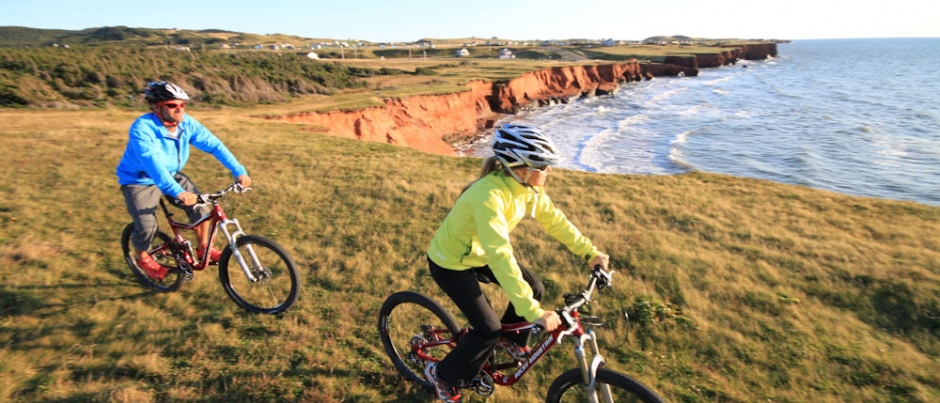 Cycling on the Îles de la Madeleine
Éric Marchand
The Maritime Regions of Québec on Two Wheels
Cycling is an excellent way to explore a region at your own pace and enjoy nice views, especially when you have to work a little harder to reach the viewpoints. The maritime regions of Québec boast many cycling routes, either on roads or cycling paths, to please everyone, from short relaxed rides to full-on touring trips and demanding routes for sport-minded riders. Here are a few ride ideas.
Bas-Saint-Laurent
Route Verte in Kamouraska
For family rides, it's hard to find anything better than the Route des Doux Pays, a section of the Route Verte cycling trail between Saint-Roch-des-Aulnaies and Rivière-Ouelle, west of Kamouraska, in Bas-Saint-Laurent. It's a well-maintained gravel path along the St. Lawrence River offering stunning views of the mountains of Charlevoix across the river.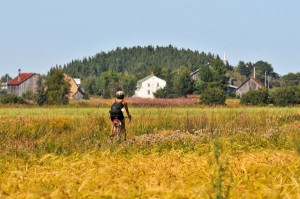 Cycling through Kamouraska fields
© Marc Loiselle
I particularly enjoyed the stretch of the Route Verte a little farther east on Route 132, between Saint-Denis and Notre-Dame-du-Portage. It's a 36-km ride (one-way) that can be ridden at any pace, intense or relaxed, and adjusted depending on the winds. The shoulder is wide, the road goes through canola fields with their characteristic colours and scents, and the scenery of coastal flats, cliffs and cabourons (rounded hills typical of the Kamouraska region) can't be beat. The village of Kamouraska offers numerous spots to stop and relax during your ride: just go down Avenue Leblanc on the west side of the village (at the top of the short hill on Route 132) to get back along the river and take a break on the beach or on the pier.
Between Kamouraska and Saint-André, you'll find Camping de la Batture, run by SEBKA. Arguably one of the best spots around to watch sunsets, the campground holds Vélo Québec's Bienvenue cyclistes! certification. As such, it offers campsites with no prior reservation to visitors travelling exclusively on bicycle. One less thing to worry about for long-distance cyclists!
Parc national du Bic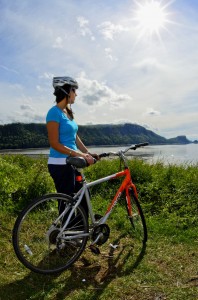 Cycling in Parc national du Bic
© Marc Loiselle
Did you know that the Route Verte goes through Parc national du Bic ? The Coulée à Blanchette cycling path is a section of it. It starts at the Discovery and Visitors Centre, follows the impressive rock wall below Pic Champlain and ends on chemin de la Mer in Saint-Fabien-sur-Mer where you can continue, glancing at the cottages and charming environment of this so peaceful area.
On the way back, just after the Discovery and Visitors Centre, head left on the path that will take you along Baie du Ha! Ha! and all the way to the tip of Cap à l'Orignal. You'll find a tea room on your way, Rose des thés, located in the Lyman chalet, where you can enjoy, not only teas, but also smoothies, frappuccinos and rose juice. What more could you ask for after a beautiful bike ride in scenic Parc national du Bic!

Îles de la Madeleine
A perfect destination to ride in salty sea breezes, the Îles de la Madeleine unveil many charms to those willing to explore it on two wheels. Parc de Gros-Cap is an ideal central location to set your base camp. From there, you can explore pretty much every corner of the Islands and most of their attractions, within a day's ride. I have fond memories of a beautiful ride on a sunny day, cycling down to Havre-Aubert from Parc de Gros-Cap. I made a loop turning right on picturesque Chemin du Bassin and Chemin de la Montagne, before heading back along Route 199 to the Havre-Aubert beach. After an hour-long rest on the beach, I rode back to the campground, enjoying a sustained tailwind. I can assure you that anyone who likes speeding (on a bike) will just love riding the sections of Route 199 along beaches and lagoons between the islands!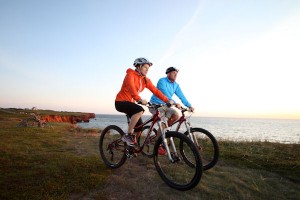 Cycling along the coast on the Islands
© Eric Marchand
Another good plan for a relaxed day is a tour of Havre aux Maisons Island, via Chemin de la Pointe-Basse and Chemin des Buttes, with a lunch break on the Dune du Sud beach and stops at the Fromagerie du Pied-de-Vent cheese factory and the Fumoir d'Antan smokehouse, just to refuel your energy.
We look forward to seeing you on the roads and cycling trails of the maritime regions of Québec!
If you liked this article, you might also like...