The

Québec maritime Blog
Snowmobiling in Bas-Saint-Laurent: An Activity for Everybody and Every Family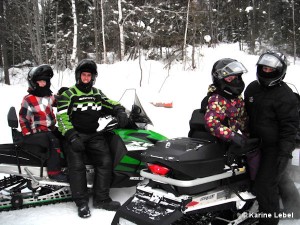 The day promises to be nice and sunny, so the plan is quickly set for a snowmobile ride. I finally manage to turn my two kids away from the Saturday morning cartoons, and we prepare ourselves for the day!
While my husband gets our snowmobiles ready, I take on the task to get our little crew dressed!! As you know, getting children ready to go outside is never easy. Mere seconds after they've put on their long johns, warm sweaters and wool socks, the first complaints begin: "Mommy, I'm hot." I try to speed things up, but one of them tells me he needs to go to the washroom! I take a deep breath, and take off all of their clothes to let them go. A few minutes later, we start all over again in a hurry!! "Come on folks, let's go outside!!" I put on their helmets and scarves, stuff a few tissues and a granola bar in their pockets, and send them outside. I'm all sweaty and I'm not even dressed yet!! But the adventure ahead of us is a great incentive to rush myself too!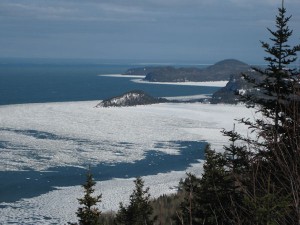 View of the Bic Islands from the trail
© Tourisme Bas-Saint-Laurent
No need to praise the snowmobile trails in Bas-Saint-Laurent: they are wide, perfectly maintained and well signposted. Their reputation preceedes them. For a novice like me, who practice this activity with all my family, it's the basics of security. On our "snow-buses" (we kind of feel like that, each of us with a child as a passenger), we ride, sometimes in the forest among snow-loaded trees, sometimes through wide open fields offering beautiful vistas on the area. Leaving the house, I wasn't expecting to see such beautiful scenery. Even my daughter makes me several signs to convey her wonder. We cross many riders on the trails who, just like us, are eager for adventure and magical scenery. Everyone waves at each other and takes advantage of the day to get some mileage on their snowmobile!
After an hour or so on the trails, we head to a clubhouse for lunch, because our mini-passengers are already hungry!! The host at the clubhouse welcomes us with a great smile and offers us a delightful warm soup. Other riders tell us about their day; some come from as far as Edmundston, New Brunswick. They are very pleased to see us with our two apprentice riders; the future of riding, as they say! Now that everyone is full and warm, it's time for the "get-the-kids-dressed-again marathon" (see above, if need be)!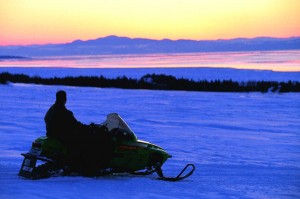 Magnificent sunset in Bas-Saint-Laurent
© Tourisme Bas-Saint-Laurent
We resume our trip, following various trails all equally splendid. That's another advantage of the trails in Bas-Saint-Laurent; several of them can take you from a point A to the same point B. The weather is so nice, we decide to push our trip to Pohénégamook, a town located by the lake that bears the same name. Our mini-passengers are very impressed to see so much ice on a lake they know so well, but that they've seen only in the summer!!
On the way back, the sun sets right in front of us and our helmets are becoming heavier. Needless to say, the hot chocolate is a must when we get home and tonight's storytelling session will be shortened!
It was a great snowmobile ride that really impressed my big girl, satisfied the spirit of adventure of my little man and gave great delight to mom and dad, who were so happy to spend a day outside with all the family and to introduce them to snowmobiling!

For itinerary ideas, check out this blog post on the top spots to see while snowmobiling in Bas-Saint-Laurent.
If you liked this article, you might also like...