The

Québec maritime Blog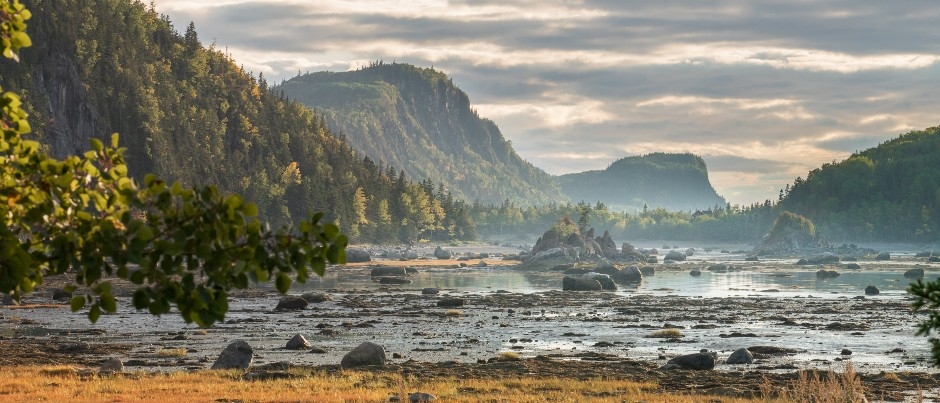 Parc national du Bic, Bas-Saint-Laurent
JC-Lemay
Discover Bas-Saint-Laurent in the Fall!
If you want to fill up on fall colours, Bas-Saint-Laurent is a great destination. From scenic tourist routes to amazing hiking trails, this maritime region of Québec has more than one trick up its sleeve to charm those who love this special season!
Adventures in nature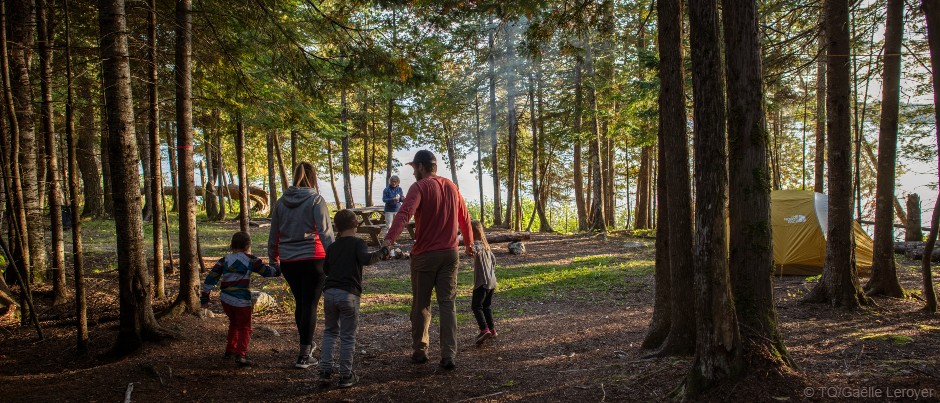 Are you a hiking enthusiast? Treat yourself to a fall visit to one (or both!) of this region's two national parks. If you're there at the beginning of the season, head to the Témiscouata area, which is where the leaves first change colour before the fall foliage spreads out towards the St. Lawrence. Offering 35 km (22 mi.) of trails through the Notre-Dame Mountains (which you can also drive through via an official tourist route), Parc national du Lac-Témiscouata provides many striking viewpoints of the surrounding area. Don't miss the views of Lake Témiscouata and Lake Touladi, two bodies of water you can also explore by canoe or kayak. But that's not all! The National Trail in Bas-Saint-Laurent also crosses through this park. Hike or cycle this 144-km (90-mi.) trail between Trois-Pistoles and Dégelis to discover a variety of majestic landscapes (including rivers, shoreline, lakes, forests, farmland and mountains).
Another huge natural playground that's sure to charm you in the fall is Parc national du Bic, which offers 25 km (15 mi.) of hiking trails, including a walking area along the coast that's accessible at low tide. This popular park in Bas-Saint-Laurent is home to bays, capes, islands and coves as well as offering a multitude of lookouts where you can contemplate the captivating transformation of nature during this season. Sea kayaking enthusiasts will also enjoy discovering the park's colourful landscapes from a completely different angle. Finally, cyclists of all ages will be delighted with the park's 15 km (9 mi.) of bike trails.
Want to admire the fall scenery from the highest suspension footbridge in Québec, which is 63 metres (205 feet) high? Visit the Canyon des Portes de l'Enfer (Hell's Gate Canyon), where you can also enjoy exploring 20 km (12 mi.) of hiking trails. Would you rather soak up views of the sea and the mudflats, which range from green to golden at this time of year, depending on the sun? The SEBKA riverside park offers a 12-km (8-mi.) hike through the forest along the St. Lawrence that's dotted with scenic lookouts.
For cyclists, the Route Verte bike route allows you to contemplate the region's copper-coloured salt marshes, while the Petit Témis Interprovincial Linear Park will take you all the way to New Brunswick along a spectacular trail. You can also plan a road trip by car or motorcycle along the Border Route to discover the areas bordering New Brunswick and/or Maine, or explore the Navigators' Route, which will take you through towns and villages along the St. Lawrence.
Looking for incredible sunsets? Parc de la Pointe in Rivière-du-Loup offers a bike path and walking trail by the sea that's one of the best places in the world to admire these nightly shows. Would you rather go treetop trekking? At Domaine Valga, the "Forêt de Maître Corbeau" aerial adventure park gives you the opportunity to commune with colourful hundred-year-old trees as you progress through an exciting ropes course!
Wildlife observation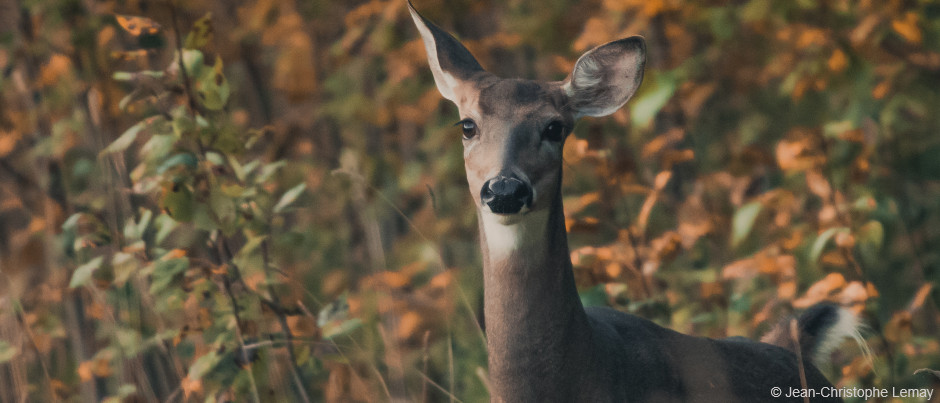 In addition to beautiful landscapes, fall is also a great season to observe wildlife in Bas-Saint-Laurent. Since the region is home to many different habitats and the St. Lawrence is an important migration corridor, many species of birds can be observed in Bas-Saint-Laurent at this time of year. In Parc national du Lac-Témiscouata, you're sure to spot at least a few of the 150 species of birds that are found in the park—you may even see a bald eagle! The Kiskotuk coastal park in Cacouna is another popular bird-watching site where you can see ducks, rails and herons in the areas between the boreal forest and the salt marshes.
Take advantage of your visit to Parc national du Bic to observe the grey and harbour seals that often pass through this park. You're also more likely to spot white-tailed deer and porcupines in the fall, in both national parks and wildlife reserves.
Fall flavours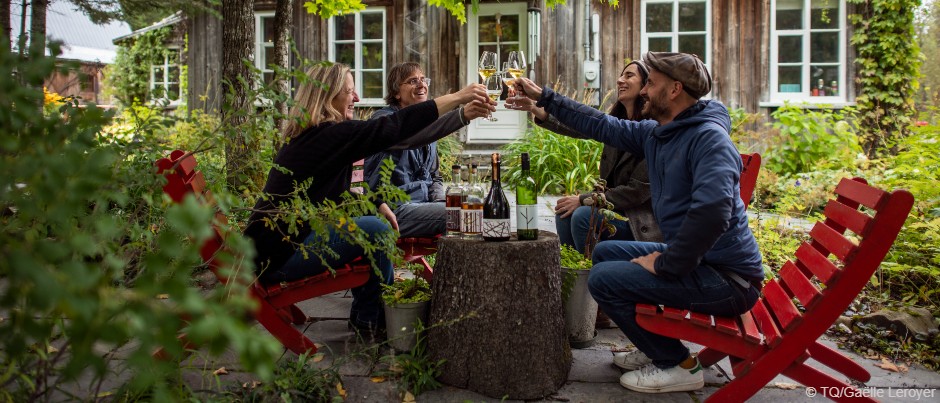 Fall is harvest season in Bas-Saint-Laurent, which means lots of orchard fruit are available. These include pears and plums, such as the famous blue and yellow damson plums that are grown in the Kamouraska area. Visit the Maison de la Prune (Plum House) in Saint-André-de-Kamouraska to find out more about this fruit. Fresh plums are delicious, of course, but you can also try plum jam, jelly, syrup and fruit paste. In the same area, the Jardins de la Mer in Saint-Germain-de-Kamouraska offers a range of products made out of rosehips, which are harvested until the fall.
If you'd like to try locally made alcoholic beverages, head to the Vignoble Amouraska vineyard to discover their grape and berry wines. Another place to visit is Domaine Acer, which produces wines and liquors made with maple sap. While you're there, you can also admire the dazzling trees in their maple grove! Finally, after a busy day discovering the region's fall wonders, don't miss the opportunity to taste handcrafted spirits at Distillerie du St. Laurent, which makes gins and whiskies using local ingredients.
While visiting Kamouraska, you'll want to satisfy your sweet tooth at the La Fée Gourmande chocolate shop: treat yourself to a chocolate dessert made on site accompanied by a flavourful coffee. In the Rimouski area, be sure to pop into Pâtisseries et Gourmandises d'Olivier to try one of their butter pastries while watching the pastry makers at work.
Several gourmet festivals also take place in the fall in Bas-Saint-Laurent. For example, the forest mushroom festival in Kamouraska in mid-September offers a unique opportunity to taste local forest products during workshops and even a gourmet banquet!
Fall in Bas-Saint-Laurent is also a great time to enjoy strolling through public markets and making happy discoveries while meeting passionate food producers. From Sainte Luce to La Pocatière, these markets offer a golden opportunity to discover a host of tasty seasonal products in one place.
No matter what route or activity you choose, the season's colourful landscapes will be part of your fall adventures in Bas-Saint-Laurent! So what are you waiting for to come and admire them?
If you liked this article, you might also like...