Home »
Blog »
20 Sea, Forest and Mountain Landscapes to See During a Snowmobile Trip in Eastern Québec
The

Québec maritime Blog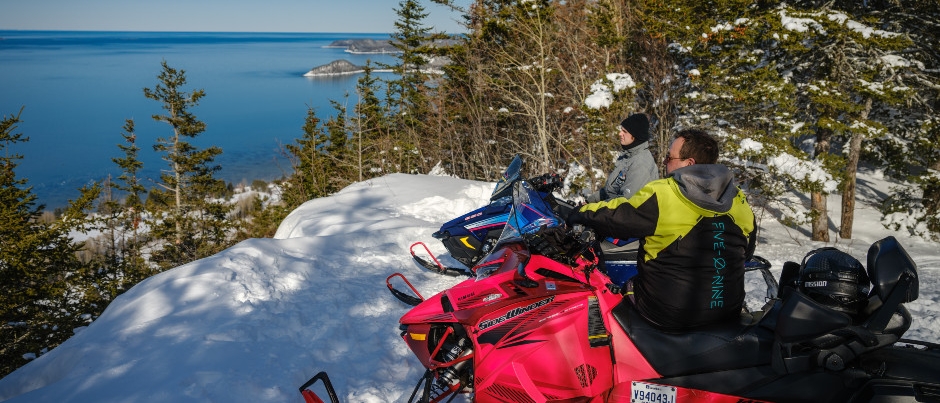 Saint-Fabien, Bas-Saint-Laurent
Patric Nadeau/Tourisme Bas-Saint-Laurent
20 Sea, Forest and Mountain Landscapes to See During a Snowmobile Trip in Eastern Québec
The regions of Eastern Québec are renowned for their magnificent winter landscapes, which are so appreciated by snowmobilers. Whether you prefer views overlooking the sea, dense forest scenery or mountain vistas, you'll find lots of landscapes to admire during a snowmobile trip in Bas-Saint-Laurent, Gaspésie or Côte-Nord. Here are a few spots not to miss!
To admire views of the sea…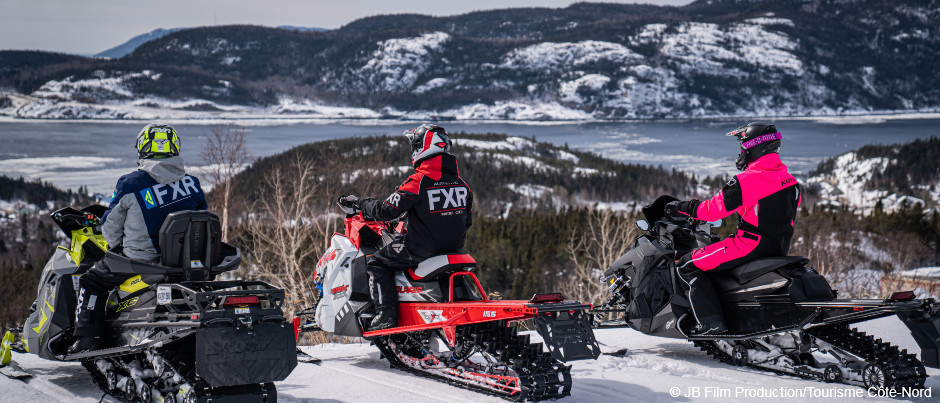 Bas-Saint-Laurent
1. Local trails between Saint-André and Notre-Dame-du-Portage: These low-traffic trails give you the opportunity to ride along the St. Lawrence over several kilometres. Make sure you're there at sunset for a truly idyllic experience!
2. Trois-Pistoles: Stop at the lookout on regional trail #571 for a panoramic view of the town as well as the St. Lawrence!
3. Saint-Fabien: From Trans-Québec trail #5 (TQ5), take regional trail #518 and then a local trail to the Saint-Fabien lookout. From there you can admire a magnificent view of the sea, the coastline and the Bic Islands.
Gaspésie
4. Percé Rock: Jutting from the waters of the Gulf of St. Lawrence, this iconic natural landmark can be admired from the shore as well as from the top of Mt. Sainte-Anne (via TQ5 and a local trail). A sight not to be missed!
5. Mont-Saint-Pierre: Head to this village to contemplate the sea stretching out to the horizon! Accessible via TQ5, the top of Mt. Saint-Pierre offers a dizzying view of the St. Lawrence.
6. Port-Daniel: This area offers magnificent views of Chaleur Bay! Follow TQ5 along the coast and admire the frozen waters of the bay as well as the cliffs surrounding it.
Côte-Nord
7. Saguenay Fjord: This glacial valley flooded by the sea can be observed in the areas around Tadoussac and Sacré-Coeur. To do so, follow the local trails from Trans-Québec trail #93. The sight of the fjord will take your breath away!
8. Pointe-des-Monts: While riding along Trans-Québec trail #3 (TQ3), make a detour to Pointe-des-Monts from Baie-Trinité to see one of the oldest lighthouses in North America!
9. Route Blanche (White Trail): If you're feeling particularly adventurous, you'll love this trail that takes you along the coastline of the Gulf of St. Lawrence from Kegaska to Blanc-Sablon through the villages of the Lower North Shore. This expert-level trail is the only land-based way to travel in this region. Be sure to prepare carefully for this trip before you set off.
While crossing the St. Lawrence…
10. The ferry: What better way to get a unique view of the sea than by taking a ferry? Enjoy this experience aboard the ferry that links Baie-Comeau or Godbout (Côte-Nord) and Matane (Gaspésie). This crossing will also allow you to visit two regions without having to retrace your steps!
While riding through the forest…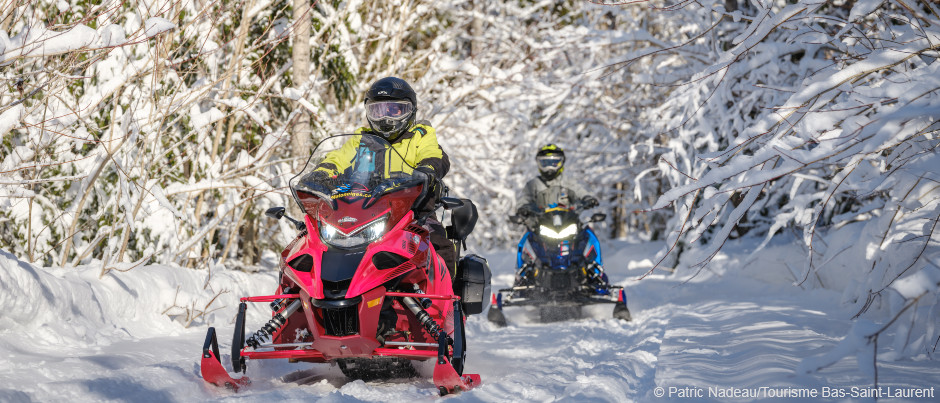 Bas-Saint-Laurent
11. Kamouraska: Trans-Québec trail #35 (TQ35) follows the old Monk railway line all the way to Pohénégamook. You'll particularly appreciate the flat terrain and wide curves along this segment of the trail.
12. Lake Témiscouata: Several trails in this area will give you the opportunity to admire the beautiful forests surrounding this lake, which is the second largest south of the St. Lawrence: TQ35 between Saint-Louis-du-Ha! Ha! and Squatec, regional trail #571 between Dégelis and Squatec, and Trans-Québec trail #85, which will take you along the lake.
13. Saint-Gabriel-de-Rimouski: Bas-Saint-Laurent is home to many old-growth sugar bushes, including one of the oldest in the province located in this municipality, inland from Rimouski. You can reach it via regional trail #579.
Gaspésie
14. Trail #591: Linking two segments of TQ5, this regional trail will take you through a snowy forest for about 30 km (20 mi.). Along the way, you can admire a maple grove in the Sainte-Paule area.
Côte-Nord
15. Manicouagan River: Follow TQ3 to Baie-Comeau and you'll have the opportunity to cross this impressive river via the highest snowmobile bridge in the world (and the longest in North America)! Be sure to stop in the middle—over 27 metres (90 feet) above the water—to admire the surrounding forest!
16. Sept-Îles: The stretch of TQ3 between Rivière-Pentecôte and Sept-Îles is a favourite among snowmobilers: this segment of the trail through the boreal forest is particularly wide and straight!
To soak up the mountains…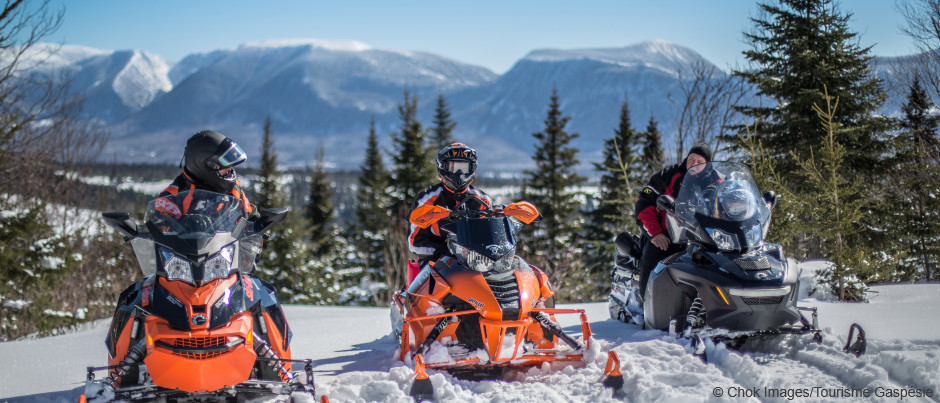 Bas-Saint-Laurent
17. Notre-Dame Mountains: This mountain range is about 200 million years old! Follow TQ35 through snow-covered forests as well as several villages and maple groves. If you're lucky, you may spot a few white-tailed deer during your ride!
Gaspésie
18. Matapédia Valley: For a breathtaking view of this valley, head to the Saint-Pierre Mountain in La Rédemption via regional trail #587. You can also observe huge wind turbines and, under the right weather conditions, you'll even see a forest of ghost trees!
19. Chic-Chocs: Located at the heart of the Gaspé Peninsula and boasting 25 peaks over 1000 metres (3300 feet) high, the Chic-Chocs are accessible via regional trails #595 and #597 from TQ5. Renowned for their heavy snowfall, these mountains are a popular snowmobiling destination.
Côte-Nord
20. Caribou trail: Experienced snowmobilers can enjoy this 400-km expert-level off-trail ride from Port-Cartier all the way to Fermont, near the Labrador border. You must be accompanied by a certified guide to enjoy this experience. And if you're lucky, you'll see caribou in the tundra!
So, which of these landscapes appeals to you the most? Have you already had the opportunity to admire one of these spots? Tell us about it in the comments below.
If you liked this article, you might also like...