The

Québec maritime Blog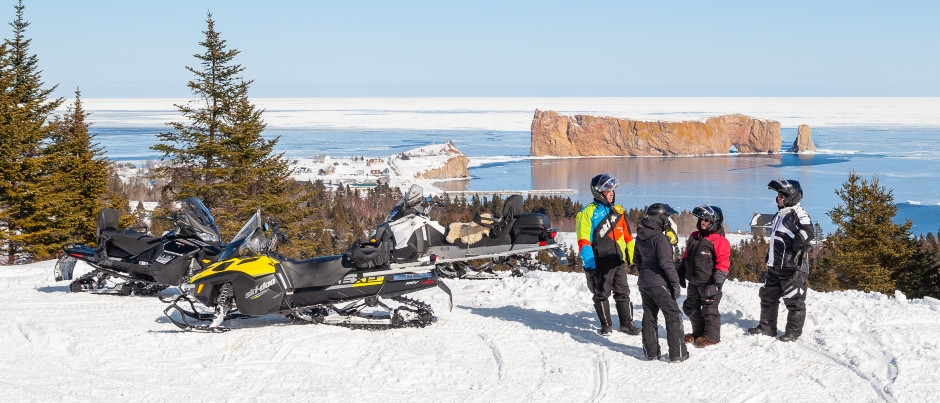 A famous limestone giant, Percé Rock is an impressive sight at any time of year
Roger St-Laurent
3 Good Reasons to Stop in Percé on a Snowmobile Trip
Gaspésie is particularly magical in the winter, and Percé, at the tip of the peninsula, is no exception! A popular destination in the summer and fall, this area also has lots to offer once it's covered in a blanket of snow. Keep reading to find out why you should stop in Percé during your next snowmobile trip in this region.
1. See Percé Rock from various angles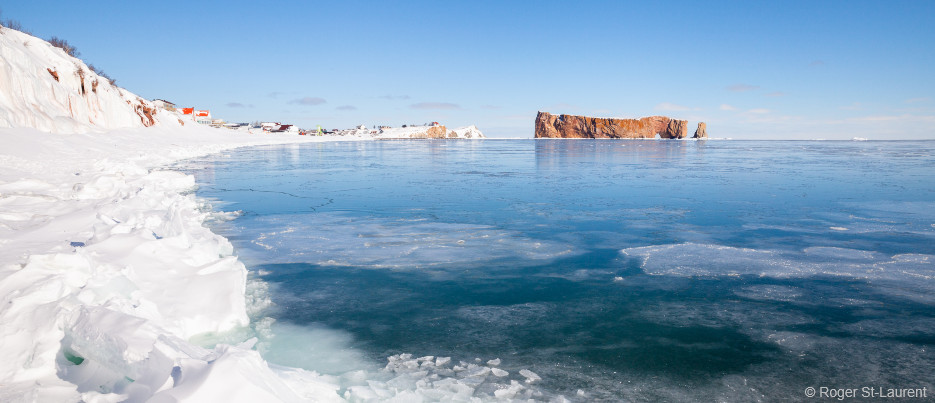 A famous limestone giant, Percé Rock is an impressive sight at any time of year: this iconic landmark is 450 metres (1475 feet) wide, 90 metres (295 feet) deep and 85 metres (280 feet) high! You have a few options to admire it safely on your snowmobile. To see it up close, head to the centre of the village on the local trail from Trans-Québec trail #5. You can also see it from above by following the marked trail from the Percé UNESCO Global Geopark that leads to the top of Mt. Sainte-Anne. The panoramic view is simply breathtaking!
2. Walk on a suspended glass platform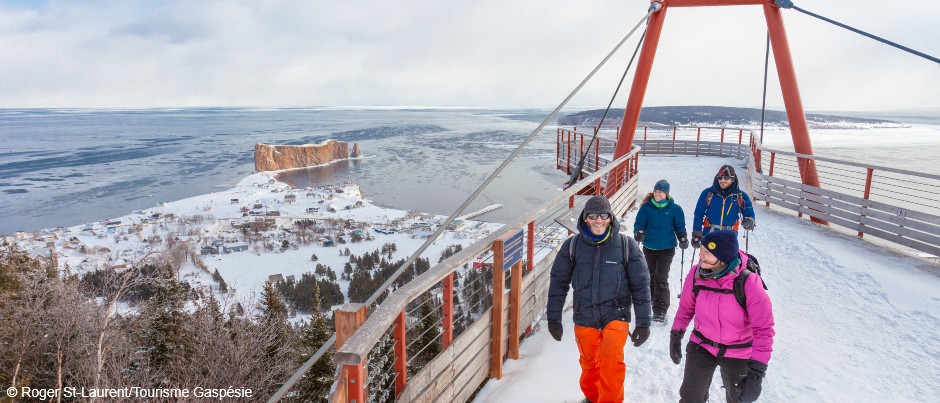 That same trail allows you to park your sled near the suspended glass platform* in the Percé UNESCO Global Geopark, which is accessible in the winter on Saturdays and Sundays from 9 a.m. to 3 p.m. If you dare venture out on this structure, which juts out from the cliff at an altitude of 200 metres (660 feet), you'll be in for a treat: an amazing view of the snow-covered village, the icy sea, Bonaventure Island and imposing Percé Rock. Be sure to take photos to capture this moment!
*The geopark's suspended glass platform is closed for the winter 2022/2023 season.
3. Savour delicious local beer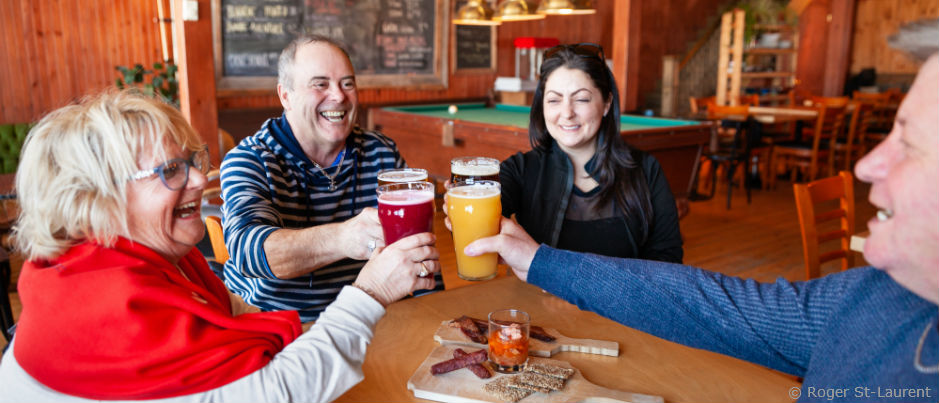 What could be better than relaxing with a tasty local beer after a day of outdoor fun? In the centre of the village of Percé, enjoy the warm atmosphere of the Pit Caribou pub, which offers a wide range of craft beers. You can also swing by the local grocery store to pick up a few microbrews made by the Auval Brewing Co. as well as other tasty local products, including smoked salmon and maple treats.
Our tips
Keep in mind that many of the services and attractions in Percé are not open on a regular basis in the winter. Make sure you book your stay in advance (options: Fleur de Lys, Au Coin de la Berge, Camp de Base) and also plan which gas stations you intend to stop at along your itinerary since there are none in the village of Percé. Being prepared is the key to a successful snowmobile trip!
Have fun discovering Percé under a thick blanket of snow!