The

Québec maritime Blog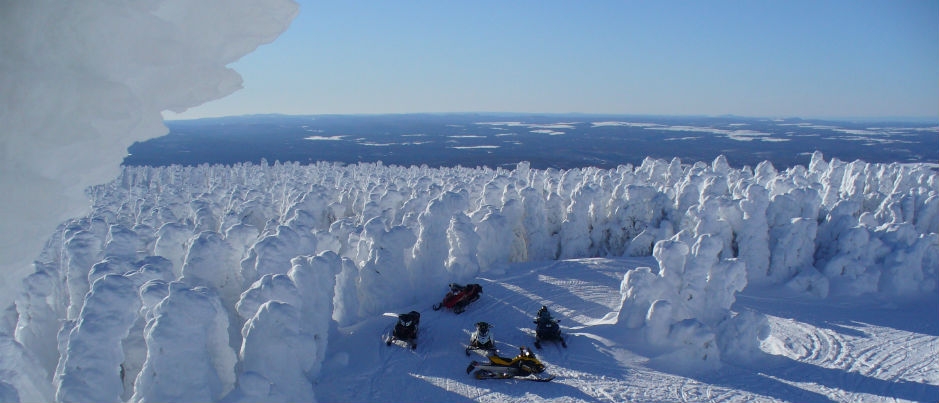 An unusual weather phenomenon in La Rédemption, in Gaspésie
Richard Marin
7 Unusual Snowmobile Experiences in the Maritime Regions of Québec
Are you an avid snowmobiler in search of unusual experiences? Gaspésie, Bas-Saint-Laurent and Côte-Nord all offer you the opportunity to enjoy amazing and unforgettable snowmobile rides. Let yourself be tempted by these seven adventures…
1. Matane–Baie-Comeau/Godbout ferry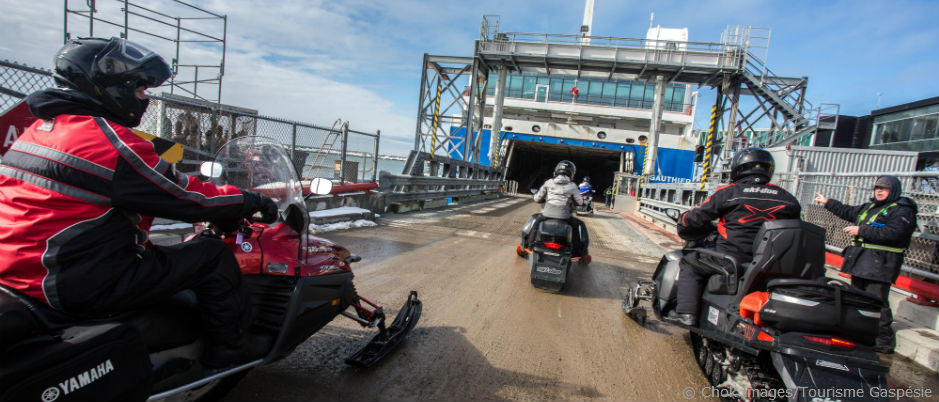 Did you know that you can cross the St. Lawrence on your snowmobile? Board the ferry and travel between Matane, in Gaspésie, and Baie-Comeau or Godbout, in Côte-Nord. Take advantage of the onboard amenities while you soak up magnificent views of the St. Lawrence.
2. Deer wintering areas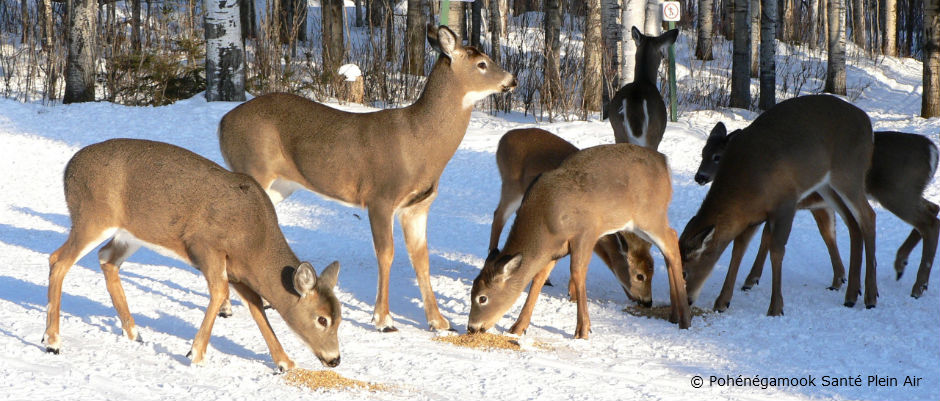 As you ride the trails of Bas-Saint-Laurent, you'll most likely spot many white-tailed deer. A good place to observe them is in the Pohénégamook area. Trail #546 and Trans-Québec trail #35 between Squatec and Saint-Narcisse-de-Rimouski are also good observation areas, especially along the Rimouski River. Keep your eyes peeled!
3. Snowmobile bridge over the Manicouagan River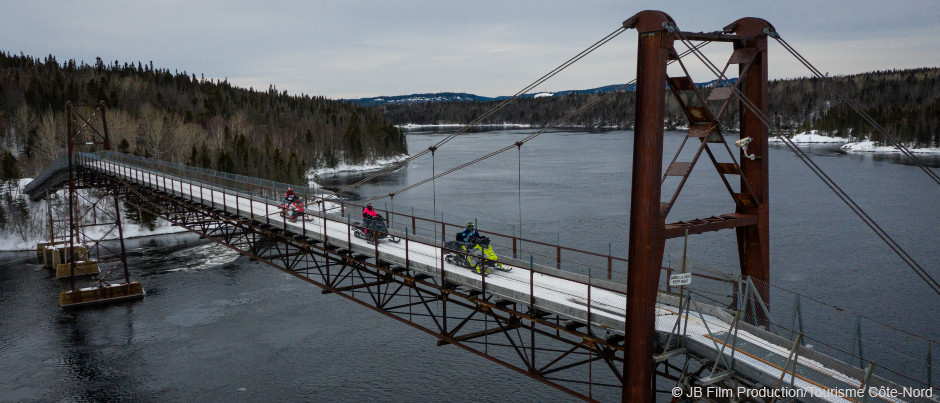 As you explore Côte-Nord, be sure to ride across the world's highest snowmobile bridge, which spans the Manicouagan River. This impressive structure is 213 metres (700 feet) long and nearly 28 metres (90 feet) high. You'll also have the opportunity to cross several other bridges in Côte-Nord, since this region is home to many rivers.
4. A forest of "ghost trees"…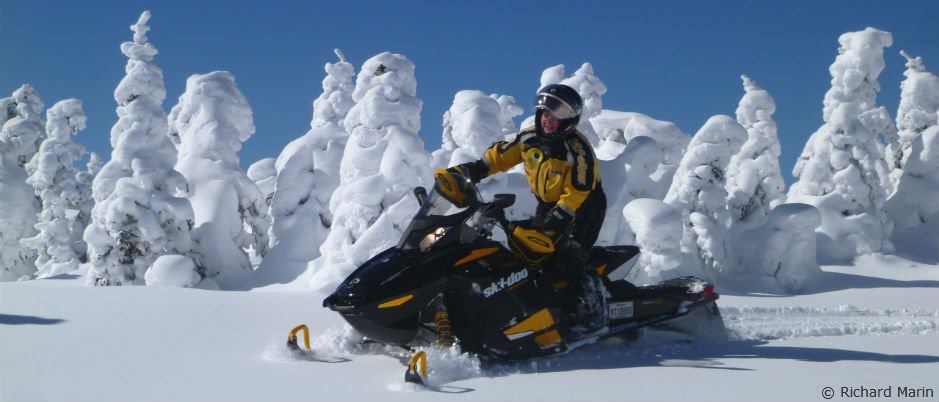 An unusual weather phenomenon occurs in Gaspésie along regional trail #587 N, which leads to the top of the Saint-Pierre Mountain in La Rédemption. Produced by the effects of wind, humidity and pressure, this "frost amplification zone" results in a forest covered in a thick blanket of frost, which makes the trees look like ghosts. You won't soon forget this otherworldly sight!
5. A former railway line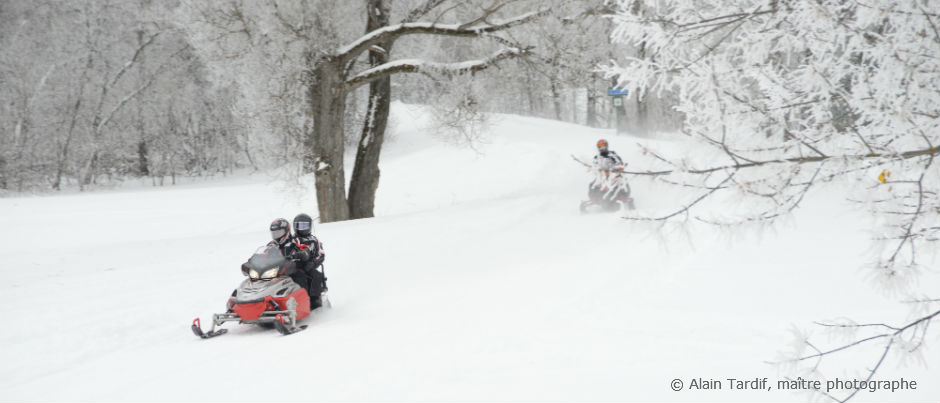 Trans-Québec trail #85, which runs from Rivière-du-Loup to Dégelis, at the border with New Brunswick, is one of the most popular trails in Bas-Saint-Laurent. For several kilometres, you'll follow a former railway line, which means the trail is wide as are the curves. Soak up magnificent views along the way, including over Lake Témiscouata, the second largest lake south of the St. Lawrence.
6. The White Trail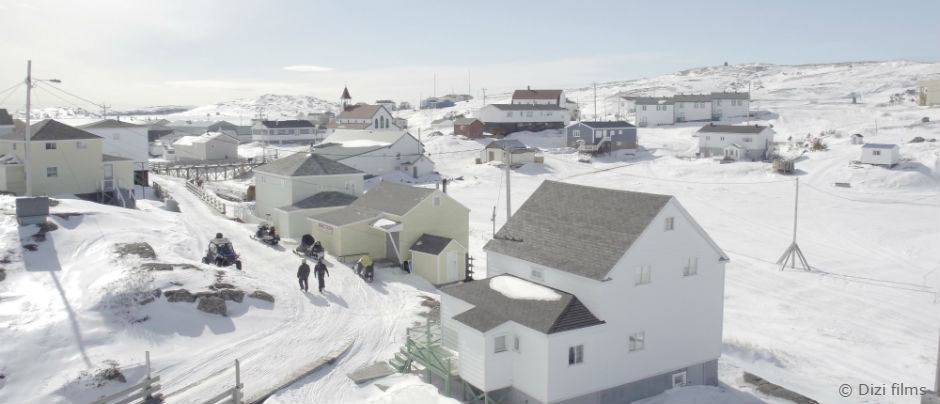 The White Trail (Route Blanche) is a unique snow road that offers you the opportunity to discover the villages and people of the Lower North Shore. What's even more exceptional about this trail is that it's the only way to travel by land in the winter. Other than boats or planes, snowmobiles are the only means of transportation between these municipalities. Note that this is an expert trail; if you have never done this type of expedition before, you must travel with a guide.
7. Wind turbines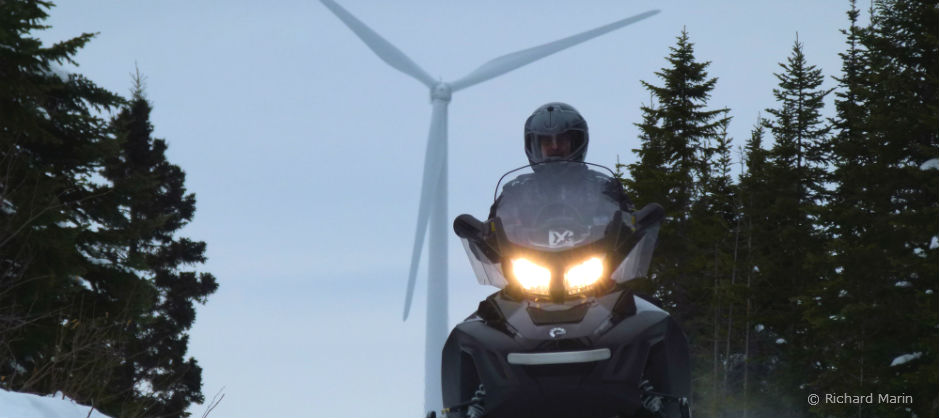 Snowmobilers who explore the trails of Gaspésie will be particularly impressed by the wind turbines that dot the landscape in certain areas. Visit Murdochville, Cap-Chat, Carleton, Matane and La Rédemption to see these impressive structures. In Cap-Chat, you can admire the tallest vertical axis wind turbine in the world.
The maritime regions of Québec are full of hidden treasures that make for memorable snowmobile rides. Have we missed any? Please share the highlights of your trips with us in the comments below!
Visit our Snowmobiling section to subscribe to our newsletter and find out more about what our regions have to offer.
If you liked this article, you might also like...