The

Québec maritime Blog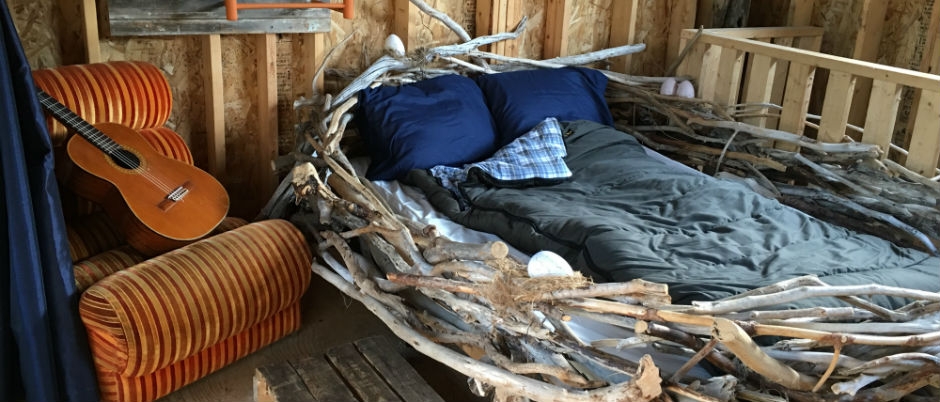 I was going to sleep in an actual nest in my birdhouse!
Le Québec maritime
My Night in a Giant Birdhouse in Côte-Nord
Sleeping like a Bird in Parc Nature de Pointe-aux-Outardes
Since the region of Côte-Nord is an important staging area for birds, it's also home to many bird-watching sites where you can observe a multitude of species. One popular birding destination is Parc Nature de Pointe-aux-Outardes, which also offers unique birdhouse-themed cottages where you can sleep like a bird for a night or more!
As soon as I heard about these unique birdhouses, I was excited to stay in one! Travelling on my own to somewhere I've never been before can feel a bit scary, but I'm also starting to enjoy it. On the day I decided to embark on this adventure, I found myself driving towards the village of Pointe-aux-Outardes at 7 p.m. with a glowing red sunset on one side of the car and an approaching thunderstorm on the other. Upon arriving at the nature park, I was warmly greeted by Denis Cardinal, the park's executive director, who had a pair of binoculars slung around his neck. As we chatted, I could see right away how passionate he is about nature and the region of Côte-Nord. Since it was getting late and a storm was brewing, he soon guided me to the red pine forest where a charming cottage awaited me.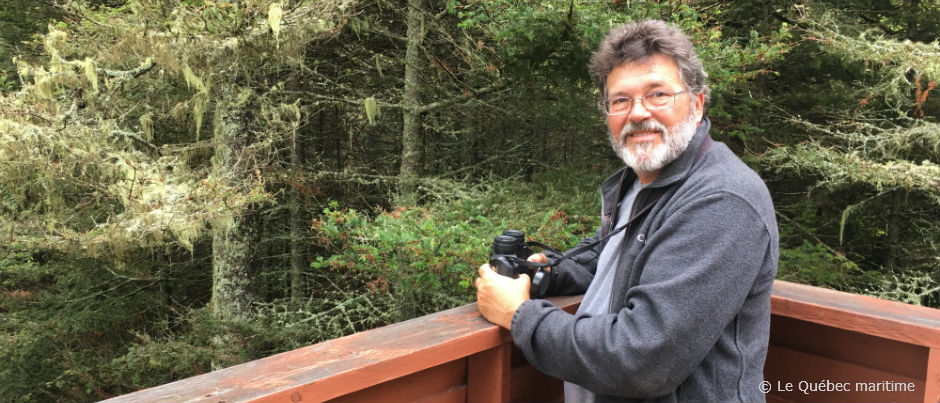 We entered the forest on a sandy trail, trundling my bags in a wheeled cart. This was when I first set eyes on the famous birdhouses, which made me grin from ear to ear—they are so magical! Each has been named after a bird species found the nature park, which also inspired the architecture and décor of each cottage. We walked by Le Balbuzard Pêcheur (western osprey), Le Grand Pic (pileated woodpecker) and L'Hirondelle des Rivages (bank swallow) before arriving at Le Merle Bleu (Eastern bluebird), which was to be my home for the night.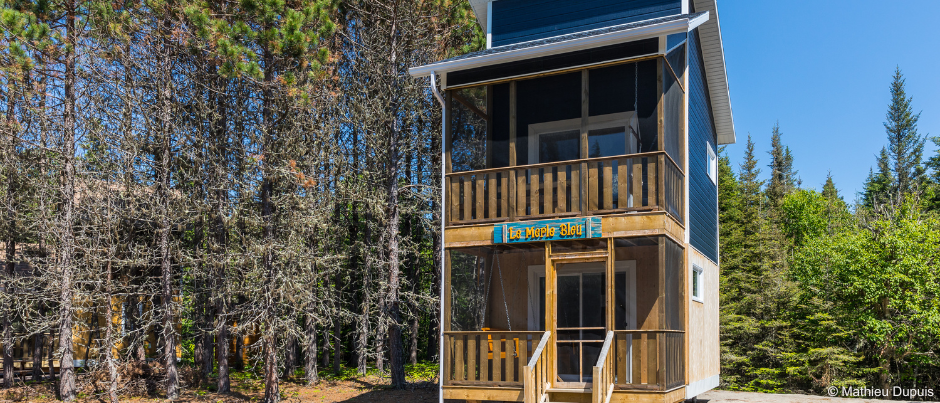 Decorated with blue and orangey brown touches, the rustic glamping unit where I stayed has both a front porch and a front balcony. A wooden porch swing hangs on the porch and a hammock chair hangs upstairs—heavenly! As soon as you enter the birdhouse, you're in the kitchen. Denis gave me a quick tour and I could see right away that the cottage is well equipped. Although there's no electricity or running water, the kitchen has a propane stove, a reservoir of drinking water and all the basics to make food—including coffee in the morning! What struck me the most was the massive glass-top table containing six large bird's nests. I was also impressed by the décor: most of the furniture is made of recycled materials that have been designed to fit the theme of Eastern bluebirds and their nesting habits.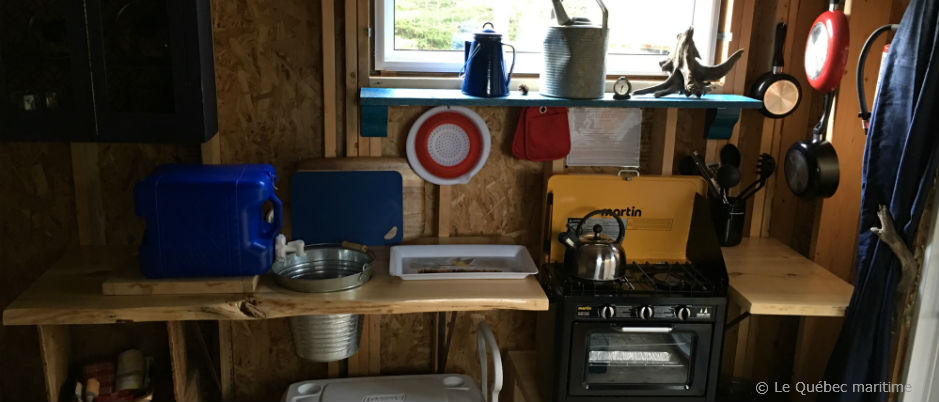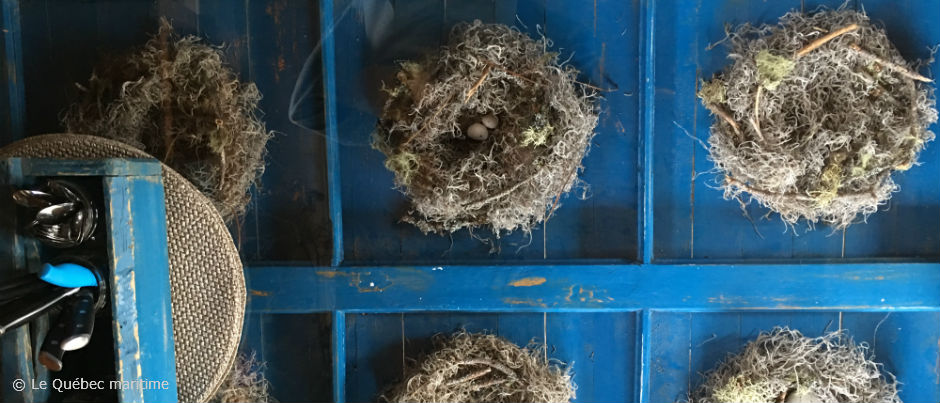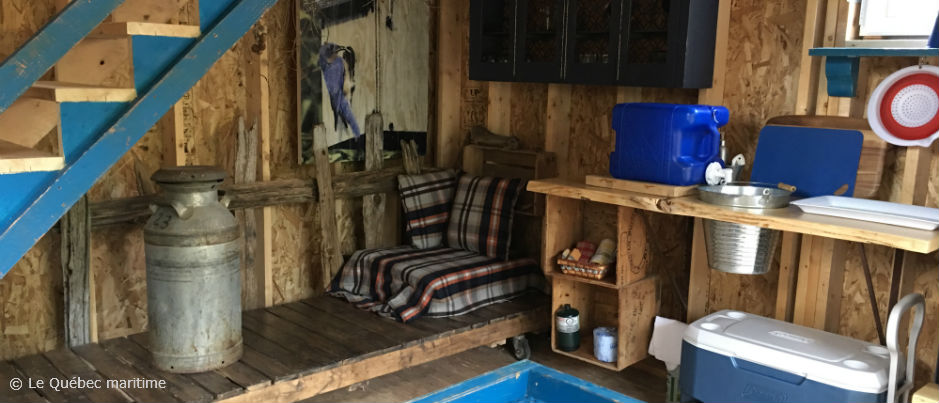 We climbed to the second floor and I was delighted by the sight of a giant bird's nest! I was going to sleep in an actual nest in my birdhouse! The small branches used to create the bed resemble the twigs used by Eastern bluebirds in their nests. Denis explained that some of the nature park's birdhouses contain regular beds to make them accessible to young children or people with reduced mobility, but others offer more unusual accommodations: for example, in the pileated woodpecker-inspired cottage (Le Grand Pic) you get to sleep in a net! I looked around the room: a sliding door provides access to the balcony, travel and outdoor magazines were stacked near the bed, and giant eggs hang from the ceiling like a mobile. Looking up, I noticed a mezzanine with several mattresses: up to five people can sleep in the cottage.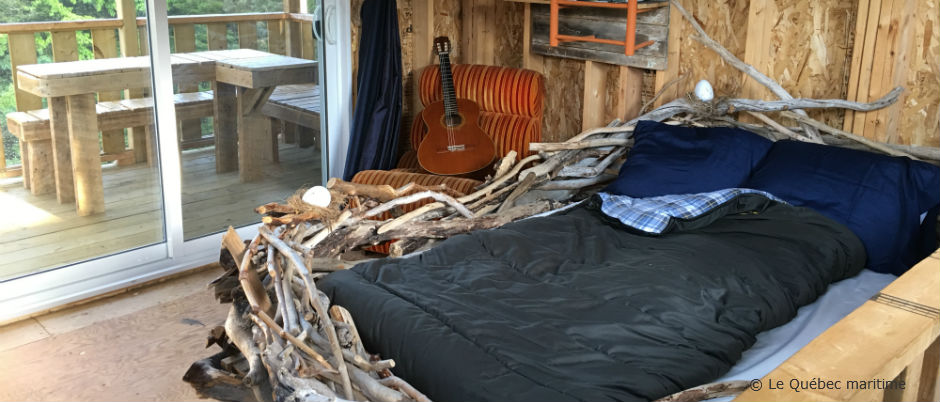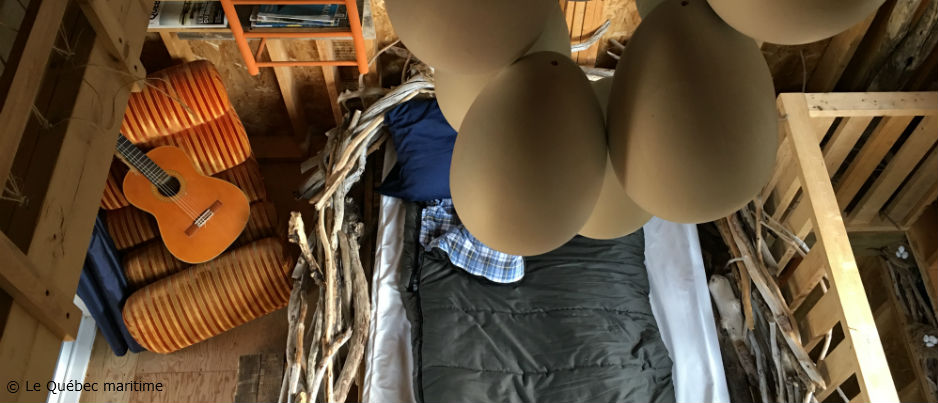 After a few more instructions, Denis left me with a big flashlight. It had gotten much darker since my arrival, and I could hear the thunder rumbling. I was alone and feeling surprisingly calm. Given how busy and plugged in our lives are, it's important to be able to appreciate peaceful moments like these and that's exactly what I did! I had planned ahead and brought a novel and my guitar, so I spent an enjoyable evening in my nest, reading and strumming while listening to the pounding rain. I then slept like a baby (or a bird, if you prefer)! I woke up to a sunny day, breathing in the fresh smell of the forest after a rainstorm. I was eager to discover the treasures found in the park!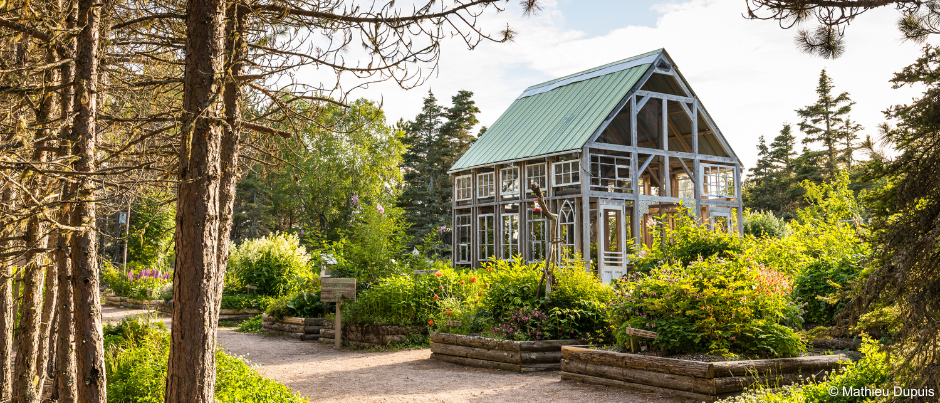 I have so many wonderful memories of that night, of my visit to the nature park and of my meeting with Denis. Next, I want to come back with my daughter to share this magical setting with her!
Practical information
The birdhouse-themed cottages were built in 2016 and are insulated, so they are available for rent in the spring, summer and fall.
Four of the birdhouses can accommodate up to 5 people while one can accommodate up to 12.
The western osprey-inspired cottage (Le Balbuzard pêcheur) is accessible to people with reduced mobility.
All cottages include a propane stove, a large cooler, dishes and utensils.
Sleeping bags are available for rent.
A drinking water outlet is found nearby, as are shower facilities and dry toilets.
Don't hesitate to get in touch with Parc Nature de Pointe-aux-Outardes: their team will be happy to help you choose the birdhouse that best suits your needs and personality!
If you liked this article, you might also like...