The

Québec maritime Blog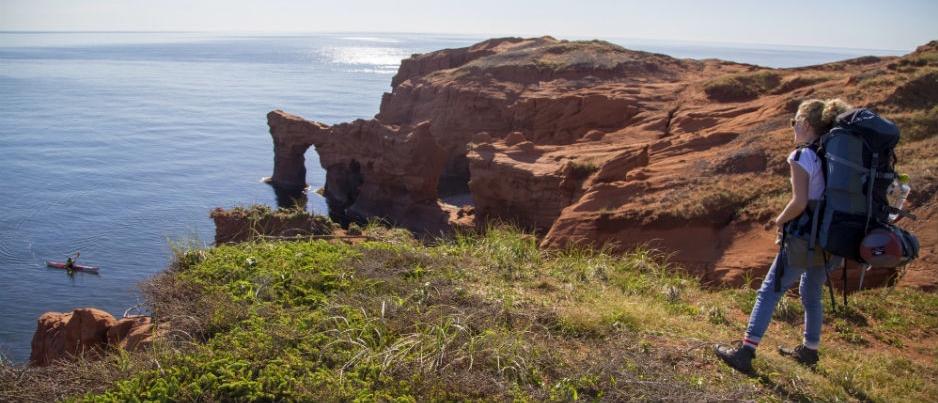 The Islands are surrounded by impressive red sandstone cliffs
Paddle Tales
What Awaits You in the Îles de la Madeleine…
10 Magical Instagram Photos
Are you dreaming of visiting the Îles de la Madeleine? Wait until you see these beautiful Instagram photos! For a glimpse at what your vacation on the archipelago could look like, take a look at these 10 magical photos!
1. A memorable arrival
It's safe to say that when you first set eyes on the Islands as you approach them by boat, you will be buzzing with excitement! If you fly to the archipelago, the view from the air is just as breathtaking.
2. Paradise beaches
Offering over 300 km (190 mi.) of beaches, the Îles de la Madeleine are a true paradise destination. Playing in the sand, swimming, relaxing with a good book, enjoying a picnic… there are so many fun things to do at the beach!
3. Ideal wind conditions
The wind is ever-present in the Îles de la Madeleine, much to the delight of kiting, kitesurfing and windsurfing enthusiasts. Don't miss out on the opportunity to try these fun wind sports!
4. Charming sentinels of the sea
During your vacation, you will be plunged into a real seaside setting with lobster traps, buoys, boats and above all… lighthouses! There are six of them on the Islands, each of which is worth visiting.
5. Talented artisans
Talent is definitely not lacking on the Islands! While wandering around the La Grave historical site, you will have the opportunity to chat with many artists and artisans. Be sure to visit Atelier Côtier, where you can participate in a sandcastle workshop.
6. Fishing stories
The launch of the lobster season in May is a cause for celebration. The first day of the season is a unique experience, with 325 lobster boats heading out to sea at the same time! As you walk through the harbours and talk to the fishermen, you will undoubtedly hear all kinds of fascinating stories!
7. Incredible sights
The Îles de la Madeleine archipelago is teeming with marine animals and birds. Did you know that four species of seals can be found here? Perhaps you will spot some of them during a sea excursion or as you walk along the shore!
8. Sea caves to explore
The Islands are surrounded by impressive red sandstone cliffs, into which the sea has carved caves that can be explored while swimming or sea kayaking! Fun and excitement guaranteed!
9. Hiking on the hills
Several hiking options are available on the archipelago. For an even greater change of pace and scenery, head to the green hills on Entry Island. You may even come across a few cows or horses wandering freely!
10. Meals with a view!
Many restaurants on the Islands offer beautiful patios where you can soak up the stunning scenery as you eat. If you prefer, you can also put together a picnic with local products and enjoy a meal in the inspiring setting of your choice!
You could take photos like these! Plan your trip to the Îles de la Madeleine and share your vacation photos with us!
If you liked this article, you might also like...