The

Québec maritime Blog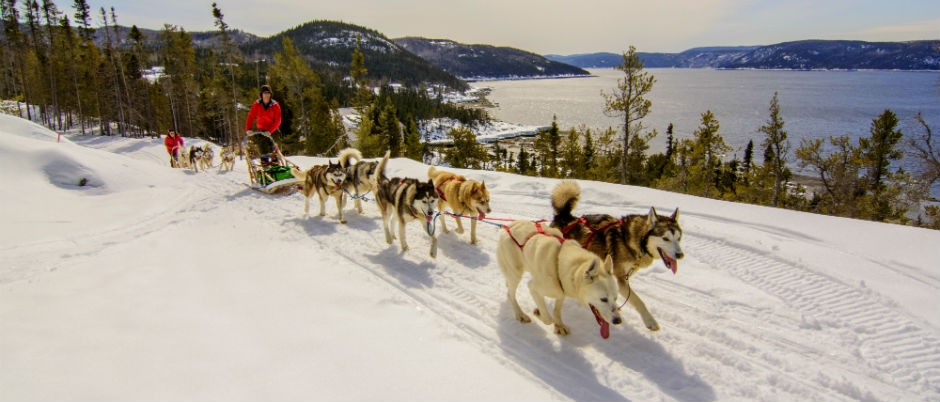 Winter Souvenirs of Côte-Nord
4 Instagram Photos of Winter in This Region of Eastern Québec
Do you dream of an adventure-packed winter vacation surrounded by larger-than-life scenery? Côte-Nord is the destination for you! To give you an idea of what awaits you in this region, here are a few winter photos found on Instagram.
Please note that the activities mentioned in this blog post do not take into account the current context of the pandemic and that we encourage you to comply with all public health directives. Some events may be modified or cancelled. Please contact the companies involved for more details.
Dogsledding
Imagine zipping across sparkling snow on a sled pulled by a pack of dogs with fresh air filling your lungs… Doesn't that sound exciting? Especially when you can go for a dogsled ride in the spectacular setting of the Saguenay Fjord! That's what awaits you at the Ferme 5 Étoiles holiday resort in Sacré-Coeur, a family farm and wildlife rescue centre that also offers a host of other winter activities for visitors of all ages.
Snowmobiling
Côte-Nord has lots to offer snowmobilers: wild and wide-open spaces, thousands of kilometres of trails with little traffic as well as many points of service to fill up on gas, stop for a bite to eat or spend the night. You can also enjoy a truly extraordinary experience along the White Trail (Route Blanche)! Since there's no continuous road east of Kegaska, this trail is the only land access route between the villages of the Lower North Shore all the way to Blanc-Sablon. Please note that the White Trail is an expert trail; if you've never done this type of expedition before, you must travel with a guide.
Ice climbing
Are you the adventurous type? Then you might want to try ice climbing with the Attitude Nordique team in Baie-Comeau! Surrounded by breathtaking scenery (as seen in the photo above, with a view of Saint-Pancrace Bay), you'll climb icy walls and perfect your technique with the help of an experienced guide. Attitude Nordique also offers many other winter activities, including fatbiking, ice fishing and snowshoeing.
Winter festivities
Just because it's cold outside doesn't mean Côte-Nord stops celebrating: the Festival des Hivernants in Sept-Îles is proof of that! Come and discover the joys of winter through the ages in a festive atmosphere. Fun cultural and outdoor activities are on the agenda in the enchanting setting of the Old Trading Post in Sept-Îles. (The term hivernant, which literally means "winterer," was given to voyageurs who spent the winter at the trading post). Enjoy the festivities!
What photos do you dream of taking during a winter stay in Côte-Nord?
Be sure to share your best souvenirs of our regions on social media and tag them with the hashtags #quebecbythesea and #quebecmaritime. Happy travels!
Québec maritime Instagram account: @quebecmaritime
If you liked this article, you might also like...