The

Québec maritime Blog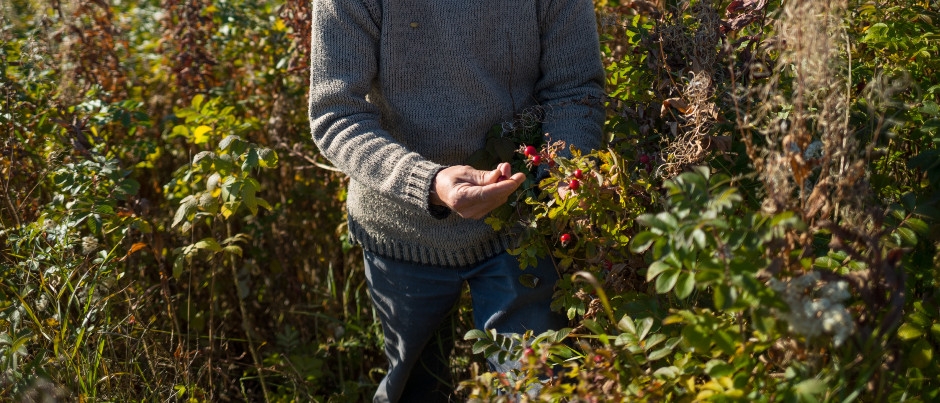 La Galouïne Inn & Restaurant
TQ/Dominique Lafond
Savour the Unique Flavours of Côte-Nord
Côte-Nord is a land of nature beyond measure where you'll find endless wild beaches, legendary archipelagos featuring rocks shaped by the sea, mighty rivers, peat bogs, whales and birds as well as the boreal forest and the taiga… wide-open spaces filled with fresh air and unique flavours to discover!
The Gulf of St. Lawrence on your plate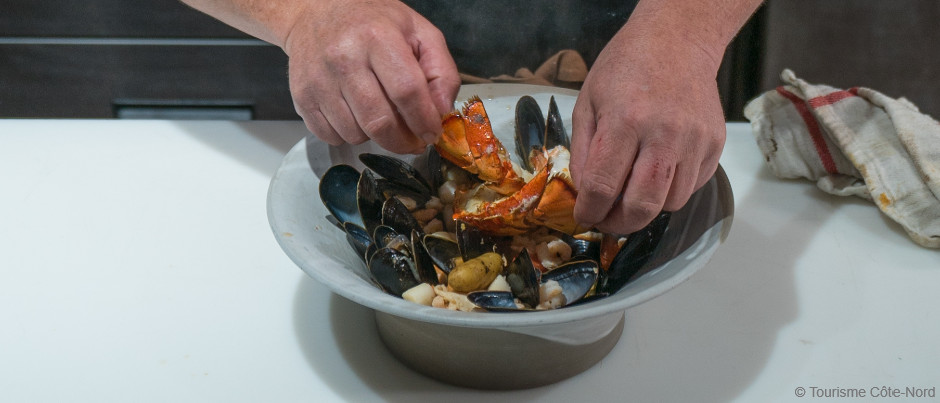 Bordered by about 1300 km (800 mi.) of coastline north of the 48th parallel, Côte-Nord (which means "north shore") lives up to its name! This stretch of coastline offers spectacular landscapes as well as a feast of flavours from the sea. A visit to the region is an opportunity to sample lots of different types of fish and seafood both farmed and fished along the coast and further offshore.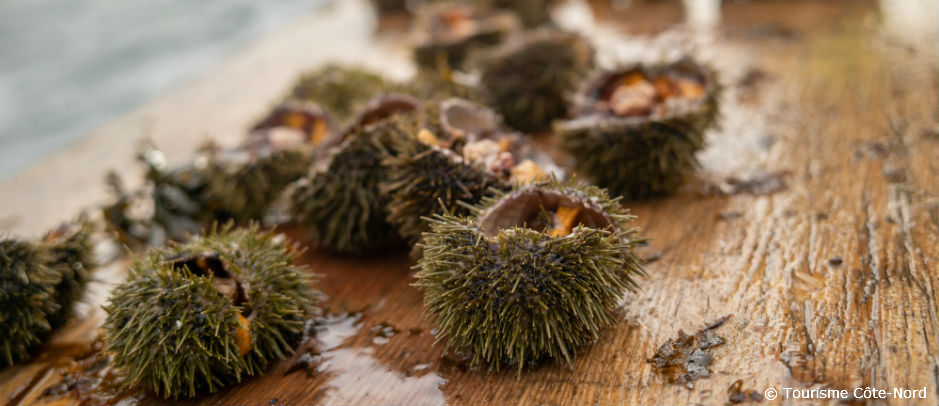 The small (but oh so tasty) northern shrimp as well as snow crab are among the region's seafood specialties. Many other treasures of the sea such as scallops, softshell clams, halibut, whelk, mussels, sea urchins and razor clams, to name but a few, will delight visitors travelling along Route 138.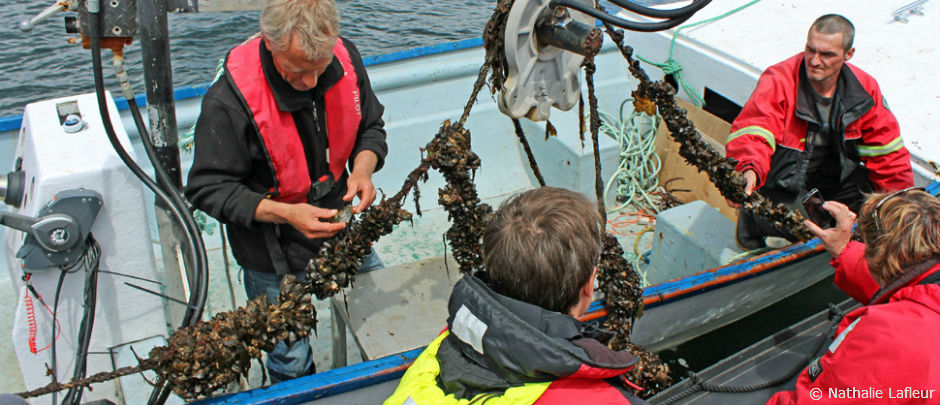 In Sept-Îles, the Purmer seafood farm offers a 2.5-hour excursion to visit their offshore mussel site. This is a great way to explore the Sept Îles Archipelago while learning about local seafood farming, with the added bonus of being able to taste their fresh products! Aqua Labadie, in Bonne-Espérance, also offers sea excursions, to visit their sea scallop farm.
Boreal flavours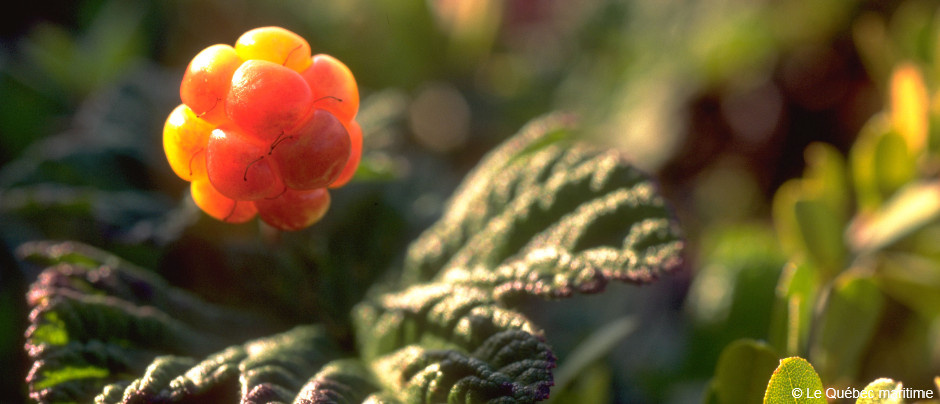 Côte-Nord is also home to a wide variety of boreal flavours! Emblematic of the region, cloudberries resemble large golden yellow raspberries and grow in peat bogs. They're harvested in late July, when you can eat them fresh and enjoy their exotic tart flavour. The rest of the year they're available in a wide variety of products: jams, coulis, syrups, jellies, butters, vinaigrettes, etc. Many restaurants in the region feature cloudberries on their menus in both savoury and sweet dishes, while local artisans offer foodies a fine selection of appetizing cloudberry products to savour on site or take home with them. This berry is so special that a section of Route 138 has been named Route de la Chicoutai ("cloudberry scenic route") in its honour!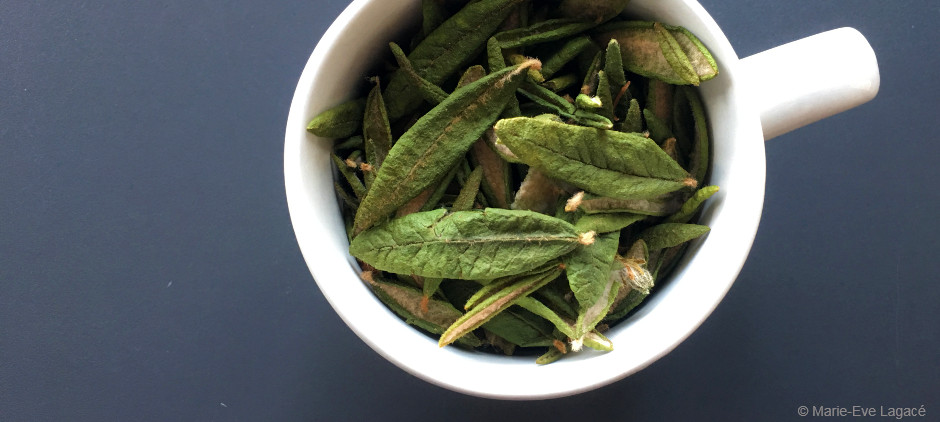 Cloudberries are not the only wild berries that grow in Côte-Nord. Restaurants and food artisans will also be happy to introduce you to the region's wild blueberries, lingonberries, gooseberries, crowberries and more. In addition, a host of other wild flavours are harvested in this great northern territory: Labrador tea, mushrooms, balsam fir, sweetgale, chaga, wintergreen, etc. Visit Les Saveurs Boréales in Forestville, Trésors des Bois in Sept-Îles or De Baies et de Sève in Natashquan to find a wide variety of these wild flavours. First Nations chef Martin Brisson, the owner of La Galouïne Inn & Restaurant in the heart of Tadoussac, has developed the Terroir Boréal product line (herb blends, fruit and mushroom powders, spreads, etc.), which he uses in the dishes he makes in his restaurant and which can also be purchased to take home.
Thirsty?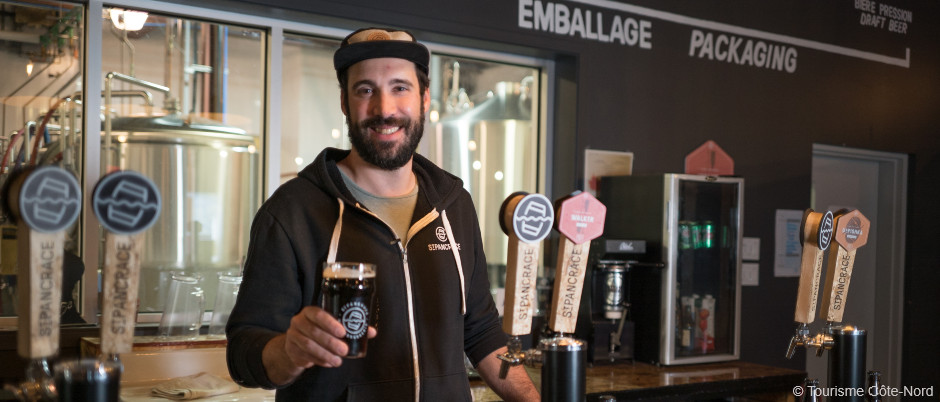 Since travelling across such a vast territory is bound to make you thirsty, be sure to stop at the Microbrasserie St-Pancrace microbrewery in Baie-Comeau, which makes craft beers inspired by the region's history, legends and customs, as you'll see from their ingredients and label designs. One of their signature beers is called Crâââbe (which is how the locals pronounce the word crab in French) and is actually brewed with crab shells! You can also tour the facilities and grab a bite to eat on site.
Other spots to visit include the Microbrasserie Tadoussac microbrewery in Tadoussac and the La Compagnie microbrewery in Sept-Îles, as well as the Puyjalon distillery in Havre-Saint-Pierre and the Vent du Nord distillery in Baie-Comeau, both of which produce aromatic gins made with local ingredients (among other things).
And much more!
When you're looking for somewhere to have dinner, consider La Galouïne Inn & Restaurant (mentioned above), Hôtel Tadoussac, Bistro La Marée Haute (in Hôtel Le Manoir), Chez Mathilde, the Pêcherie Manicouagan restaurant, the L'Échouerie café-bistro or any of the many other restaurants listed here. Enjoy your foodie discoveries in Côte-Nord!
If you liked this article, you might also like...