The

Québec maritime Blog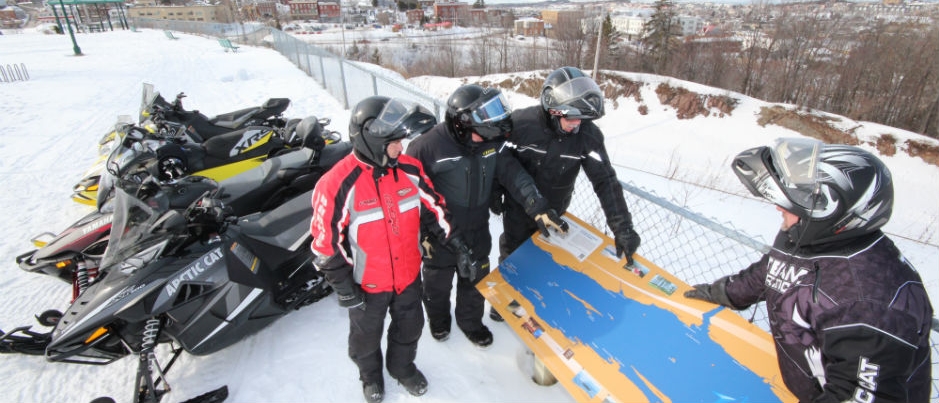 FAQs about Snowmobiling in Eastern Québec
As you know, we regularly chat with snowmobile enthusiasts at trade shows and on social media. To help you plan your next snowmobile trip in our regions, we've therefore answered the questions we're asked the most frequently below.
How far are the regions of Eastern Québec from where I live?
See the distance chart below to get an idea of how far our regions are from you. Visit the Getting Here section of our website for more information.

Is it a problem if I don't speak French?
Although French is the main language used in the province of Québec, you can be served in English in most of the establishments found on our website. Our regions' friendly residents will do their best to communicate with you in English.
When is the best time to go snowmobiling in Eastern Québec?
The snowmobile season usually runs from January to mid-March, depending on weather conditions.
Where can I find out about local snow and trail conditions?
The iMotoneige app gives you access to trail maps for the entire province of Québec. The main advantage of this app is that you don't need a data plan or cell phone signal to use it. You can also contact local snowmobile clubs or visit the sledmagazine.com website for the latest trail conditions. For information about the weather, consult The Weather Network or Environment Canada.
Is snowmobile-friendly lodging available? What about secure parking?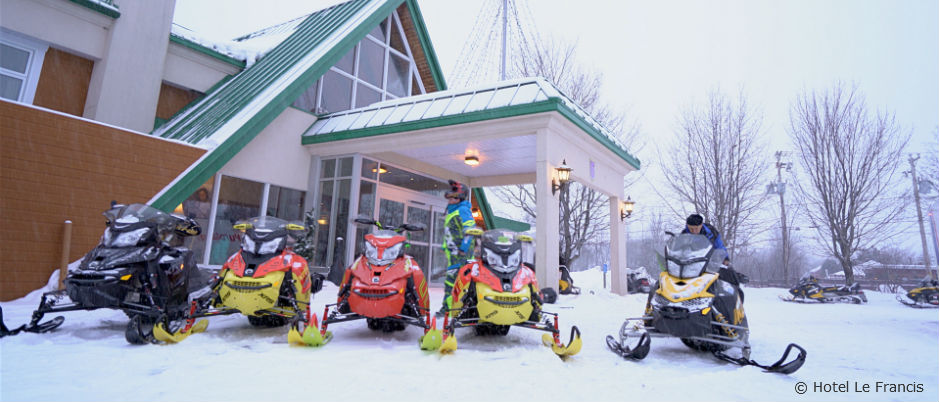 Many services are available for snowmobilers in our regions, including snowmobile-friendly lodging establishments that are located near the trails and offer secure parking. The blog posts linked below provide information about your options in each region:
Where can I find information about all the services available for snowmobilers (gas stations, restaurants, accommodations, garages, etc.)?
Much of this information can be found on the snowmobile trail maps for our regions, which you can order on our site or consult online. You can also visit the snowmobiling sections on the websites of the Bas-Saint-Laurent, Gaspésie and Côte-Nord tourist associations.
What rules and regulations apply to snowmobiling in Québec?
You should be aware of the rules and regulations that apply in Québec and check whether they differ from those in your region. Read about them on the Québec Federation of Snowmobile Clubs (FCMQ) website. We also recommend you learn hand signals to be able to communicate clearly with other snowmobilers and ensure your safety.
Note that the pilot project concerning the use of non-skid devices on off-road vehicles does not apply to snowmobiles, as was confirmed by the Québec Minister of Transport.
What documents will I need for my trip?
Read the blog post "Preparing for a Snowmobile Trip in the Maritime Regions of Québec" for a list of some of the basic equipment you will need on your trip.
Is there cell coverage throughout the regions of Eastern Québec?
The snowmobile trails in our regions are fairly remote and cross mountains where there is little or no cell coverage. This is why it's important to take precautions that can make all the difference to your safety: pack a first-aid kit, make sure your snowmobile is regularly maintained, check the oil and how much gas you have before you set off on your trip, leave a copy of your itinerary with someone who is not travelling with you, etc.
What loop rides are available in the regions of Eastern Québec?
In Bas-Saint-Laurent:
In Gaspésie:
In Côte-Nord, there are few options for loop rides since the main snowmobile trail (TQ3) runs along the St. Lawrence from Tadoussac to Blanc-Sablon. However, the region offers many interesting ride options, including the Northern Trail, which the more adventurous can turn into a loop ride via Labrador.
Other ride itineraries can be found on the trail maps as well as in our Road Trip Ideas section.
What travel agencies organize all-inclusive snowmobile trips?
If you want a travel agency to organize your whole trip for you, here are a few that offer trips in our regions:
If you're organizing your own trip, consult our Vacation Packages section to help you book your accommodations.
If you have any other questions, please ask them in the comments section below! You can also find more information on our Snowmobiling page.
Happy trails and drive safely!
If you liked this article, you might also like...