The

Québec maritime Blog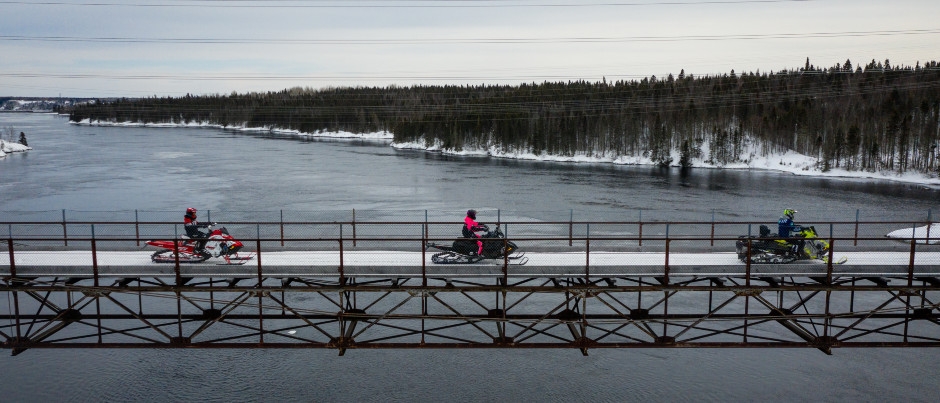 The Manicouagan Bridge, Baie-Comeau
JB Film Production/Tourisme Côte-Nord
The Ultimate Snowmobile Bucket List for Eastern Québec!
Are you a snowmobile enthusiast looking for new adventures? Eastern Québec is sure to wow you! Discover some of the amazing sites and unique experiences that await you along the snowmobile trails in Bas-Saint-Laurent, Gaspésie and Côte-Nord.
Stay in Eastern Québec's largest log inn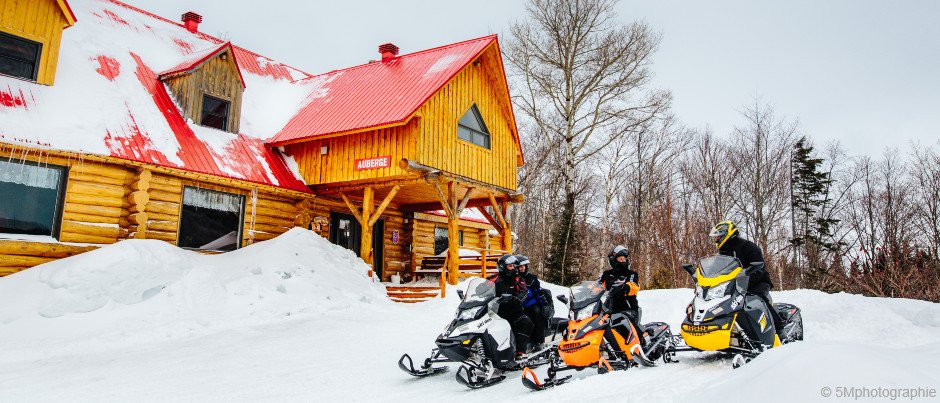 Located in Saint-Gabriel-de-Rimouski, in Bas-Saint-Laurent, Domaine Valga is a cozy inn nestled in one of the oldest maple groves in Québec. In the winter, Eastern Québec's largest log inn becomes a snowmobile clubhouse where you'll find tasty and comforting dishes on the menu!
How to get there: Take trail #579 from Trans-Québec trail #5.
See white-tailed deer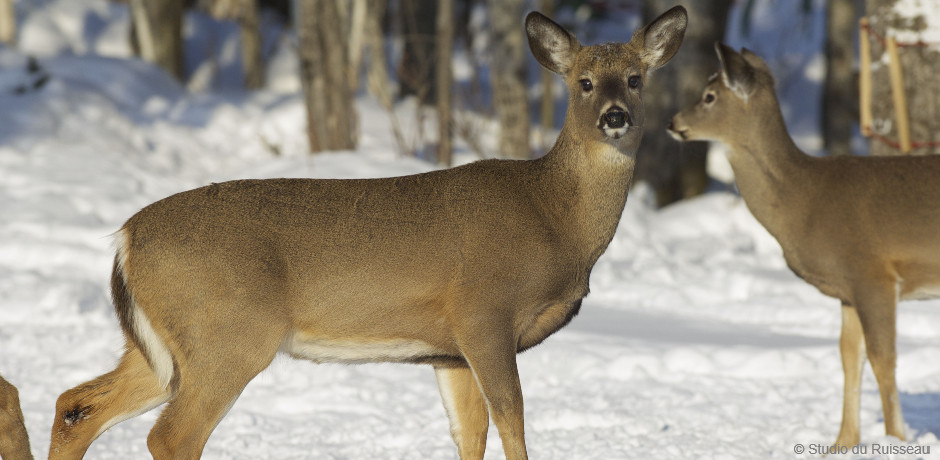 It's very common to see white-tailed deer in the interior of the Bas-Saint-Laurent region. In the winter, you're likely to spot them while riding in the Pohénégamook area or on Trans-Québec trail #35 and regional trail #546 between Squatec and Saint-Narcisse-de-Rimouski. Keep your eyes peeled!
Be impressed by Percé Rock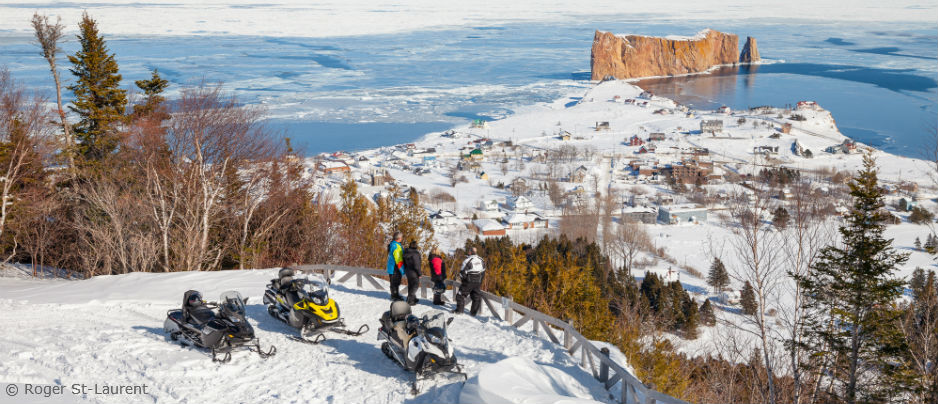 The region's most famous natural landmark, Percé Rock is a fascinating limestone monolith that seems even more majestic when it's covered in ice and snow! You can admire it from the village along the water or from the top of Mt. Sainte-Anne—either way, you're bound to be impressed!
How to get there: Take the local trail from Trans-Québec trail #5.
Soak up the beauty of the Chic-Chocs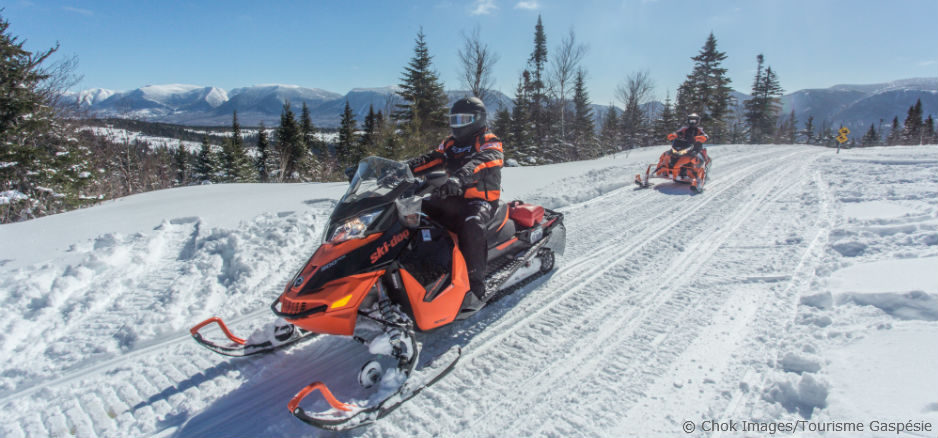 Located at the heart of the Gaspé Peninsula, the Chic-Chocs are an extension of the Appalachian mountain range. Twenty-five of their peaks are over 1000 metres (3300 feet) high and are some of the highest mountains in Québec! You'll have several opportunities to admire their beauty as you ride through this wild and unspoiled territory.
How to get there: You can admire the Chic-Chocs from local trail #10, regional trail #595 and Trans-Québec trail #5.
Ride across world's highest snowmobile bridge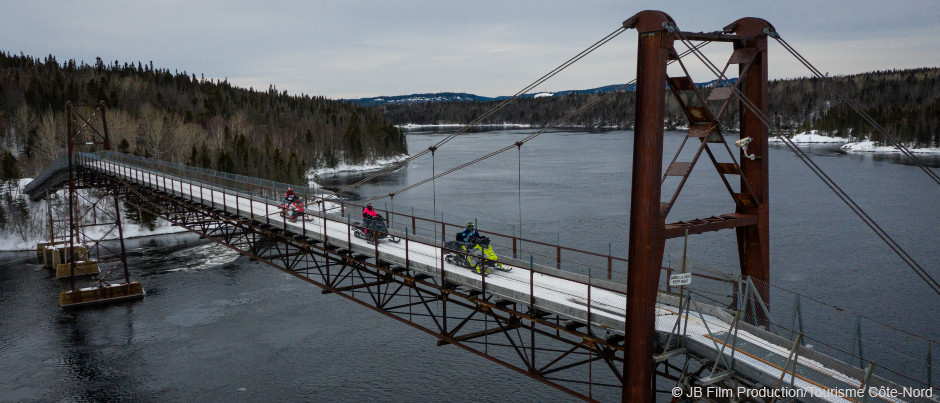 Enjoy the thrill of crossing the longest snowmobile bridge in North America, which is halfway between Chute-aux-Outardes and Baie-Comeau, in Côte-Nord. Spanning the famous Manicouagan River, the structure, which was originally built as a log flume to supply the local pulp and paper mill, is 27.4 metres (90 feet) high and 213 metres (700 feet) long!
How to get there: Take Trans-Québec trail #3.
Admire the Saguenay Fjord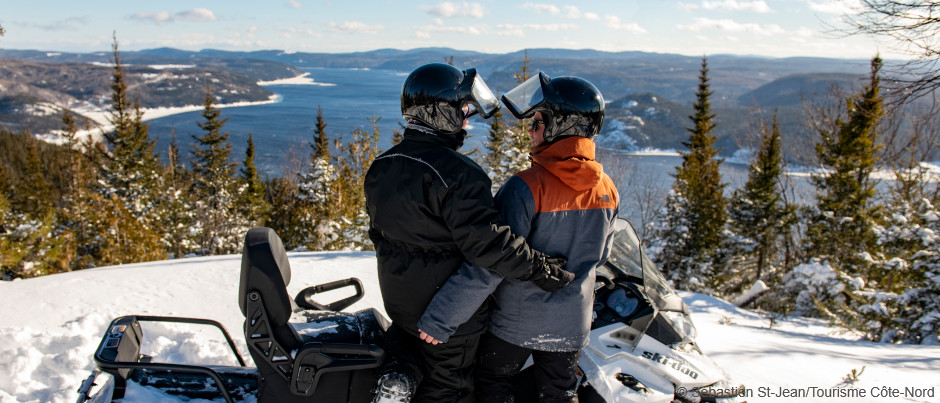 A true jewel in Côte-Nord, the Saguenay Fjord is magnificent in the winter when it's surrounded by snow-capped mountains. Did you know that it's one of the longest and southernmost fjords in the world? This glacial valley flooded by seawater is 100 km (60 mi.) long and 2 to 3 km (1 to 2 mi.) wide—and is sure to impress you!
How to get there: Take one of the local trails from Trans-Québec trail #93.
Cross the St. Lawrence with your snowmobile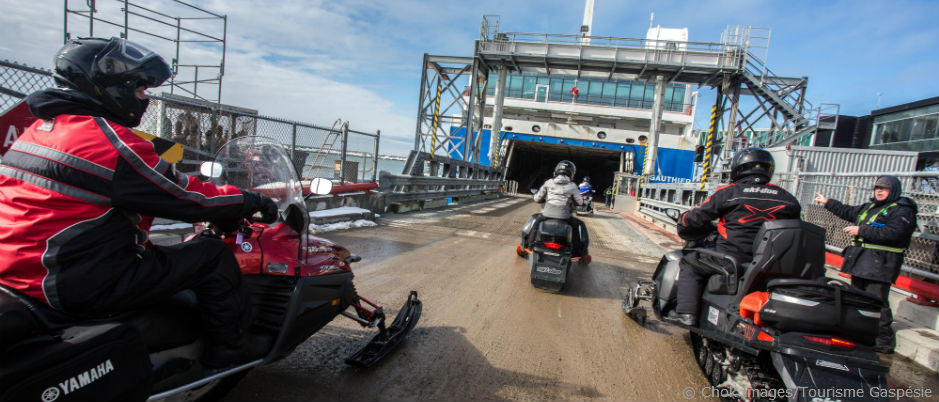 Would you like to cross the St. Lawrence with your snowmobile? You can enjoy this unique experience aboard the ferry that links Matane (Gaspésie) to Baie-Comeau and Godbout (Côte-Nord). The 2.5-hour trip will give you time to enjoy a snack, chat with other passengers, rest, and soak up the amazing scenery in complete comfort. You may even meet some other snowmobilers during your crossing.
Ready to check these items off your bucket list? Visit our Snowmobiling page to start planning your next snowmobile trip in our regions!
If you liked this article, you might also like...