The

Québec maritime Blog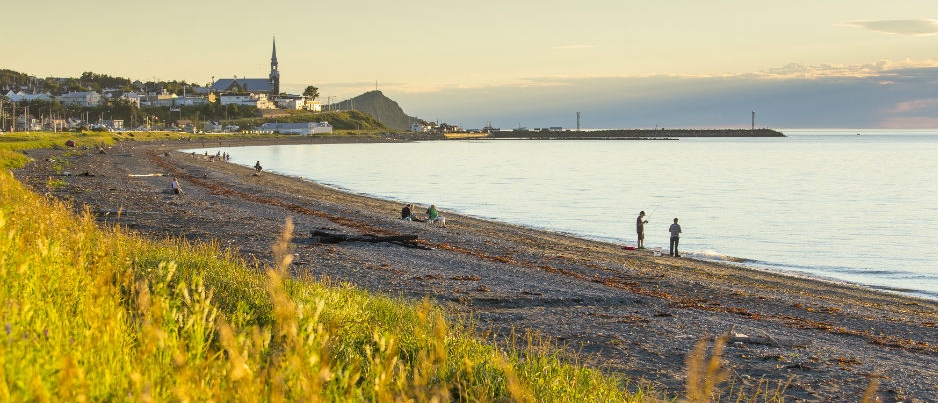 Use Your 5 Senses to Discover the St. Lawrence!
Engage your five senses to enjoy the St. Lawrence to the fullest in Bas-Saint-Laurent, Gaspésie, Côte-Nord and the Îles de la Madeleine: immerse yourself in an environment that offers breathtaking views and unusual experiences between sea and mountains. Follow our guide below to awaken all your senses in our regions!
Sight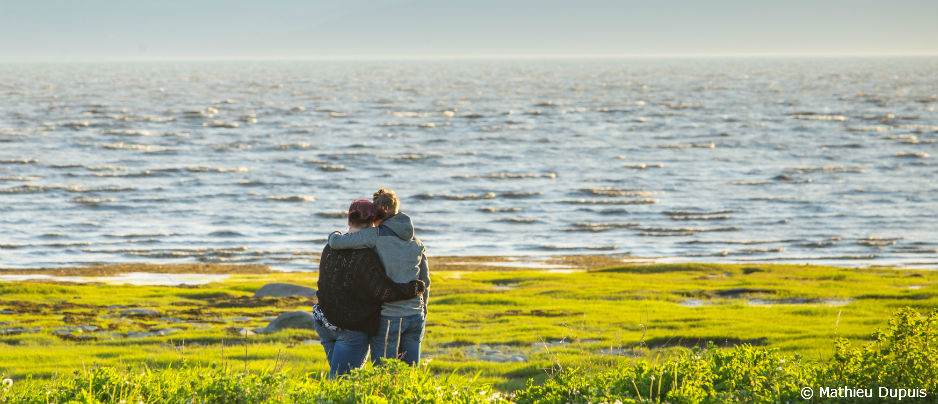 While travelling by car, bicycle or motorcycle, you'll be awed by the magnificent views of the Estuary and Gulf of St. Lawrence that await you around just about every bend in the road. Seen from above, the shimmering waters of the estuary will wow you. A blazing sunset on the horizon? Drink it in with your eyes while sitting on a beach, from the end of a wharf or from the top of a mountain!
Whether you drive around the Gaspé Peninsula, explore the Whale Route in Côte-Nord or stroll along the shoreline in Bas-Saint-Laurent or on the dunes in the Îles de la Madeleine, your eyes will widen with wonder as you take in colourful houses, picturesque lighthouses, fishing boats rocking in harbours and the ever-changing sea…
Aboard a ferry, cargo-passenger ship or cruise ship, be sure to head out to the deck to watch the boat ploughing through the waves, catch glimpses of whales suddenly appearing in the distance and admire the scenic islands of the St. Lawrence.
During a sea kayaking excursion or hike along the coast, keep your eyes peeled and you may observe playful seals as well as the phenomenon of marine bioluminescence.
If you're a scuba diving or snorkelling enthusiast, you're in for a treat: don't miss this opportunity to see some of the most beautiful underwater scenery in the world under the St. Lawrence!
Smell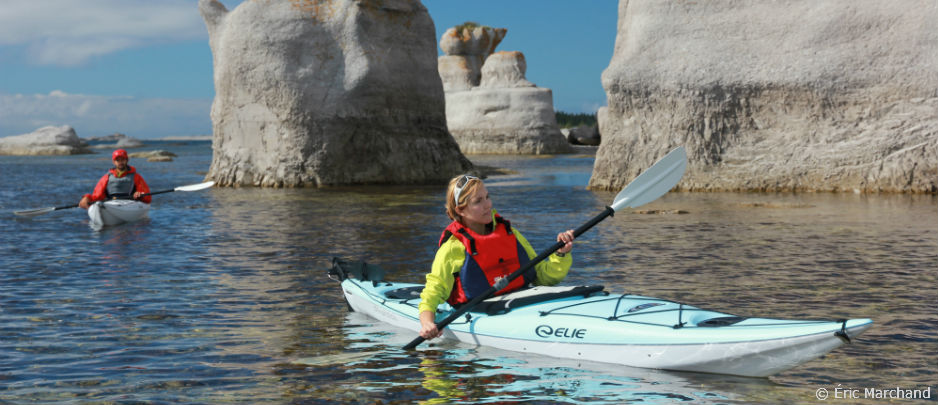 When you visit Eastern Québec, which is first and foremost a maritime environment, you'll breathe in the salty sea air almost constantly. Heading into the wind, you can meander along pebble beaches, explore unique islands in the St. Lawrence or climb green hills overlooking the immense sea…
The invigorating sea air is an integral part of any experience you have on or in the water. Your olfactory senses will be awakened during a boat excursion to discover the marine environment, while kayaking around an island, in a Zodiac in search of whales or even while kitesurfing!
Taste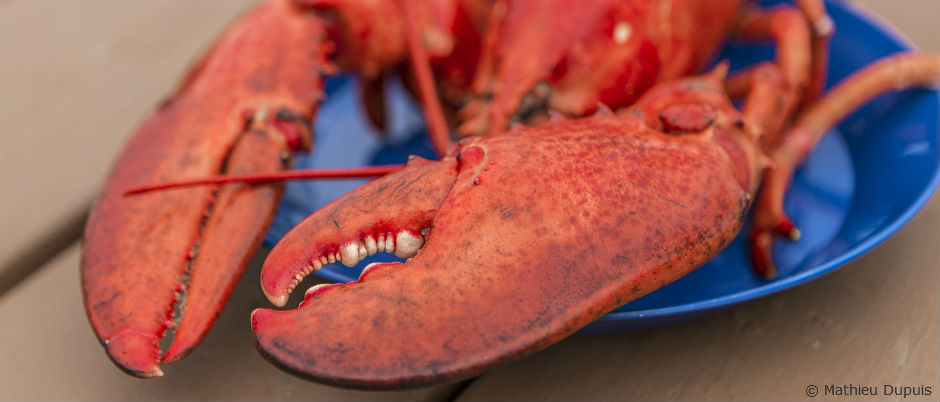 If there's one sense that cultivated in our regions, it's taste, as we are well-known for our culinary arts…
Not surprisingly, seafood of all kinds is available throughout our regions. Fish (fresh or smoked), scallops, shrimp, lobster and snow crab are featured on menus from spring to summer. Their delicate flesh and unique flavours are available around the world, but what a delight to enjoy them here, in a bistro or while camping!
As you drive around, be sure to stop in the villages along the way to sample regional flavours. You'll find good restaurants for all budgets, artisan bakeries, cheese and chocolate shops, roadside snack bars as well as various boutiques and markets selling local products (fresh berries, jams, pies, maple products, alcoholic beverages and more). If you're a beer lover, be sure to visit the many microbreweries in our regions to quench your thirst. Treat your taste buds to a taste of our regions!
Hearing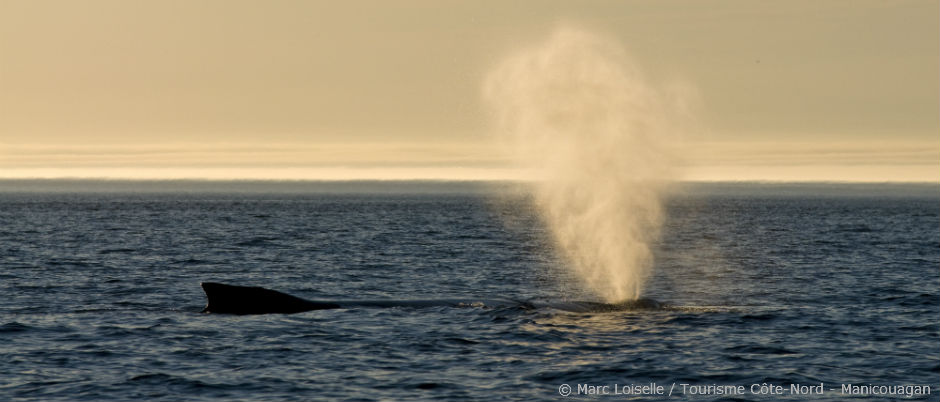 Sitting on a beach or rock by the shore, close your eyes and listen to the sea! Both the Estuary and Gulf of St. Lawrence experience tides, with the characteristic sounds of waves breaking on the rocks or beaches… not to mention the offshore wind that will echo in your ears during an excursion on the water or while hiking on an island!
However, if there's one sound that's typical of the maritime regions of Québec, it's the blow of a whale! In a sea kayak or sightseeing boat, you'll undoubtedly hear this sound before you can spot the whale emerging from the water. Now imagine yourself lying in a tent on the banks of the St. Lawrence and being awakened by such a sound… Don't miss this unforgettable experience!
Seabirds are also found in great numbers on the shores and islands of the St. Lawrence, where their songs and cries fill the air from spring to fall. From northern gannets to snow geese, black guillemots, seagulls, terns and more, their sounds are unmistakable!
Touch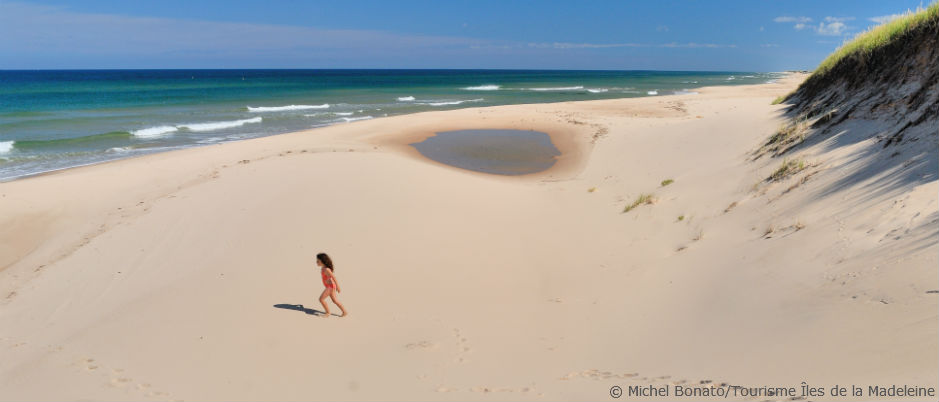 Walking barefoot in the warm sand, picking up seashells and building sandcastles on the beach—remember to take the time to enjoy such simple pleasures! As you cling to a rockface during an introduction to rock climbing or grip a paddle in a kayak, you'll be giving yourself the opportunity to be amazed by views of the St. Lawrence you wouldn't otherwise see!
Tactile sensations are also part of the experience when you and your family participate in a fossil hunt or fishing trip. When it comes time to remove the fish from the hook, you'll have to touch it… However, children will probably prefer holding a starfish in their hands or touching other marine species in a touch pool, as they listen to a biologist explain the marine world!
No matter which senses you use, your experience of the St. Lawrence is bound to be an unforgettable one!