The

Québec maritime Blog
Pointe-à-la-Renommée Lighthouse
Camille Malleroni, L'Oiseau Rose
Gaspésie: A Dream Destination!
You may feel like you know all about Gaspésie—you've probably been hearing about this region for years, have seen famous Percé Rock on postcards and have heard about how welcoming the locals are—but this destination still has many surprises in store for you! Read on to discover why travellers fall more deeply in love with Gaspésie every time they visit!
Geography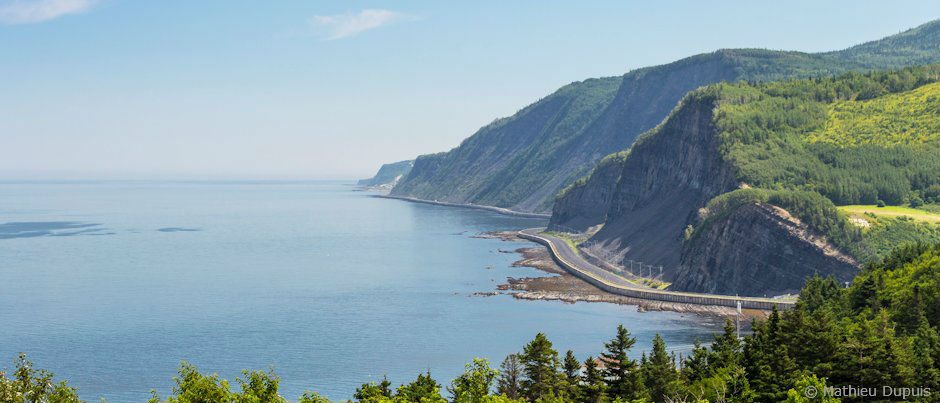 Gaspésie is a huge peninsula surrounded by the salty waters of the Estuary and Gulf of St. Lawrence. You can explore the region via an 885-km (550-mi.) loop drive (including 700 km [435 mi.] along the coast) on legendary Route 132. Lonely Planet has even named this itinerary as one of five coastal road trips to be discovered around the world! You can also head into the heart of the region via Route 299, which will take you through the impressive mountains in Parc national de la Gaspésie.
To get to Gaspésie, you can drive from Bas-Saint-Laurent, Côte-Nord (which requires taking a ferry) or New Brunswick. You can also fly there and rent a car for the duration of your stay.
Landscapes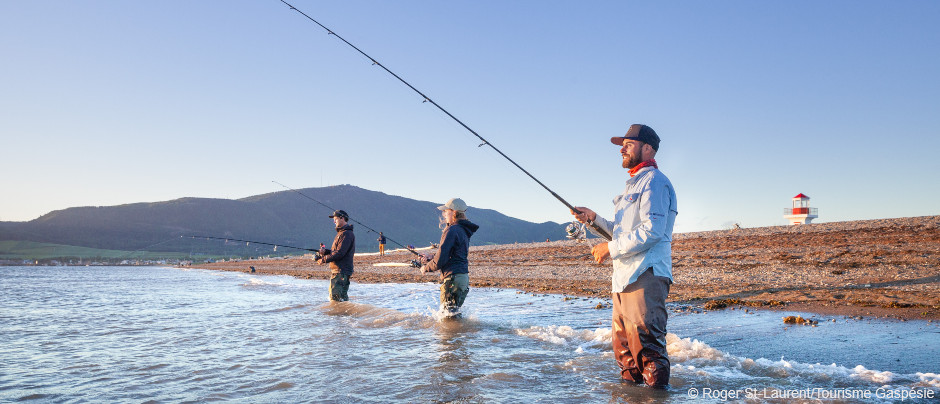 Since Gaspésie is a peninsula, you're never very far from water, so expect lots of spectacular maritime scenery! The region is also home to one of most beautiful bays in the world, Chaleur Bay, which is located on the south side of the peninsula. Wharves, marinas and pebble beaches all contribute to the charm of the region's small coastal villages.
This corner of Québec also boasts many crystal-clear salmon rivers, some of which are crossed by picturesque covered bridges. Fishing boats can often be seen bobbing on the St. Lawrence, as well as on lakes and rivers. You're also likely to spot canoes, kayaks and other vessels on these bodies of water.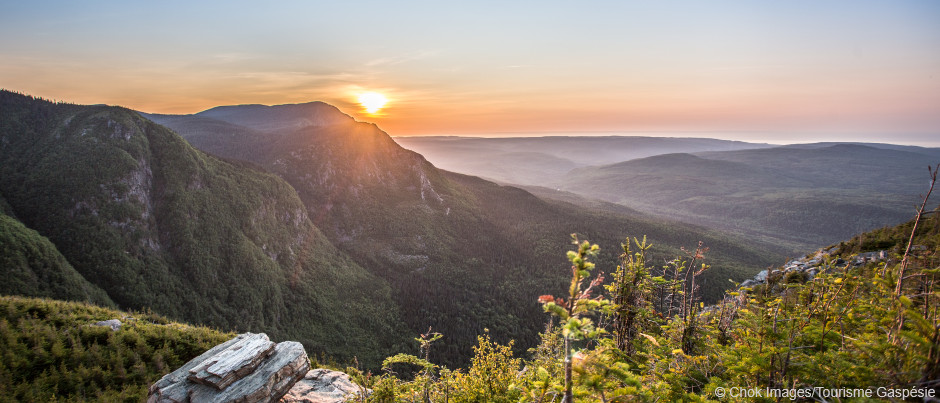 Forests and mountains cover the interior of the peninsula. The Chic-Chocs, an extension of the Appalachian mountain chain, are one of the region's top attractions. Parc national de la Gaspésie is located in these mountains, which feature 25 peaks over 1000 metres (3300 feet) high. Hiking enthusiasts will find lots of trails to explore in the interior, including the International Appalachian Trail – Québec, a 650-km (400-mi.) trajectory that has been recognized as the first long-distance hiking trail in North America (GR®A1).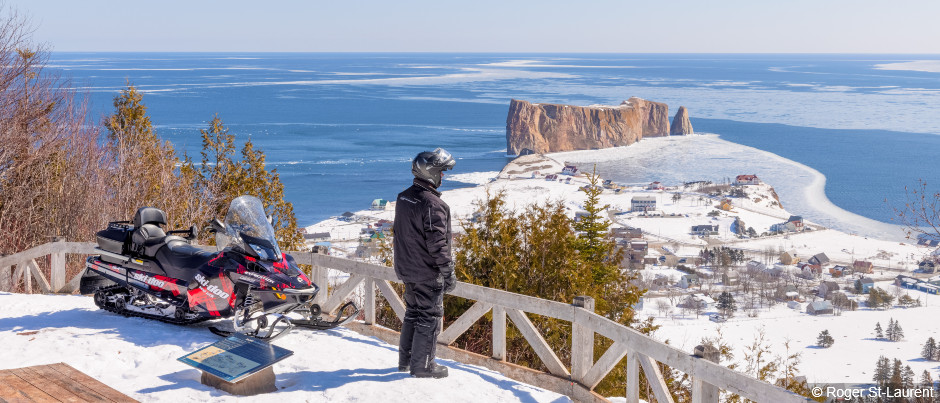 In the winter, the region's scenery is magnificent in a completely new way under a glittering blanket of snow. Since Gaspésie benefits from abundant snowfall, it's a popular destination for snowmobilers as well as other winter sports enthusiasts such as backcountry skiers.
History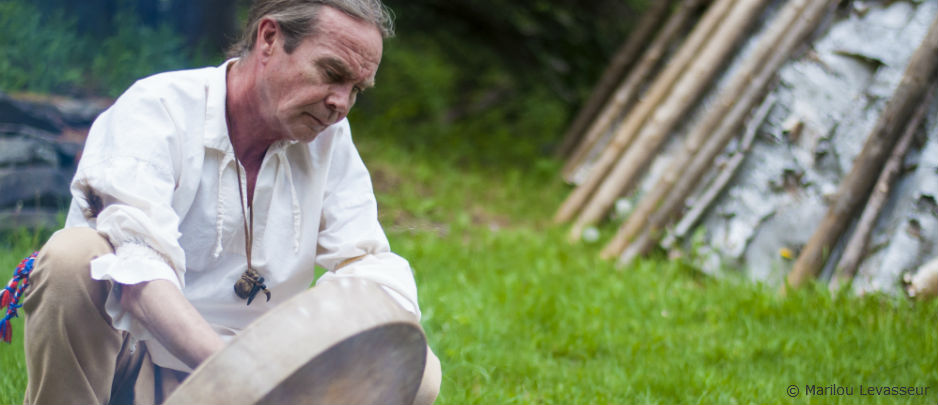 Gaspésie has a rich multicultural heritage, which is reflected in the accents of its residents as well as in the region's songs, place names and cuisine. The Mi'gmaq, French, Acadians, Loyalists, English, Jersey Islanders, Irish, Scottish and many others have left their mark on Gaspésie. The history of these First Peoples and pioneers are told in many museums and interpretation sites throughout the territory.
One slice of history that's particularly worth mentioning is Jacques Cartier's visit to this region in 1534. The French navigator sought shelter from a storm in Gaspé Bay, which led him to erect a 9-metre (30-foot) wooden cross in the name of the King of France in what is now Gaspé, thus "claiming" this territory, which would become New France. As a result, the Birthplace of Canada is in Gaspésie!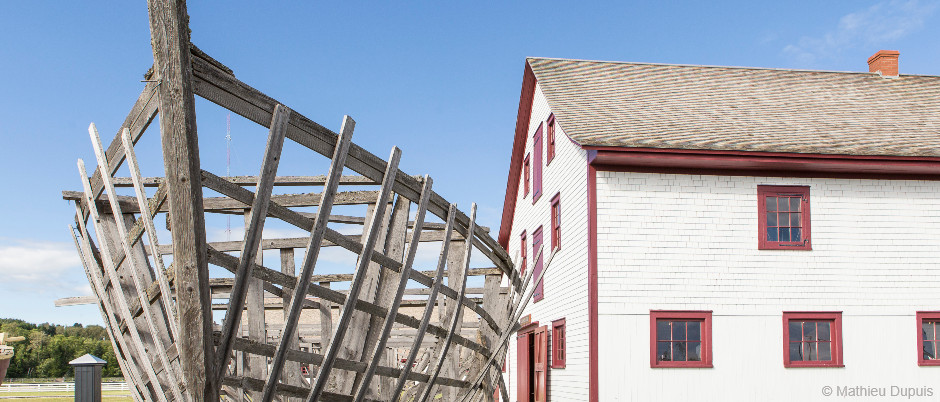 Cod fishing contributed greatly to the development of the region. For years, cod had been a mainstay in the diets of the local First Nations people; starting in the 17th century, it also became a highly prized resource to many of the settlers living on this territory as well as the region's main economic driver. Fishing is still very much present today and is part of certain local traditions, reflecting the region's maritime heritage. To get a glimpse of times past, visit some of the many lighthouses that dot the coastline, each with its own unique history and characteristics.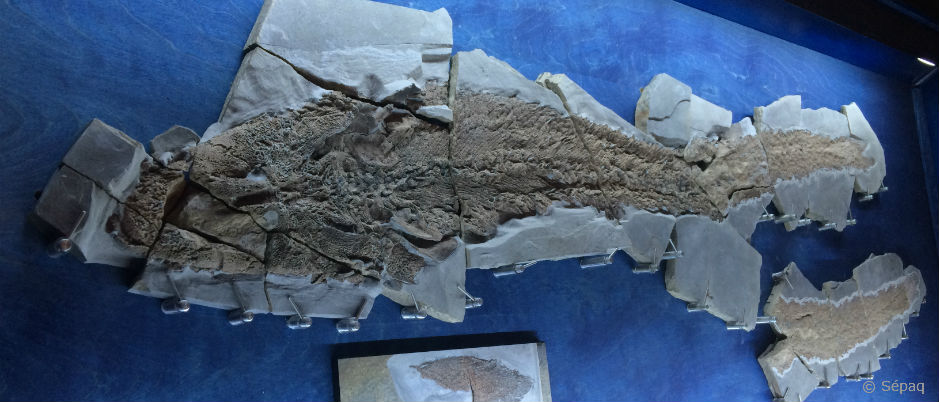 Gaspésie also has a much older history that is reflected in the region's geology. Find out more about the peninsula's important geological history by visiting the impressive collection of fossils in Parc national de Miguasha, which includes the only complete specimen of Elpistostege watsoni ever found in the world. Another place to visit is the Percé UNESCO Global Geopark, which reveals 500 million years of Earth's history, including the spectacular formation of legendary Percé Rock.
Wildlife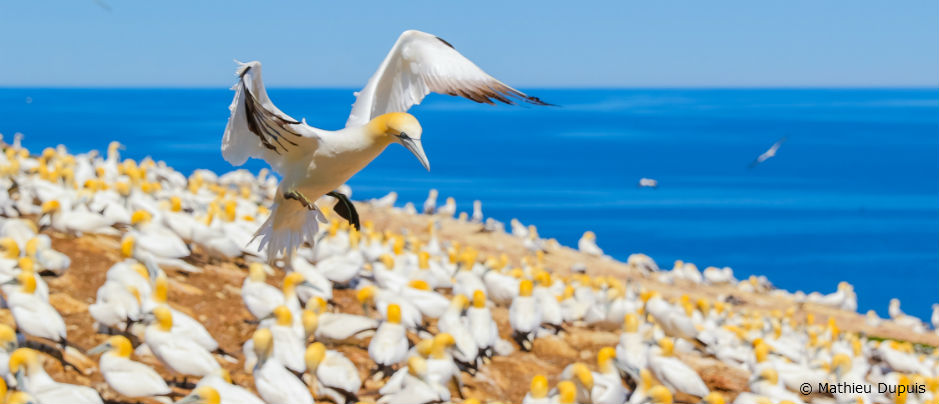 Over 10% of the region's natural spaces are protected by national parks, wildlife reserves and controlled ecological zones, so it's no wonder you can encounter such rich and diverse wildlife in Gaspésie! For example, many birds can be observed throughout the region (about 365 species), including bald eagles, cormorants, black guillemots, great blue herons and the iconic northern gannets. About 110,000 northern gannets nest on Bonaventure Island in Parc national de l'Île-Bonaventure-et-du-Rocher-Percé. A hike on the island or a boat excursion allows you to admire this impressive colony, which also happens to be the most accessible in the world!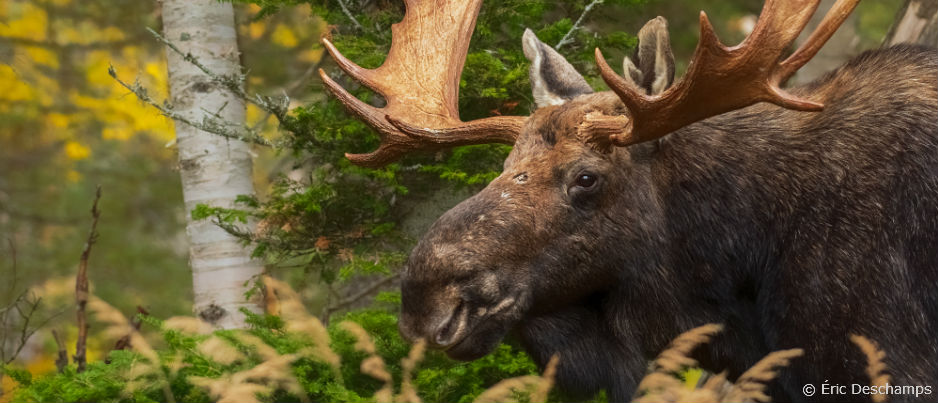 Many large and small mammals make their homes in the forests of Gaspésie, including black bears, beavers, porcupines and white-tailed deer. But moose remain the king of these forests! You are particularly likely to encounter them in the Réserve faunique de Matane, where over 4000 moose roam over a territory of 1275 km2 (490 sq. mi.). The mountains in Parc national de la Gaspésie are also home to a small herd of woodland caribou, which are an endangered species.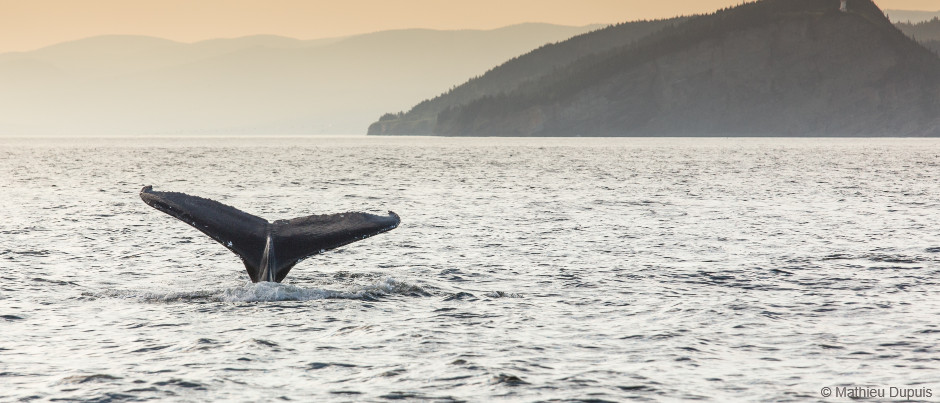 The St. Lawrence teems with fascinating marine wildlife, including fish, crustaceans, seals and seven different species of whales. Most of these majestic marine mammals can be seen in the waters of Forillon National Park, including blue whales, the largest animals on the planet!
Many species of wildlife can be observed in their natural environments while hiking or participating in guided activities and even at certain interpretation sites. No matter which option you choose, encountering the region's wildlife is a thrilling and unforgettable experience!
Regional flavours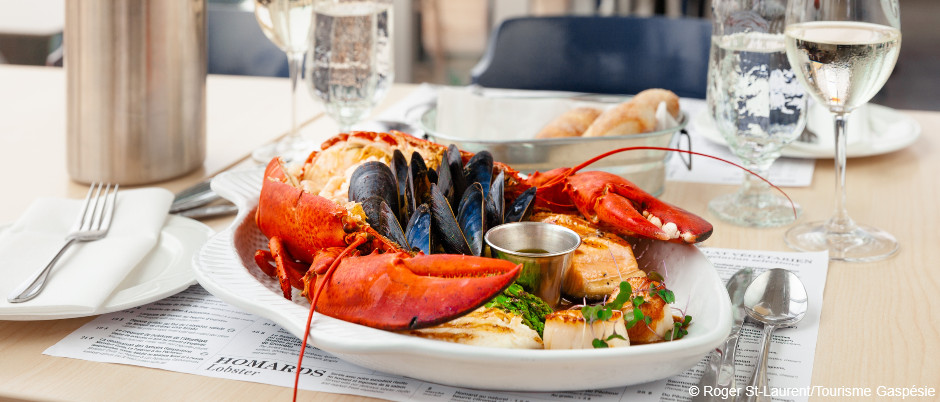 Since so much of the Gaspé Peninsula is coastal, it's not surprising that this region is known for its lobster, crab and shrimp, which can be found on restaurant and snack bar menus throughout the region. Smoked fish is also something not to miss! All of these delicacies are also available in local fish markets and grocery stores.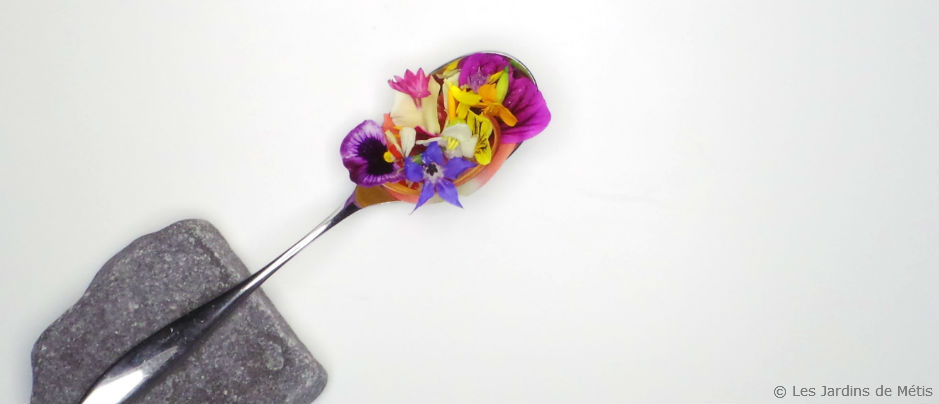 You can also taste local plants while fine dining in Gaspésie. One place to visit for such a foodie experience is the Reford Gardens, which, in addition to being a heritage gem of great beauty, offers several restaurants showcasing edible plants from their horticultural collection.
If you have a sweet tooth, you'll want to visit some of the sugar shacks in Gaspésie. You can also find maple syrup and other delicious maple products for sale in various places. Savour them in restaurants and take some home as souvenirs!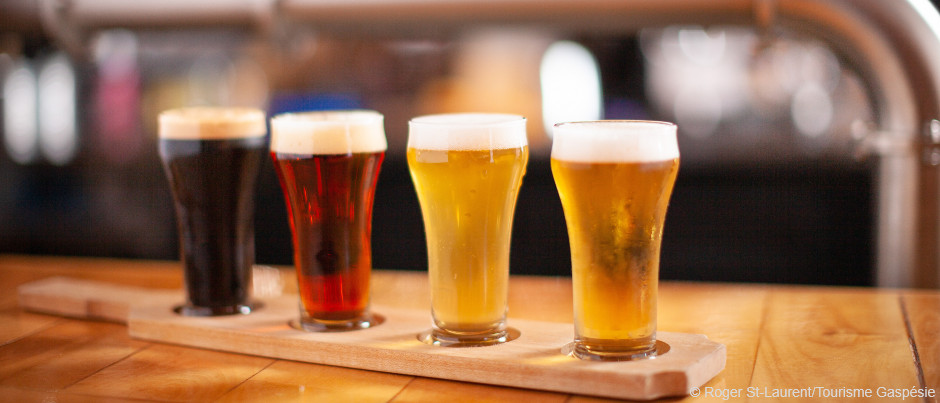 Looking for something to drink? Over the past few years, several microbreweries and even a few distilleries have sprung up along Route 132. They offer popular products that showcase local ingredients. If you're looking for something a little out of the ordinary, be sure to try strawberry and rhubarb wines made in Gaspésie!
Finally, take your food experience to another level by savouring the extraordinary flavours of Gaspésie in the region's best restaurants where you may also have the opportunity to chat with passionate local chefs and food artisans!
A few quick facts
Area: 30,340 km2 (11,715 sq. mi.), which is about the size of the state of Maryland
Languages spoken: mainly French, although the region is home to several small English-speaking communities
Population: 132,700
Time zone: Eastern Standard Time (EST), as is true for most of Québec
Whether you're visiting Gaspésie for the first or the tenth time, the region will always manage to surprise you! There's so much to do and discover here… You can fall in love with this vast peninsula over and over again! <3
If you liked this article, you might also like...